2019 Tunnel to Towers 5K Run, Walk, & Climb - Biloxi, MS
Description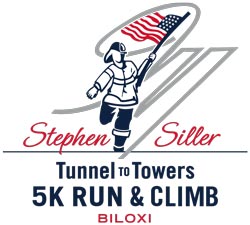 What is a Tunnel to Towers 5K Run & Walk?
The Tunnel to Towers 5K Run & Walk Series was created to honor the heroic life and death of Stephen Siller, a New York City firefighter (FDNY) who lost his life on September 11, 2001 after strapping on his gear and running through the Brooklyn Battery Tunnel to the Twin Towers.
Honor all of those who lost their lives on September 11, 2001 and support our first responders and military who make extraordinary sacrifices in the line of duty! For more information on the Stephen Siller Tunnel to Towers Foundation please visit www.tunnel2towers.org.
How far is a Tunnel to Towers 5K Run & Walk – Biloxi?
This is a 5k (3.1 miles). You are welcome to walk or run this event.
Can I register the day of the run?
Yes, the cost will be $35 for just one event, and $45 for both events if you wait to register at packet pick up or the day of the run. Register early to avoid the price increase!
How can I register after online registration closes?
You can register in person at early packet pick-up on Friday, or on the day of the event.
What is the age limit?
There is no age limit. Children under 12 can run free, you do not need to be registered. If you would like an event t-shirt for children under 12, please register online and choose their t-shirt size. The fee is $10.00 per child registration. Ages 12-99 can register at the general rate of $25/$35 ($35/$45 race day).
Is there transportation to and from the event?
Yes. You must take the shuttle/bus from Margaritaville Resort Biloxi that will transport all event participants to the start line near the Ocean Springs Harbor on Front Beach in Ocean Springs. DO NOT park at the start line. There will not be any transportation back once you have finished the race. Buses will begin running at 3:30 and the last pick-up will be at 5:00 sharp. Please arrive early if you did not pick up your race packet at the early pick-up times.
Is there parking available?
There is ample parking available at Margaritaville Resort Biloxi. Please make sure you park in the lot west of the resort. There where will be signs directing you where to go.
Where can I pick up my packet?
We will have early packet pick-up at Margaritaville Resort Biloxi on Friday, September 13th from 4:00 – 8:00 PM. We will be located on the second floor near Landshark's Bar and Grill. You can also pick up early the day of the event beginning at 1:00 PM in the parking lot of Margaritaville near the finish line. You MUST get your bib number and race packet at Margaritaville BEFORE getting on the bus. We will not be giving out any bib numbers or race packets at the actual start line.
Can someone else pick up my packet for me?
Yes, they can. They must present a copy of your registration receipt. And don't forget to thank them!
Do I have to wear my bib number?
Yes, please display your bib on the front of your outermost garment. Those who run without a bib will be asked to leave the course and will not be allowed to finish.
I am a fast runner. Can I get a front line position?
Runners predicting a faster pace may make their way to the front of the line, based on space availability (hint: arrive early!).
Will water be available?
Yes, a water station will be available along the route, and there will be water available at the finish.
What can you bring to the event?
You will be responsible for all of your personal belongings you bring to the event. Please leave anything that you do not want to run/walk with locked securely in your vehicle,
Can I run with a stroller, backpack, wheelchair, roller blades, bicycle, etc?
You can participate with a stroller, wheelchair, and/or backpack. No roller blades, bicycles, or pets.
If I have a backpack, what do I do with it?
Please leave all personal items and valuables in your vehicle. All items should be stored securely at the owner's risk. T2T will not be responsible for the loss of any items.
Can I participate in both the T2T Biloxi 5k and Stair Climb?
You certainly can! You will be able to register for just the 5k, just the stair climb, or for both events. The fee to participate in both events will be $35.00 prior to event day.
How many floors is the stair climb?
The entire event will be 110 floors total. This is symbolic of the 110 floors in the World Trade Center. You will climb/walk up the 22 floors of Margaritaville Resort a total of 5 times, taking the elevator back down to the bottom floor each time.
Can I still participate if I am unable to climb the entire 110 floors?
Of course! If you would only like to go up once, or as many times as you chose, you may do so.
Will there be floors that I can "bail out" on if it becomes impossible for me to go on?
Yes. You will be able to "bail out" on any floor if you feel like you are unable to make it any further. Just enter the hallway and take the elevator back down to the bottom floor. If it is a medical emergency and you need assistance, there will be volunteers located in the stairwell on floors 5, 10, 15, and at the top floor. Just call out to them, and they will radio for a medic and come to you. If you are having a medical emergency, please stay where you are, and we will get you help.
Will the Stair Climb be timed?
No. It's more to honor the fallen. You are more than welcome to use a smartphone, or watch to keep up with your own time.
Where will the Stair Climb begin?
On the bottom floor of Margaritaville Resort Biloxi. There will be signs and volunteers directing you where to go. Everyone will gather in the parking lot near the stairwell. We will let participants go up in waves.
What do I do if I am participating in both events?
You have to complete the 5k first. Once you reach the finish line, you will be able to begin the stair climb whenever you are ready. You can start it immediately after you finish the race, or you can take a break before you begin. However, you must enter the stairwell for your final climb by 8:15 PM. The door will be locked at this time, and no one will be allowed to enter the stairwell after this time.
I would like to book a hotel room. Is there a host hotel?
Yes. Margaritaville Resort Biloxi is Tunnel to Tower Biloxi's host hotel. You can book a room there at a discounted rate. Margaritaville Resort Biloxi is a family friendly resort with a water park, entire floor of arcade games, numerous restaurants and other amenities. Call Margaritaville Resort Biloxi 800.794.1582 for details. You can also book online at www.margaritavilleresortbiloxi.com. Once you have registerd for our event, please email us if you are interested in booking a hotel room, and we will give you a promo code to use to get your discounted room rate.
How can my company/organization sponsor this event?
Please send all sponsorship correspondence to with your contact information and someone will be in touch with you within 24 hours biloxi@tunnel2towers.org.
What does a corporate sponsor receive?
Based on the level of financial commitment, sponsors are able to receive a fabulous package of promotional opportunities, prominent logo placement, registration passes, and a chance to align your company's name with a top event in the MS Gulf Coast community. Contact us at Biloxi@tunnel2towers.org.
I would like to donate goods or services to this event. How do I do that?
Contact us at Biloxi@tunnel2towers.org. We make every effort to keep costs down to allow us to give the most to the Tunnel to Towers Foundation in Stephen Siller's name. Your generosity will be so appreciated.
Where does all the money raised get allocated?
All funds raised from Tunnel to Towers 5K Run Biloxi will be donated to the Stephen Siller Tunnel to Towers Foundation for many of their programs. The mission of this Foundation is to honor the sacrifice of firefighter Stephen Siller who laid down his life to save others on September 11, 2001. We honor our military and first responders who continue to make the supreme sacrifice of life and limb for our country.
If I win an award and am not present for the award ceremony, where can I pick it up?
Please contact us via email biloxi@tunnel2towers.org and we will make arrangements to get your award to you.
As a participant, can I fundraise/encourage others to donate?
Yes! Once you are registered, you will be given directions to start your own fundraising page and you will be able to accept donations online. Do you want to donate cash/money? We can help you with that. Contact us at biloxi@tunnel2towers.org and we can walk you through the process or you can send donations directly to 2361 Hylan Blvd., Staten Island, NY 10306 - please give us your information so we can add it to your fundraising page. It's easy!
Does my registration fee count towards my fundraising goal?
Registration fees help offset some of the expenses associated with making the Tunnel to Towers 5K Run & Walk one of the country's greatest annual events, however your fundraising efforts enable us to help first responders and continue building smart homes for the most catastrophically injured service members.

To show our appreciation for your time, passion, and effort, we recognize each fundraising milestone that is reached with prizes branded with the Tunnel to Towers logo.
What are the fundraising levels & prizes?
STAY TUNED.... WE are working on incentives for 2019.

You can help the Stephen Siller Tunnel to Towers Foundation as we honor and support our nation's first responders and military heroes!

Thank you for joining us in our mission to honor and support our nation's first responders and military heroes! For more information on our Foundation please visit www.tunnel2towers.org.
Can I get a refund? Can I transfer my registration?
Unfortunately, ALL SALES ARE FINAL and we do not allow refunds. However, you may transfer your registration to another participant. For instructions on how to transfer your registration please click here.
How can I volunteer?
It's simple! Click on the volunteer option while above and enter your information to sign up. Thank you!