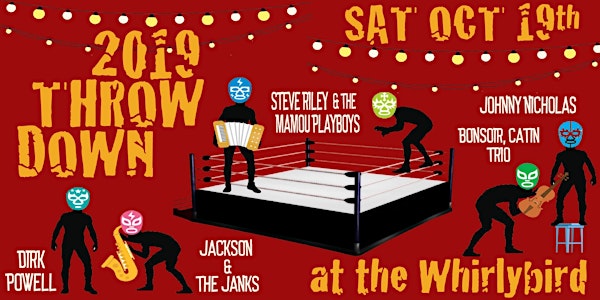 2019 Throw Down at The Whirlybird - PreBlackpot Camp, SAT, OCT. 19
The 2019 Pre-Blackpot Camp and Festival Throw Down has an amazing number of rounds lined up with top contenders showing what they got
Refund Policy
Contact the organizer to request a refund.
Eventbrite's fee is nonrefundable.
About this event
Another year, another Throw Down... Come and be a part of 2019's ultimate battle pitting our most beloved bands of Southern Louisiana against each other at The Whirlybird! The eve of Blackpot Camp has a very satisfying tradition of gathering at The Whirlybird before we enter into the week long events that is Blackpot Camp and Festival. And for these rounds of the 2019 Throw Down, we have a most stellar line-up - one that is sure to have all the judges and fans and bands clamoring for just one more round, one more round, one more round!
This year, there will be NO BYOB, instead we are teaming up with Louisiana Folk Roots of Lafayette who will be at the bar, selling drinks for our 2019 Throw Down, and all proceeds will go to scholarships for future students who will participate at LFR's Kids' Camp. Give them a look if you haven't heard about them before! https://www.lafolkroots.org
And of course, food will be on site! We have Jolie Meaux of Porch, Wine & Gravy with us this year, and her food will knock anyone's socks off! A snack, a dinner plate, a bite that will indeed having you coming back for more! Check out some of her amazing and delectable recipes! https://www.porchwineandgravy.com
Okay, so now... the deets!
2019 THROW DOWN - Pre-Blackpot Camp and Festival
at THE WHIRLYBIRD the South's Premiere Underground Honky Tonk
(purchase tickets for secret directions)
5:30 PM doors open, 6 PM music begins
PURCHASE PRE-SALE TICKETS HERE:
This is NOT A BYOB event. Bring cash for bar and food!
ABOUT THE BANDS:
BONSOIR, CATIN TRIO: Since Bonsoir, Catin burst upon the folk music scene in 2005, they have been rocking Louisiana dancehalls and festivals with their fresh Cajun sound that is a unique blend of ancient ballads, dancehall era gems, swamp pop stylings, and rock n' roll blues. The Bonsoir, Catin sound rides a wave rhythm, a pulse, an under the skin sensation, a heartbeat. http://www.bonsoircatin.com
JACKSON & THE JANKS: Jackson and the Janks are a New Orleans based rock and roll and rhythm and blues garage gospel band. Bass sax holding it down and sacred steel lifting you up. https://www.facebook.com/Jackson-and-the-Janks-259146834610261/
DIRK POWELL: Dirk's soulful and emotionally fearless music has carried him to a unique place in today's musical landscape -- one where tradition, innovation, and inspiration meet without borders. His combination of rural roots and formal training make him a unique force in the world of music. Dirk's bonds with Louisiana and with the mountains of Kentucky are unmistakable – but so is his far-reaching vision and ability to translate the essence of tradition to audiences who need the timeless and sustaining messages that tradition brings. http://www.dirkpowell.org
JOHNNY NICHOLAS: Make no mistake: Johnny Nicholas knows from the blues. His credentials? Impeccable. Conviction? Immeasurable. And chops? If an instrument's got strings, keys, or reeds, rest assured he can play the hell out of it. He's also a consummate songwriter and no slouch of a singer, either, blessed with a warm, toasty growl of a voice that can roll from rumble to croon and back again with seductive ease. In the words of kindred musical spirit Marcia Ball, he "writes instant classics and sings them to break your heart and rock your soul," while no less of an authority than the late, great B.B. King once observed, "[Johnny] learned from some of the same guys I did and he sings and plays the real down-home blues." A lot of those "same guys," in fact, welcomed a young Johnny Nicholas into their homes, treating him not just as a wide-eyed acolyte of the blues, but as one of their own: "They took me in because they thought a lot more of me than I thought they did, obviously," he marvels today, "but then later on I realized that I just have this gift, you know? I can reach deep down in those blues and get way down to the bottom like those guys. And they treated me like family." http://johnnynicholasblues.com
STEVE RILEY & THE MAMOU PLAYBOYS: Steve Riley and the Mamou Playboys began thirty years ago with a reputation for excellence. Their stunningly clean and cohesive performance of Cajun French music from the backwaters of Southwest Louisiana propelled them into the world music limelight early on, and by their third release, Trace of Time, had garnered them a Grammy nomination in the worldwide field of traditional folk music, another in 2004 for Bon Reve, in 2009 for Live at the New Orleans Jazz & Heritage Festival and again in 2011 for their release, Grand Isle. From the day they started, they have gone from strength to strength. Never before in Cajun music has a comparable wealth of skills been brought to the same table. When all that heart and all that skill focus on the revelry of a hot two-step, then turn on a dime and deliver an a cappella ballad, then play something that sounds like Howlin' Wolf fell in lust with a Creole girl, you've found the most Cajun music you can find in any one spot. You've found Steve Riley and the Mamou Playboys. http://www.mamouplayboys.com/