Description


"THE BEST THANKSGIVING EXPERIENCE IN NEW YORK CITY "
Incredible views of the 2019 Thanksgiving Day Parade

Private outdoor viewing area right on 6TH Avenue for our guests only

Multi-course Italian inspired full brunch buffet

Specialty brunch cocktails and soft drinks

Guest Entertainment: Magicians, Balloon Artists and Face Painters

Professional Photographer and YVP Coordinators on-site

Your VIP Pass offers sophisticated access to the biggest parade in the world.
From the extravagant floats and famous balloons to the intricate performances and beyond, the parade has something for everyone.
While dining you won't miss a minute of the fun – the parade right outside and a televised live feed of all the morning's festivities. Guests can spend time in the street level café offering coffee, hot chocolate and light snacks. Grab your cocoa, head outside and watch the parade as the floats, bands and performers march by from this private and exclusive location on the sidewalk.
OUR PROMISE
VIP EXPERIENCE - Private and Exclusive Outdoor Viewing Area
UPSCALE FOOD - Elegant Brunch Buffet and Specialty Cocktails
PREMIUM ACCESS - NYPD Approved Credentials for Access
FAMILY FRIENDLY - Kid-Friendly Guest Entertainment
PREMIUM VIEW- Windows Facing 6TH Ave and 57th St Overlooking Parade
WHAT YOU CAN EXPECT
MODERN AND URBAN-CHIC MIDTOWN VENUE OFFERS GREAT VIEWS OF THANKSGIVING DAY PARADE IN NEW YORK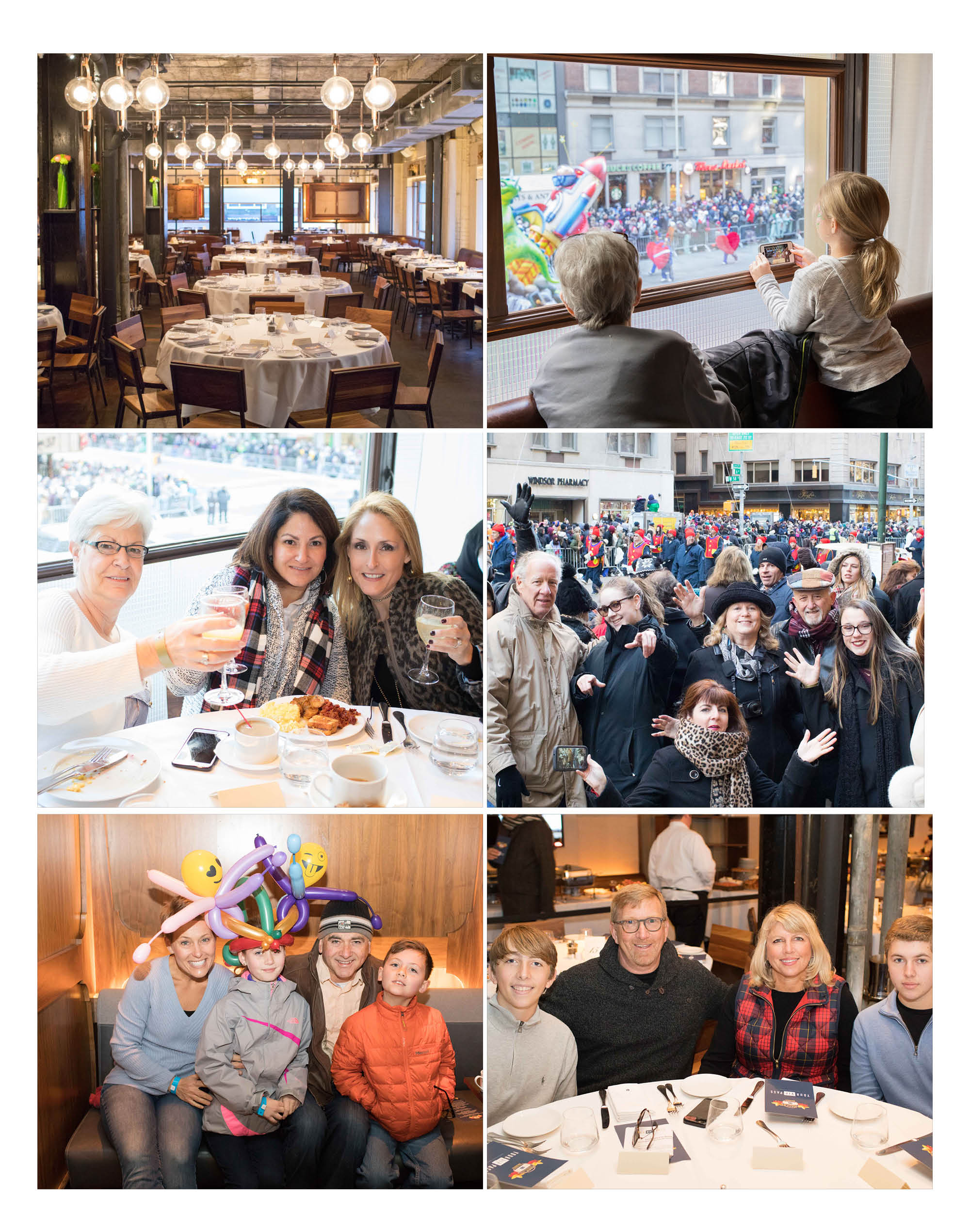 ---

SAMPLE MENU
Italian Inspired Full Brunch Menu from our 2018 event. This year's menu will be just as wonderful.
BREAKFAST BUFFET
Assorted Bagels w/ Smoked Salmon & House-made Ricotta, Capers & Chives
Assorted Seasonal Fruit
Assorted Italian Cured Meats & Cheeses
Assorted Pastries (Croissants, Muffins, etc.)
Greek Yogurt with Granola
Nutella-Stuffed French Toast
Italian-Style Breakfast Potatoes
Breakfast Sausages
Crispy Pancetta
Scrambled Eggs
Chilled Ricotta Crepes with Poached Pears & Pomegranate Egg Frittata with Truffles
Quality Italian Famous Chicken Parm Pizza
BRUNCH SPECIALTY COCKTAILS:
Mimosas
Bellini
Bloody Mary
Beverages will include brunch cocktails as well as Sodas, Juices, American coffee, Hot Chocolate & Teas.


---

WHAT PEOPLE SAID ABOUT OUR 2018 THANKSGIVING BRUNCH
"My husband and I haven't been to New York City in over 10 years. We wanted to do something different this year for Thanksgiving. Your VIP Pass took care of us like no one else did before. We never expected to be upfront and so close to the Parade as it went by. The food and drinks were top notch and the variety was amazing and we even get a special cocktail made just for us. I would highly recommend this experience to anyone who wants to enjoy the parade."

- CLAIRE, SEATTLE

"Over the past 5 years, I booked several experiences through Your VIP Pass. Their team knows how to take care of my family. The Macy's Parade Brunch was another truly unique and fun experience for all of us."

- JULIA, NEW JERSEY

"My daughter has always dreamed about coming to New York during the holidays. We felt like doing something unique for Thanksgiving. The chance for her to see her favorite cartoon characters floating down the street was fantastic. The buffet brunch was sophisticated for me and kid-friendly for my daughter. Thank you, Your VIP Pass."
- PAUL, DALLAS
---
For any inquiries, please contact: request@yourvippass.com or call (212) 878-3620
All sales are final and incur 100% cancellation penalties.