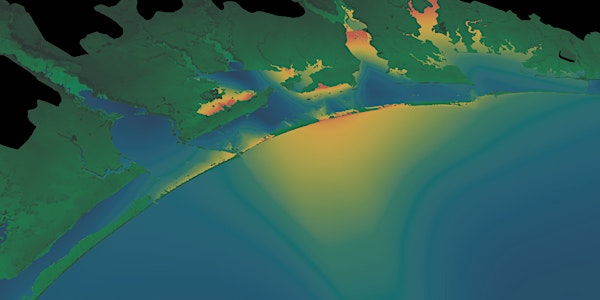 2019 Texas ADCIRC Week
When and where
Location
West Pickle Research Building 3925 W. Braker Lane Austin, TX 78759
Refund Policy
Refunds up to 7 days before event
Description
2019 Texas ADCIRC Week
The 2019 Texas ADCIRC Week is a 5 day intensive bootcamp-style training event for ADCIRC, held April 8-12, 2019, and hosted at the University of Texas at Austin Center for Space Research. Dr. Jason Fleming of Seahorse Coastal Consulting is the organizer as well as co-teacher for the ADCIRC portion. The purpose of #TexasADCIRCWeek is to provide the full spectrum of knowledge required to create, run, and analyze a coastal regional model using ADCIRC. This includes the ADCIRC model itself as well as pre- and post-processing tools.
Expanded Format
In response to participant feedback and popular demand, the 2019 Texas ADCIRC Week will be the first full week standalone ADCIRC training event (distinct from the 2019 ADCIRC Users Group Meeting) to allow more time than past training events for a deep dive into ADCIRC.
Get Up to Speed on ADCIRC
Texas ADCIRC Week will have two key instructional offerings for ADCIRC newcomers: (a) Monday through Wednesday, Dr. Jason Fleming will teach ADCIRC 101: Fundamentals, and (b) Thursday and Friday, Dr. Alan Zundel will teach ADCIRC 102: SMS for ADCIRC, which covers the graphical construction of input data sets and the visualization of ADCIRC output.
Throughout the week there will also be special topic and advanced topic sessions related to leveraging ArcGIS, making the most of the Coastal Emergency Risks Assessment (CERA) Web Mapper, specific mapping techniques for risk communication, taking advantage of DesignSafe resources, and real time coastal forecasting with the ADCIRC Surge Guidance System (ASGS).
ADCIRC 101: Fundamentals (8-10 April)
Led by Jason Fleming of Seahorse Coastal Consulting, this session covers the nitty gritty basics of ADCIRC input files, output files, and the detailed functioning of the code. It is helpful for complete newcomers who will make their own models, and is also valuable for ADCIRC analysts with some experience to learn how to go deeper into the meaning behind the each model parameter.
Comprehensive coverage of ADCIRC's fort.15 (control) file, each parameter, line-by-line
Nodal attributes file (fort.13)
Output files, including hotstart files
Use of parametric vortex wind models for tropical cyclones
Discussion of boundaries and boundary conditions, including tidal B.C.s
and levee B.C.s
Building the ADCIRC code
Output visualization and validation tools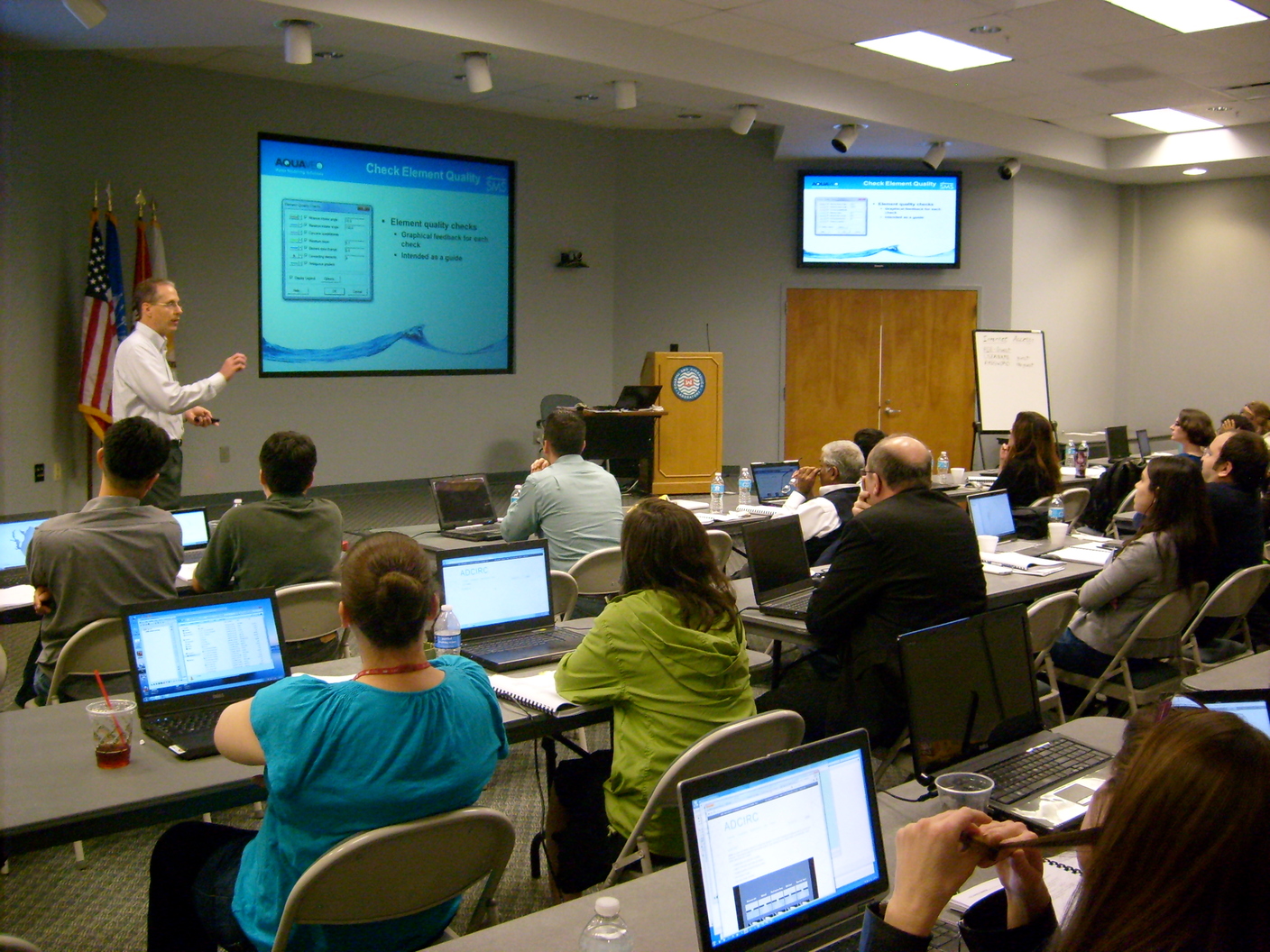 On Thursday and Friday, Dr. Alan Zundel will teach ADCIRC 102: SMS for ADCIRC; the SMS software from Aquaveo is used to visually create and modify input files for ADCIRC and is widely used in the ADCIRC community for this purpose, as well as visualization of results. For these reasons, knowledge of the SMS software is practically required for new ADCIRC users. Please download the latest version (13.0.6) to prepare for this session. We will email you a trial license key.
ADCIRC 102: SMS for ADCIRC (11-12 April)
The modeling process within SMS (overview)
Background data (images, surveys/LIDAR/DEM)
Conceptual model (vector coastline databases, features, GIS)
Mesh generation for ADCIRC
Mesh editing
ADCIRC parameter specification including nodal attributes
Special Topics
Throughout the week, we will have one-day sessions in a simultaneous and separate track to cover related special topics in greater detail.
ADCIRC 104: CERA Web Mapper for Emergency Response (Afternoon of 8 April)
Carola Kaiser, the Lead Developer of the Coastal Emergency Risks Assessment (CERA) web mapper and leader of the Gulf CERA Group, will conduct a half day session on getting the most out of this technology. CERA is an intuitive platform for interacting with coastal model data (particularly ADCIRC+SWAN) as well as measured data from tide gages, rainfall data, and meteorological stations. The CERA site is a prime source of decision support information for State and Federal agencies on the Gulf and Atlantic coasts. This session will be in the afternoon on Monday 8 April and will include both demonstration and hands-on exercises.
ADCIRC 203: Effective Mapping of ADCIRC Results for Risk Communication (9 April)
Michelle Terry, Coastal GIS Specialist, will lead this session on how ADCIRC and GIS tools give us the power to analyze spatial relationships between storm surge and the impacted infrastructure. Basic mapping of model results is straightforward – but how do we ensure that our maps are communicating what we intend? How do we connect with the decision maker and make a lasting impression? Michelle's morning session will cover:
Knowing your audience
How to use the basic elements of a map (shape, color, point symbols, line symbols, basemaps, etc.) to get across the right concepts
Good and bad uses of these elements, i.e., map critiques
Introduction to analyzing model results in a risk assessment framework
Afternoon Session: Open workshop on using tools available in ArcMap to implement concepts discussed in the morning session, including creating map layouts, using advanced symbology and labeling options, and integration with other datasets for basic impact analysis. ArcMap 10.3 or higher recommended.
ADCIRC 202: ArcGIS Integration (10 April)
Ashley Kauppila, P.E., will explore how ArcGIS tools can aid mesh development for ADCIRC storm surge modeling. She will start with the basics of DEM development, including topo and bathy data sources and managing high-resolution files within a Terrain Dataset. Then she will move on to techniques for interpolating DEM and land use data onto mesh nodes. Lastly, she will demonstrate visualizing mesh properties as a Triangulated Irregular Network (TIN) within ArcMap. This session will include a mix of discussion and optional hands-on exercises. Recommended: ArcMap 10.3 with Spatial Analyst and 3D Analyst.
ADCIRC 110: DesignSafe (11 April)
DesignSafe is the web-based research platform of the NHERI Network that provides the computational tools needed to manage, analyze, and understand critical data for natural hazards research. DesignSafe is developed and managed by the Texas Advanced Computing Center (TACC). Clint Dawson will discuss the ADCIRC-specific features and benefits of the DesignSafe platform for public and private sector participants. Maria Esteva, a Data Curator will conduct an interactive session for data producers and consumers, including organizing simulation datasets for accessibility, licensing simulation data, the value of Digital Object Identifiers (DOIs), and how to cite and market datasets. Signing up for a free DesignSafe account is required for this session.
ADCIRC 305: ADCIRC Surge Guidance System (ASGS) (12 April)
The ADCIRC Surge Guidance System (ASGS) is an open source software automation system for ADCIRC and ADCIRC+SWAN for real time forecasting and decision support purposes. It automates the process of acquiring the latest meteorological forecast data (including the latest forecast/advisories from the National Hurricane Center in the case of tropical cyclones), setting up ADCIRC input files, submitting jobs on a cluster or other HPC platform, and post processing the results. Jason Fleming, the Lead Developer of the ASGS, will conduct a one day session to enable participants to learn about the ASGS and how to install and configure it. The goal of the session is for participants to have their own ADCIRC-based real time forecasting system up and running by the end of the day.
Engaging Format
The presentation style will be a mix of lecture, demonstration, and interactive discussion: more like a college classroom than a set of conference presentations. The instructors will also specify hands-on work for those trainees that have a laptop with them.
Frequently Asked Questions
Question: Is there any overlap (time-wise) between the introductory 101 and 102 sessions and the special topic sessions (104, 110, 202, 203 and 305)?
Answer: Yes, the 101 and 102 are back-to-back with no overlap so participants can attend both in serial without missing anything. The special topics actually run in parallel to the 101 and 102, so there is overlap and a participant would have to miss some of 101 and/or 102 to attend a special topic session.
Value
The five days that a new ADCIRC user invests in this training event could save weeks of project time spent in guesswork and trial-and-error. The training also provides value for more experienced users, because the discussion includes the underlying rationale behind various features, as well as highlighting time-saving tips and tricks that are not especially prominent in the documentation.
The registration fee includes light lunches and coffee breaks. Break times present great opportunities for professional networking as well as knowledge transfer and sharing of ideas among ADCIRC users at all levels of experience.
Academic Discounts
Academic discounts are also available at the following levels:
80% discount for full time students with student ID
50% discount for postdocs, with email of support from supervisor
25% discount for academic faculty
Please email jason.fleming@seahorsecoastal.com for a personalized promotional code to claim your academic registration discount before you register.
Testimonials
Some representative feedback from past attendees:
"I liked the format of the adcirc portion of going through each parameter. Thanks again, I think we all got a lot out of it."
"I thought the Boot Camp was awesome. For researchers like me, it was extremely beneficial to get into the guts of the mechanisms behind the scenes of the fort files. ... [the] format was engaging."
Interested but can't make it to #TexasADCIRCWeek this time? Contact jason.fleming@seahorsecoastal.com to be put on the notification list for future ADCIRC training events.
Venue
The 2019 Texas ADCIRC Week will be held at the Center for Space Research at the University of Texas at Austin in the West Pickle Research Building (3925 W Braker Ln, Austin, TX, 78759). We will be in the Large Conference Room as well as a first floor classroom number WPR 1.108/1.110 (Treaty Oak Room).
Computers will not be furnished, so participants are strongly encouraged to bring a laptop. WiFi is available throughout the facility using UT's guest network.
Parking
For participants with cars, the easiest way to take care of guest parking is to pay the $5 daily fee at the UT kiosk in the visitors parking lot. This can be a one-time purchase on arrival that reserves an assigned space for the entire week for $30.
Access
The building is open to the public without a security pass during regular office hours (8-5). There are no special security requirements for international participants.
Amenities
The Center for Space Research is right across the street from several hotels and the Domain shopping area. There are several shopping areas within walking distance, including two Whole Foods grocery stores.
Accommodations
There are three hotels near the meeting venue that are commonly used by visitors to UT CSR.
Hampton Inn Austin-NW/Arboretum
3908 West Braker Lane, Austin, TX 78759
Phone: 512.349.9898
Hyatt House Austin
10001 N. Capital of TX Highway, Austin, TX 78759
Phone: 512.342.8080
TownePlace Suites Austin Northwest/Arboretum
10024 N. Capital Of Texas Hwy, North Austin, Texas 78759
Phone: 512.231.9360
There are no special room blocks or room rates available at these sites and there are many excellent hotels and AirBnb sites throughout the city of Austin.
Be There
We are looking forward to working with you this year at the 2019 Texas ADCIRC Week!