Description
Tech Intersections is a conference for womxn from underrepresented groups in technology, to be held at Mills College in Oakland, California, for its 2nd year on Saturday, January 26, 2019.
Tech Intersections will feature ALL womxn of color in tech speakers for an all womxn of color audience.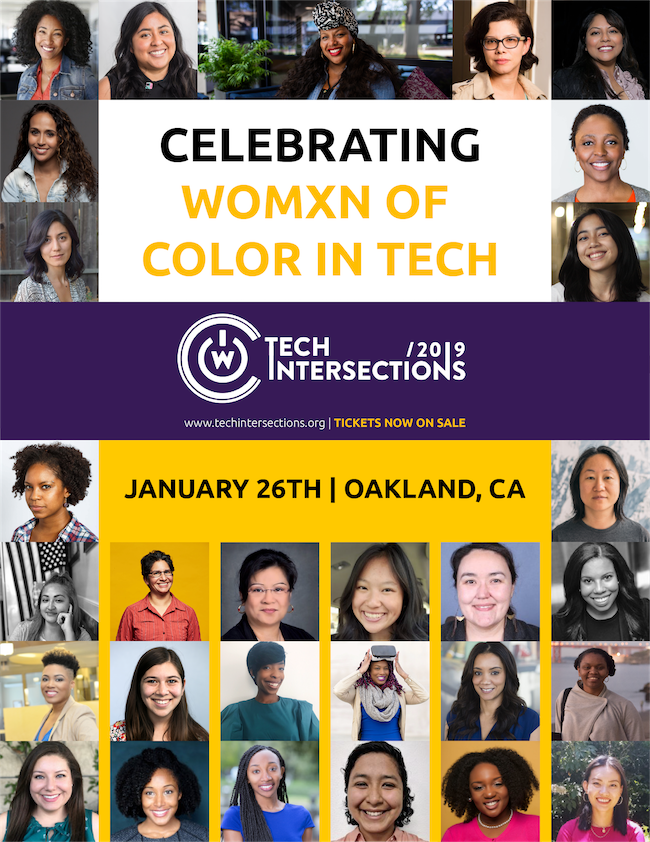 A sampling of our 60 speakers includes:
Sarah Echohawk, Chief Executive Officer of the American Indian Science and Engineering Society (AISES)
The CyberCode Twins, Director at Salesforce and Developer Evangelist
Miriam Aguirre, Vice President of Engineering at Skillz
Cindy Alvarez, Principal Design Researcher at Microsoft
Maira Benjamin, Director of Engineering at Pandora
Idalin Bobé, Founder of TechActivist.Org
Elizabeth Bautista, Manager, Operations Technology Group, Lawrence Berkeley National Laboratory
Ayori Selassie, Product Marketing Manager, Salesforce Einstein (AI for CRM) at Salesforce
Raquel Romano, Principal Software Engineer, Threadloom
Mandela SH Dixon, Founder & CEO at Founder Gym
Victoria Toney-Robinson, Founder & Principal Consultant at TTR
View all speakers and sessions.
This conference already feels like a beautiful win for our community and we want to thank you in advance for your support in making this possible.
Sneak Peek of What To Expect:
Our workshops will include topics like: Introduction to UX Research, How Preventing Cybersecurity Attacks is Everyone's Responsibility, Balancing Technical You vs. Community You, Raising your 1st million, Exercising Self-Care, and much more.

Free childcare will be provided.
We Hope You Can Join Us :)
--------------------------------------------------------------------------
Tech Intersections provides a space for the womxn of color most underrepresented in tech to come together and learn from each other's successes, challenges, and experiences. While we value our allies and recognize that all womxn in tech and mxn of color also face discrimination, this is a unique opportunity for us to have our own space. We hope our allies will join us at a concurrent allies workshop.
Specifically, this conference is exclusively for people who are:
women, non-binary, or gender queer, and

engineers, entrepreneurs, activists, teachers, or leaders in tech (or aspiring to be), and

members of an ethnic group considered most underrepresented in tech, including, but not limited to:

African-American/Black

American Indian/Native American

Latinx

Middle-Eastern

Pacific Islander
The above list of underrepresented ethnic groups is not meant to be exhaustive. Please contact us if you are unsure whether you qualify.
If you do not fit in all of the above categories, we hope you will consider attending our concurrent allies workshop.
All attendees are required to follow our code of conduct.
--------------------------------------------------------------------------
Mills College is accessible by AC Transit and has free parking. Talks will take place in Littlefield Concert Hall and the Lorry I. Lokey Graduate School of Business, which are wheelchair accessible. Gender-neutral washrooms will be available. Please contact the organizers for disability accommodations.
We will provide free childcare.
FAQs
Can allies attend the main conference?
No. We encourage them to attend the concurrent allies workshop.
I'm Asian. Can I attend?
It depends. Some Asians are underrepresented, including (but not limited to) Filipinas, Koreans, and Vietnamese, while people of Chinese, Indian, and Japanese descent are generally not considered to be underrepresented in tech. However, we are aware there are exceptions as there are marginalized castes and ethnic minority groups throughout Asia. Feel free to contact us with questions.
I'm multiracial. Can I attend?
If you identify as a womxn of color and part of your identity is an underrepresented ethnicity, you are welcome.
How much do tickets cost?
We do not want cost to keep anyone from attending so offer a sliding scale:
$10 for students, teachers, and unemployed people, thanks to generous sponsorship from Handshake
$50 for self-paying employed people and employees of small nonprofits
$150 for people funded by their employer
Are there scholarships?
Yes! You can apply for a full or partial scholarship.
Is housing available for out-of-town attendees?
Yes. Double occupancy rooms are available at Mills for $75-$95/night. Some locals have offered space in their homes in the past. There is a channel on our Slack for discussing housing. You will receive an invitation link once you register, or you can email info@techintersections.org.
Are donations to the conference tax-deductible?
Yes, if you give through this page, where you can designate your gift to Tech Intersections Conference Sponsorship. You will receive a receipt from our fiscal sponsor, Mills College.
How can I contact the organizer with any questions?
Please email info@techintersections.org.