About this Event
Taiwan Elevator Pitch Competition is Taiwan Accelerator's most iconic startup event organized in Taipei 101, the country's tallest building. Startups only have 60 seconds, from ground floor to 100th floor, to pitch their businesses and win over the hearts of judges.
Only 1 winner is selected for each of the 6 categories, all with hundreds of competitors. Join us and meet with these winners and learn what new ideas and technologies they are bringing from the high-tech island.
AGENDA
16:00-16:15 Registration
16:15-16:30 Welcome
16:30-17:30 Startup Winners Pitch (6 Startups)
17:30-18:00 Networking Reception
Address: 5201 Great American Parkway, Suite 211, Santa Clara, CA 95054
Conference Center: TeraByte
MEET THE STARTUPS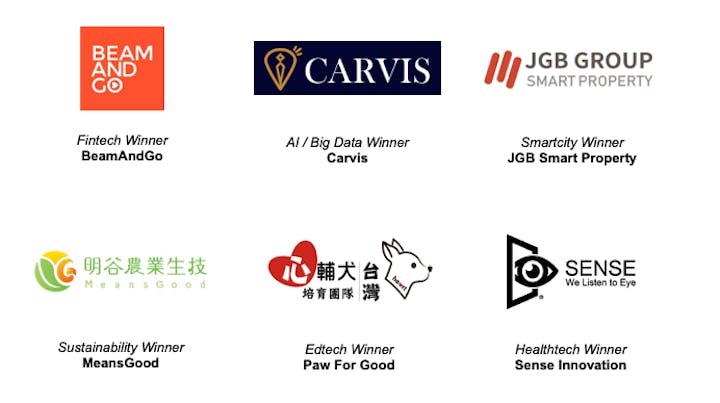 BeamAndGo (Fintech Winner) is a payment and digital marketplace that empowers migrant workers by giving them control over how their remittances are spent back home preventing hard-earned cash being misused for alcohol, gambling and drugs.
Carvis (AI/Big Data Winner) helps drivers find the best personalized and most affordable insurance digitally. As a virtual assistant, Carvis first helps drivers find the best product, book and pay for services. Carvis works with insurers through open banking APIs and integrates gaming factors to drive social engagement, and encourage safer and greener driving.
JGB Smart Property (Smartcity Winner) provides cloud-based rental property management SaaS platform with real-time performance analytics. We enable the ecommerce transactions between property managers, owners and tenants, creating an ecosystem which links service providers and ecommerce that surrounds the needs of the community in leasing property market.
MeansGood (Sustainability Winner) is an agricultural tech company that specializes in smart, cost-effective total solutions. MeansGood provides revolutionary solutions for the indoor cannabis industry. With proprietary technologies, MeansGood reduces traditional energy consumption by 50% and increase net yield of THC/CBD by 10%
Paw For Good (Edtech Winner) trains stray dogs into therapy dogs and design animal interaction education courses for the people who are suffering in emotional disturbance.
Sense Innovation (Healthtech Winner) provides eye-tracking assistive technology to the severely disabled. Its platform has successfully created a brand-new channel for rehabilitation, communication and learning for patients and caregivers, paving the way for a more inclusive and connected society.
2019 TAIWAN ELEVATOR PITCH
CO-ORGANIZERS

Taiwan Accelerator (TA) is the first seed accelerator in Taiwan to organize cross border events both locally and in the U.S. In particular, TA takes startups that represent the innovative modern economy to globally minded investors who are in search of growth. TA provides startups with seed money, follow-up mentoring and training, and opportunities to market themselves to investors. Through investor events like this roadshow, TA enables startups to gain access to the U.S. capital market and media, building awareness on the global stage.
Taiwan Tech Arena (TTA) is focused on startups project and is fully supported and funded by the Ministry of Science and Technology, Taiwan. TTA works with Taiwan startups incubated in or subsidized by TTA to engage with Silicon Valley's startup ecosystem. TTA also works with organized startups to participate in major global startups events, such as CES Eureka Park, TechCrunch. More than 500 startups have been nurtured and supported by TTA.
XCEL ASIA (XA) is the parent company of TA with a focus to invest and accelerate hardtech startups across Southeast Asia and Greater China. The vision is to become the leading platform for startups to access the wider Asian market.
SUPPORTING PARTNERS

ITRI International engages in early-stage incubation, R&D collaboration, contracted research, technology transfer, IP business, recruiting, and high-level training. ITRI International Inc. is set to be a bridge for organizations in North America, Taiwan, and, to some extent, elsewhere in the world to leverage different regional advantages and local innovation clusters for win-win cross-region technology and business collaboration to create and augment value beyond region boundary.
STARTUPS GREATER ASIA (SGA) is an organization bridging Silicon Valley and Asia with connections, resources, and knowledge. Emerging tech companies and venture capital in North America and Asia are finding increasing reasons for cross-border business and investment. SGA aggregates and shares news and insight on cross-border tech deals, and knowledge from experienced cross-border investors and executives to help you be more successful in our global market. SGA partners with accelerators/incubators/organizations/co-working spaces throughout Asia and in Silicon Valley to give you better information and link you to resources such as funding to visit Asia, work spaces, events, advisors and more.
TAITRA is the foremost non-profit trade promotion organization in Taiwan. Jointly sponsored by the government, TAITRA assists Taiwan businesses and manufacturers with reinforcing their international competitiveness and in coping with the challenges they face in foreign markets. TAITRA boasts a well-coordinated trade promotion and information network of over 1,200 trained specialists stationed throughout its Taipei headquarters, four local branch offices in Hsinchu, Taichung, Tainan and Kaohsiung, and 60 overseas branch offices worldwide. Together with its sister organizations, Taiwan Trade Center (TTC) and Taipei World Trade Center (TWTC), TAITRA has created a wealth of trade opportunities through effective promotion strategies.