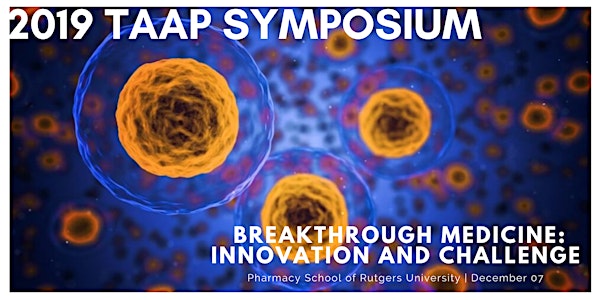 2019 TAAP Symposium
The theme of the 2019 TAAP Symposium - "Breakthrough Medicine: Innovation and Challenge"
When and where
Location
Rutgers University, Ernest Mario School of Pharmacy 160 Frelinghuysen Road Piscataway, NJ 08854
About this event
Dear TAAP members and friends,
We sincerely invite you to join us at the 1-day TAAP symposium. The 2019 TAAP Symposium will be held on December 7, 2019 at Rutgers University, School of Pharmacy. The theme of the 2019 TAAP Symposium is "Breakthrough Medicine: Innovation and Challenge".
In this year's TAAP symposium we will discuss issues related to new areas of breakthrough medicines and critical topics in the development of innovative treatment options. We also dedicated a session for young Taiwanese researchers to show case their work and a session for net-working.
We will have speakers from academia and industry in the US to share their experiences and knowledge in those topics.
You can find the brief description of the Symposium in the TAAP website or TAAP Face Book page. More details regarding the program and speakers will be coming in the next weeks.
Schedule
08:00 - 08:50 Registration
08:50 - 09:00 Opening Remarks
09:00 - 10:00 Keynote I : Sulfur Mustard-Induced Cutaneous Injuries and Therapeutic Approaches
10:00 - 10:30 Coffee break and networking
10:30 - 11:15 CarT: The Path from Bench to Bedside-The challenge of brining personalized T cell therapy to the clinic
11:15 - 12:00 Precision Medication: Emerging synthetic biology tools for engineering biological systems
12:00 - 13:30 Lunch
13:30 - 14:15 FDA: FDA Regulatory Review Process for New Drug
14:15 - 14:45 Emerging Field I: Beyond DNA mutations: The Roles of mRNA Alternative Cleavage and Polyadenylation in Cancer
14:45 - 15:15 Emerging Field II: Neuro-immune crosstalk and microbiota in inflammatory diseases
15:15 - 15:45 Emerging Field III: C2cd4a, pancreatic beta cell function, and type 2 diabetes susceptibility
15:45 - 18:00 Job Application and Resume Review
15:45 - 18:00 Networking and Coffee Break
Tickets
General admission: $20 / ticket
Ticket at the gate: $30 /ticket
Membership
Join as a member to get the full benefits! (Don't forget to pay the 2020 membership fee!)
http://www.taap-us.org/get-involved.html
On-line registration will open till 2019/12/01. Seats are limited, please reserve your ticket soon! We are very much looking forward to seeing you at 2019 TAAP symposium.