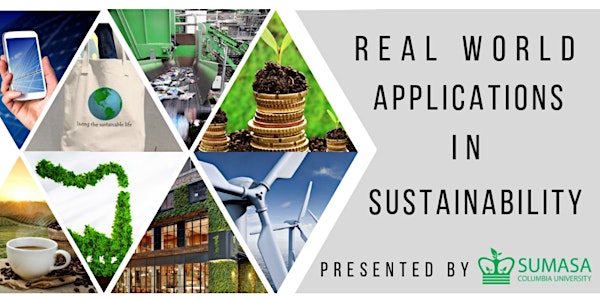 2019 Symposium | Real World Applications in Sustainability
Location
Faculty Room, Low Memorial Library
New York, NY 10027
Description
The annual Sustainable Perspectives Symposium is the Sustainability Management Student Association's (SUMASA) flagship event. The symposium serves as a forum to help sustainability practitioners share best practices and next practices and explore a new theme each year. It is also an opportunity to connect current experts with Columbia's emerging sustainability leaders. This year's theme is Real World Applications in Sustainability where we will explore how sustainability takes different shapes depending on the industry and the meaning that different stakeholders assign to the word.
A reception will follow afterwards.
Visit https://sumasa.org/2019-symposium/ for more information.
AGENDA
1:00 – 1:20 PM Welcome / Check-In
1:20 – 1:30 PM Opening Remarks
1:30 – 2:10 PM Fireside Chat | Hospitality as a Platform for Change
2:10 – 3:30 PM Speakers | Implementing Sustainability Strategies
3:30 – 3:45 PM Coffee Break
3:45 – 4:25 PM Fireside Chat | Breaking into Sustainability – Career Development
4:25 – 5:00 PM Keynote Speaker – David Steingard
5:00 – 6:00 PM Reception

SPEAKERS
Ross Bergman – Sustainability Engineer, Humanscale
Steve Cohen – Director of the M.S. in Sustainability Management, Columbia University
Faith LeGendre – Sr. Circular Economy Strategist, Cisco
Derek Noah – Account Manager, TerraCycle
Alex Rudnicki – Senior Project Manager, AeroFarms
Melisa Simic – V.P. Sustainable Finance, ING Capital LLC
Hans Schaepman – General Manager, 1Hotels Brooklyn Bridge
Edmund John Skowronek III – Vice President, Sloane & Company
David Steingard – CEO & Co-founder, Laughing Man Coffee