Description
Come enjoy a morning of tennis to support the fight against cancer.
Hosted by: Ryan Johnson, Justin Field, Brint Morrow, Bert Hayenga, Carrie Phillips, Rico Strom, and Preston Clarke.
What: Doubles Round Robin - Multiple Brackets (all levels welcome);
When: Sunday, May 19, 2019: 8:30am-1:00pm
Where: Camelback Village Racquet & Health Club 4444 East Camelback Road, Phoenix, Arizona 85018
Entry Fee/ Donation:
Tennis, Exhibition Match, and Cookout $100 per person (tax deductible). You can sign up as a team or be in group that rotates.
Exhibition Match and Cookout: $35 per person (tax deductible)
Sponsorship opportunities are available.
Schedule:
8:30am Check-In / Breakfast
9am - 11:30am Tennis, Tennis, Tennis
11:30am - 1pm Cookout and Exhibition Match
Silent Auction, Raffles, Prizes
Sponsored by: OHSO, Wilson, It's All About Tennis, The Village at Camelback, Desert Institute for Spine Care, and The Brokery.
Can't make the event, but want to support the fight against cancer? Please go to:
This event supports Coast to Coast Cures' campaign to raise funds for The Leukemia & Lymphoma Society. Coast to Coast Cures Co-Founder Brint Morrow was inspired to support the LLS by the story of a little girl named Amber, the niece of a good friend of his. Amber is a spunky, beautiful child from Tucson, Arizona. Amber was diagnosed with Acute Myeloid Leukemia (AML) at the age of 7. AML is a devastating form of childhood cancer, and if it weren't for a bone marrow transplant donated by her little brother Benjamin, she may not have won her fight. In the 4 years since Amber has been in remission, she and her family have not stopped working to raise money for cancer research. Research that they - more than most - understand is LIFE-SAVING.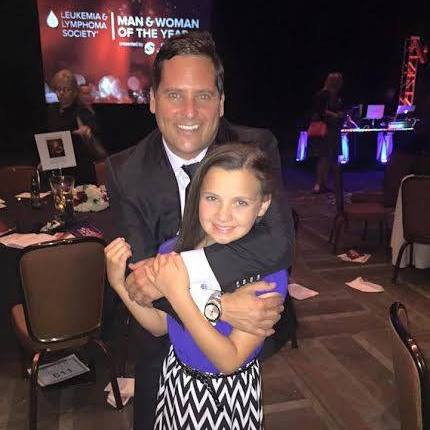 Brint & Amber at the 2015 MWOY Finale
Learn more about Coast to Coast Cures at:
Facebook Event Link: https://www.facebook.com/events/387569175412305/