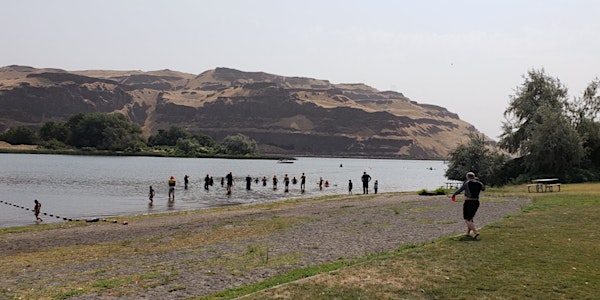 2019 SWIM the SNAKE!
When and where
Location
Lyons Ferry Marina and Lyons Ferry State Park Lyons Ferry, Washington 102 Lyons Ferry Road Starbuck, Washington 99359
Description
2019 Marks the 7th Annual SWIM the SNAKE, a non-competitive and competitive paddling (kayaks and paddleboards only, please) and open water swim across Lake Bryan in the Snake River in southeast Washington State. NO REFUNDS.
The event begins at Lyons Ferry Marina, near Starbuck, Washington in Columbia County. Paddlers will cross the river channel, a distance of 0.7 mile to Lyons Ferry State Park in Franklin County. Once paddlers arrive at the Park, they can tag team with a paired swimmer or beach their craft and join the non-competitive swimmers as they return across the channel to Lyons Ferry Marina, a distance of 0.7 mile. Swimmers will enter the water in flights of 10 and are REQUIRED to swim with a marked (flight number and swimmer number) orange swim cap. Particpants are traversing Lake Bryan which is the dam pool between Little Goose Dam to the east and Lower Monumental Dam to the west. River currents are negligible and water temperature in mid-August is between 68-70 degrees Fahrenheit. Air temperature averages between 88-100+ degrees. Swimmers are encouraged to use swimming goggles and wetsuits are permitted. This is NOT a RACE. This is for FUN! Most swimmers complete the swim in 25 minutes (3 mph) to 45 minutes (1.5 mph).
Participants must PRE-REGISTER and SIGN a release of liability PRIOR to entering the water - PLEASE bring copies with you or sign up at the Marina OR at the State Park.
US Coast Guard Auxiliary, local Sheriff river patrols from Franklin and Columbia Counties are in the river channel to ensure participant safety. The US Army Corps of Engineers, Washington State Parks and Lyons Ferry Marina staff assist with event safety and activities. Local volunteers in kayaks, canoes, paddle boards and small craft are encouraged to "line" the swimming lanes for additional participant safety. If the weather does NOT cooperate, the swim will be "called off" by the local Sheriff's Department. SAFETY is our number one goal.
This event is a fundraiser for the Pomeroy Youth Summer Swim Team and the Blue Mountain Resource Conseravtion & Development Council, a regional non-profit organization. Please be advised: NO REFUNDS.
FAQ - Frequently Asked Questions
1. When can I check-in for the events? And where?
Registration opens at 9:30 am at Lyons Ferry Marina and State Park. Registration for the paddling portion will be near the breakwater at a picnic table at the Marina. Registration for swimmers will be at Lyons Ferry State Park, near the restrooms, adjacent to the swimming beach at a picnic table. You MUST PRE-REGISTER online as internet access is LIMITED at the Marina and State Park.
Waiver for Release of Liability

2. How much does it cost to participate in this event?
Pre-Registration is REQUIRED at Eventbrite.com. Fee is $35.00 plus $2.40 Eventbrite handling fee, a total of $37.40 to a great cause.
3. What do I get for the $35.00 plus $2.40 handling fee?
Your registration pays for event insurance, numbered swim cap, bottle of water upon finish, sliced melon bites, and a ride back to Lyons Ferry State Park. You also get the satisfaction of swimming across the mighty Snake River, supporting local youth and natural resource and economic development programs in our region.
4. Once I pay, then what?
Once we receive your payment, you will be issued a numbered wrist band (if you are a paddler) and/or a numbered swim cap AND you are REQUIRED to sign a waiver of release of liability to participate. We carry insurance for this event, but we are not responsible for your failure to follow the guidelines established and protocols for engaging in this event.
5. How will I know when to get in the water?
At the Marina, paddlers will assemble at the boat launch and at the sound of an air horn, begin paddling away from the launch, past the breakwater and into the channel on Lake Bryan, Snake River. All paddlers must have signed the waiver for release of liability, a wrist band, PFD, leash for your paddle board and head toward Lyons Ferry State Park.
Swimmers will assemble in groups of 10 according to the flight number on your cap. 10 swimmers per flight and prepare for a staggered start at the swimming beach at Lyons Ferry State Park.
6. What about my personal items? Clothes, car keys, towel, etc.
A staff member will provide a waterproof garbage bag for your valuables, car keys, towel, shoes and clothing that will have your correpsonding flight number written on it. The staff will transport your bag of personal items to Lyons Ferry Marina and be held securely until you check-in with staff following your swim and collect your bag of items. If paddling, you may leave your valuables in your car. If you can, we would appreciate you paddling with the swimmers for an added measure of safety back to the Marina. If not, a staff member can arrange for your transport back to the Marina.
7. After the swim, how do I get back to my vehicle at Lyons Ferry State Park?
A staff member will drive you from the finish at Lyons Ferry Marina to the start at Lyons Ferry State Park. We will do our best to get you back to the Park without delay.
8. Do I need to pay for parking at Lyons Ferry State Park on the event day, August 10, 2019?
You may park at Lyons Ferry State Park if you have purchased a Discover Pass from Washington State Parks. You may also buy a one-day parking pass at the Park for the day. PLEASE BE ADVISED, vehicles without parking permits MAY be cited by Washington State Parks law enforcement officers.
9. Do I need to pay for parking at Lyons Ferry Marina?
You do not need to pay for parking at Lyons Ferry Marina, but Marina staff ask that you please park nearer the bone yard (the south end ofthe parking area) and not in the spaces reserved for vehicles with boat trailers, please.
10. Your flight is called....it's time to enter the water...what next?
Swim to the south (towards the river channel) and head to the log boom. At the boom, you must navigate around it. You can scamper over it (mindful of the chains connecting them) or as most swimmers do, swim underneath it. It is only 18"-2' underwater and safe to do IF you avoid the chains connecting the logs. Staff in kayaks will help guide you through this area. Head into the channel and look for the United States flag on the breakwater at the finish.
11. Swimming into the channel. What can I anticipate?
You will head in a diagonal line across the channel. You'll want to swim between the 4th and 5th abutments to facilitate a clean line to the finish. Staff will keep you away from the bridge abutments which are not safe. Coast Guard Auxiliary, local Sheriff river patrols and many volunteers will be in the channel to ensure you head toward the finish and stay on your diagonal line.
If you get too tired, have cramps or for any other reason feel you cannot finish the swim, raise your hands as high as you can over your head and you will be picked up by a paddle boarder or kayaker out of the swiwmming lane to a power boat and transported safely to shore.
12. I see the United States flag....now where do I swim to get out of the river?
You will see the US flag and staff will direct you to swim to the breakwater at the east end under the catwalk that accesses the floating breakwater. Once you are on the protected side of the breakwater, you'll see a white ladder. Swim to the ladder, catch your breath and exit the water. A staff member will give you a bottle of water. This is NOT A RACE, so take your time, enjoy your finish and pat yourself on the back for swimming across the mighty Snake River.
13. How do I exit the finish area?
Climb the ladder out of the water and MAKE SURE YOU GIVE YOUR FLIGHT NUMBER AND NAME TO THE CHECK-OUT CAPTAINS ON THE BREAKWATER. You must NOT LEAVE the finish area WITHOUT checking out with the Check-Out Captains. Please, the finish area is reserved for participants only. Leave the finish area, walk up the catwalk, retrieve your personal belongings and wait for a ride back to the park if you need one. You may join your friends and family on shore by the fire pit and enjoy fresh sliced, chilled melon bites and drink your water.
14. For your safety, we have the following in place:
Sheriff's river patrols have radio communication, the event coordinator and staff have hand-held radios and trained emergency personnel are on the river to assist participants if necessary. The US Army Corps of Engineers and Washington State Parks personnel will be on-site the day of the event. We also coordinate with several barge companies, the Corps Junvenile Fish Transportation Program and Columbia County Grain Growers. The Grain Growers monitor the river transponders to ensure safety on the river during harvest.
15. Can I get a refund if the weather is bad, I'm sick the day of the event or ?
This is a FUND RAISING event and there are NO REFUNDS for any reason.
Enjoy the River!
THANK YOU for supporting our youth swim team and regional non-profit organization!