Description
We invite you to join us on Sunday, August 18th for SupplyBank.Org's Annual Berkeley Volunteer Event. This year the event will be held in the Chevron Auditorium of the UC Berkeley International House, at the corner of Piedmont Avenue and Bancroft Way in Berkeley. We will assemble 3,500 school supply kits that will be given to students eligible for the free & reduced lunch program attending Berkeley Public Schools.
Please register using the form on this page so we have an accurate volunteer count. Snacks will be provided. We look forward to seeing you there!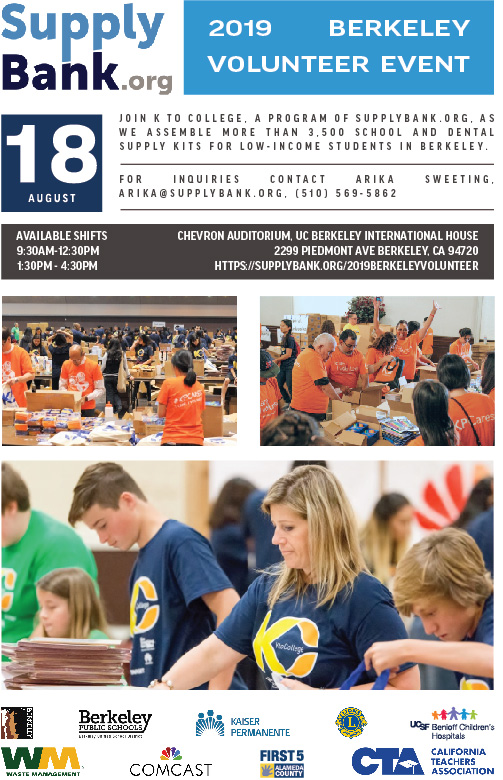 DIRECTIONS
Detailed instructions are available on the International House website: http://ihouse.berkeley.edu/about/location.php.
BART & Walk: Exit BART at the "Downtown Berkeley" station. Walking from the Berkeley BART station to I-House will take 20-25 minutes and is a gradual uphill incline. See this link for Google Maps walking directions: http://goo.gl/jLXrZu.
BART & Shuttle: Exit BART at the "Downtown Berkeley" station. There is a UC Berkeley Perimeter shuttle bus ("P" bus) located across from BART at Center & Shattuck in front of Bank of America. The shuttle stops in front of I-House. Visit https://pt.berkeley.edu/transportation-options/campus-shuttles for all shuttle information.
Drive & Park: Street parking is free on Sundays around the International House, 2299 Piedmont Avenue. Additionally, there are parking lots nearby:
Boalt Law School Lot: The closest public parking to I-House. From Hearst Ave., turn right on Gayley. Immediately past the Haas Business School, turn right and then left into the lot.

Kroeber Lot (Tennis Courts): This is also close to I-House but more expensive. Located on Bancroft, west of College Ave.

Underhill Lot: Located at the corner of Channing and College, this lot is a 5-10 minute walk from I-House.

Public Parking Lots: Next to the Berkeley Art Museum on Bancroft and below Ink Stone on Bowditch.


QUESTIONS
Please contact us using the "Contact the Organizer" button to the right, or call SupplyBank.Org at (510) 569-5862.
---
SPECIAL THANKS TO OUR COMMUNITY PARTNERS: