2019 SUPERLady HOUSTON Calendar Soirée
Sales Have Ended
Ticket sales have ended
Thank you for your commitment to helping us mentor girls into their next! We'll see you Thurs, Nov 8, 2018! Tell and friend and share too ... WHY? #TOGETHEWeAreSTRONG Click here -->https://2019superladysoiree.eventbrite.com Thank you and we'll see you soon! SUPERLady LIVE MOVEMENT
Sales Have Ended
Ticket sales have ended
Thank you for your commitment to helping us mentor girls into their next! We'll see you Thurs, Nov 8, 2018! Tell and friend and share too ... WHY? #TOGETHEWeAreSTRONG Click here -->https://2019superladysoiree.eventbrite.com Thank you and we'll see you soon! SUPERLady LIVE MOVEMENT
Description
Our Annual SUPERLady HOUSTON Calendar Soirée honors, celebrates & recognizes a diverse select group of ladies in the Houston and surrounding areas for leading, serving others & serving others well.
Our Theme: "TOGETHER We Are STRONG", is definitely demonstrated naturally among this group. Forging alliances to transform Houstonians by strengthening family, business and community is the SUPERLady WAY. Therefore, help us celebrate them in their Night of SHINE … It's a Pink Carpet Affair! Hosted by Loretta Williams Gurnell, Managing Partner of SUPERLady LIVE MOVEMENT!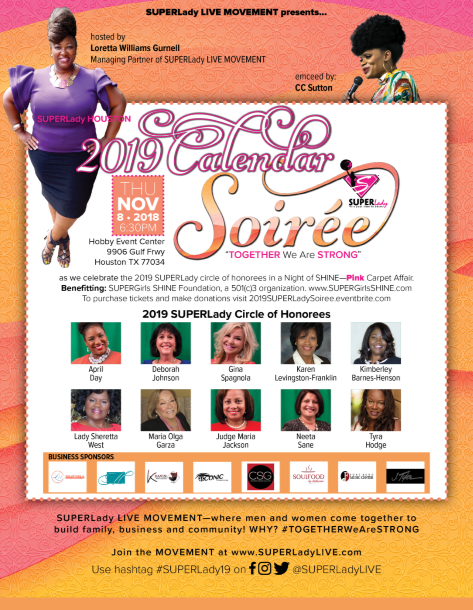 The 2019 SUPERLady Circle! WHY? #TOGETHERWeAreSTRONG
April Day, - President of Women's Business Enterprise Alliance
Gina Spagnola, President - Galveston County Chamber of Commerce
Olga Garza, Vice President, Mortgage Program Director at Harris Housing Advisors, LLC
Tyra Hodge, Cleveland ISD Lead Special Education Professional
Kimberley Barnes-Henson, President of Houston Black Real Estate Association
Neeta Sane, HCC Board Trustee - District VII
Judge Maria Jackson, 339th State District Court in Houston, Harris County
Lady Sheretta West, First Lady, Minister to the Mosaic Women -The Church Without Walls
Debbie Johnson, President of Board of Directors for 1960 Community Hope Center
Karen Levingston-Franklin, Chairman/CEO World Youth Foundation, Inc.
Therefore, get your tickets. For more than 5 years, SUPERLady LIVE MOVEMENT'S SUPERLady Houston Calendar Soirée has been one of the premier fall events for Houston, TX in showcasing the work and IMPACT of these ladies. While executive leaders and seasoned, diverse professionals between the ages of 35 and 59 join us each year, we have attendees that extend beyond that demographic.
Our Soirée receives widespread media attention and allows everyone to SHINE! And this year, SUPERLady LIVE MOVEMENT has chosen SUPERGirls SHINE Foundation as its benefactor for building Leadership and STEM Programming for girls 10-17 in underserved communities by teaching them how to raise their hands in the classroom so they'll raise their hands in life!
WILL YOU HELP US IMPACT MORE? If YES ... Click Tickets NOW!