Description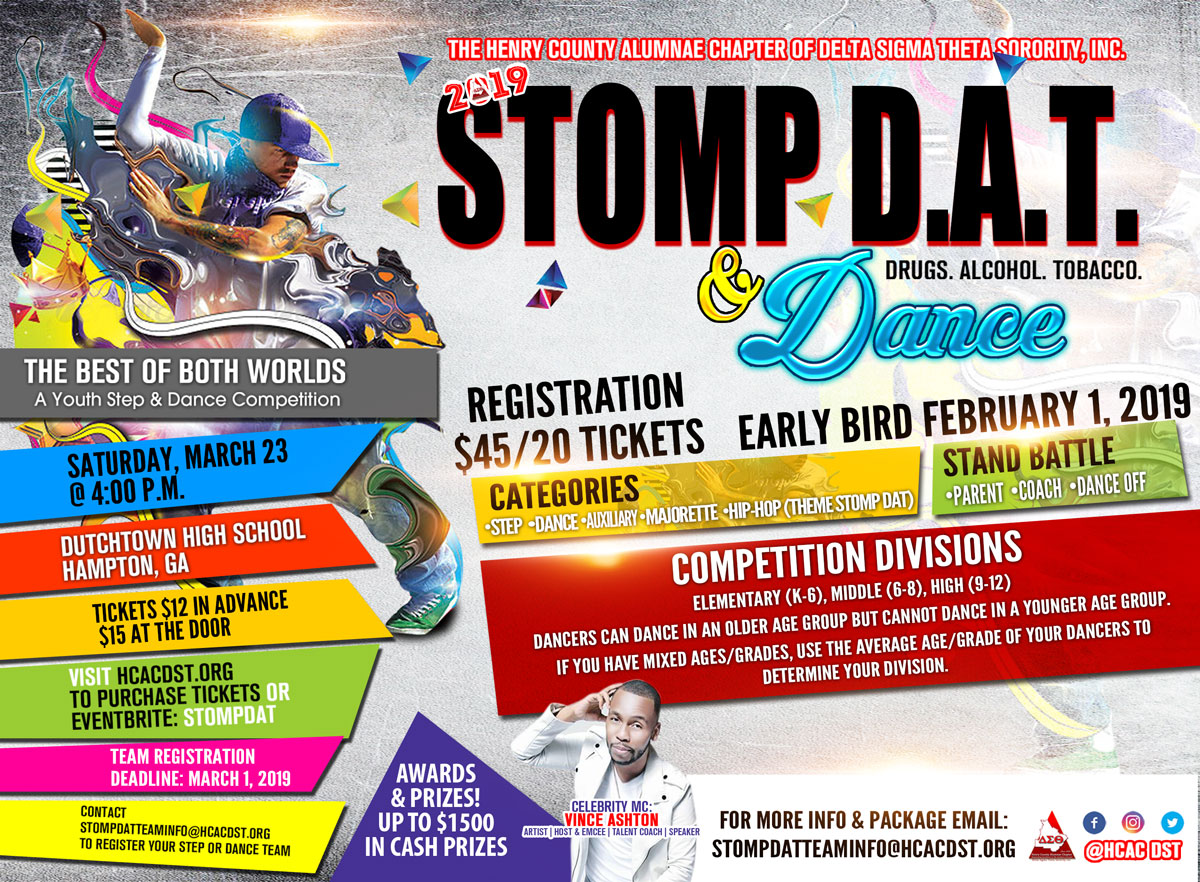 It's the BADDEST and LONGEST Running Youth Step and DANCE Show in the Metro Area!
14 Years and Counting!
Often Imitated…never Duplicated
2019 Stomp D.A.T. & Dance – The Best Of Worlds Step & Dance Competition
Saturday, March 23, 2019 @ 4pm
Dutchtown High School, Hampton GA
Tickets: $12 In Advance | $15 At the Door
AWARDS & Prizes! Up to $2,000 IN Cash Prizes!
Stand Battle: Parent/Coach/ Dance Off
TEAM REGISTRATION:
Early Bird Team Registration: $45 per team | Must sell 20 Tickets @ $10 per ticket = Total: $245 [Sale ends on February 1, 2019]
Registration: $45 per team | Must sell 20 @ $12 per ticket = Total: $285 [Sale Ends on March 1, 2019]
CATEGORIES:
STEP | DANCE | AUXILLARY | MAJORETTE | HIP-HOP
THEME:
STOMP OUT DRUGS. ALCOHOL. TOBACCO [required component of show]
COMPETITION DIVISONS:
Elementary (K-6), Middle (6-8), High (9-12)
Dancers can dance in an older age group but cannot dance in a younger age group. If you have mixed ages/grades, use the average age/grade of your dancers to determine your division.
Sponsorship Opportunities are welcome!
VISIT HCACDST.ORG For More Info & Competition Packet
Questions email us @: stompdatteaminfo@hcacdst.org
Thank you for supporting the LARGEST scholarship fundraiser for Henry County Alumnae Chapter of Delta Sigma Theta Sorority, Inc.
HCAC DST gives one scholarship to every high school in Henry County.