Description
SUBSCRIPTION RESERVATIONS BEGIN 01/8/2019 AT 7:00 P.M. (PT)
Don't miss out on eight weeks of amazing films at the KCET Cinema Series. You'll experience an insider's look at the new season of films from the stars of the film festivals to the best from Hollywood filmmakers all screened prior to their theatrical release. To further enrich your movie-going experience each screening is followed by an in-depth Q&A with the film's talent and filmmakers moderated by series host and nationally recognized film critic Pete Hammond.
Passes to the 2019 Spring KCET Cinema Series include one reservation to attend all eight film screenings. The 2019 Spring KCET Cinema Series screening dates are February 5, 12, 19, 26, March 5, 12, 19, and 26. Screenings begin at 7:00 p.m. and followed by a Q&A after each film.

All seats are reserved and all seat selections are final. To make a seat selection please ensure that you are using a computer (tablets and cellphones are not supported). No refunds available.

The 2019 Spring KCET Cinema Series is generously sponsored by:

---
FAQs
What films are being screened at the 2019 Spring KCET Cinema Series?
We will post film schedules here as soon as they are announced.
Do I need to bring my Eventbrite receipt to the screening?

No. You only need to bring your KCET Cinema Series card, which will be mailed to you approximately one week before the first screening.
What if my Cinema Series card does not arrive in the mail before the first screening?
If you do not receive your pass(es) before the start of the series, please come to the check-in table on opening night for assistance. If you did receive your pass(es) in the mail, you do not need to come to the check-in table on opening night.
What are my transport/parking options getting to the event?
Parking is available in the Sherman Oaks Galleria parking structure. All parking will be validated inside the ArcLight Cinema. Handicap and valet parking is available at a nominal fee.
Can I choose my own seats?
Yes. You must use a computer to select your own seats - the system does not support any tablets or cellphones. You will automatically be assigned seats by the Eventbrite system. To choose different seats you must find available seats on the seating map and click on those seats. On the right hand side of the screen you will see all seats that are currently selected. To deselect a seat you must click the trash can next to the seat information (see below). If you are having trouble selecting seats, please review the following Eventbrite tutorial by clicking here.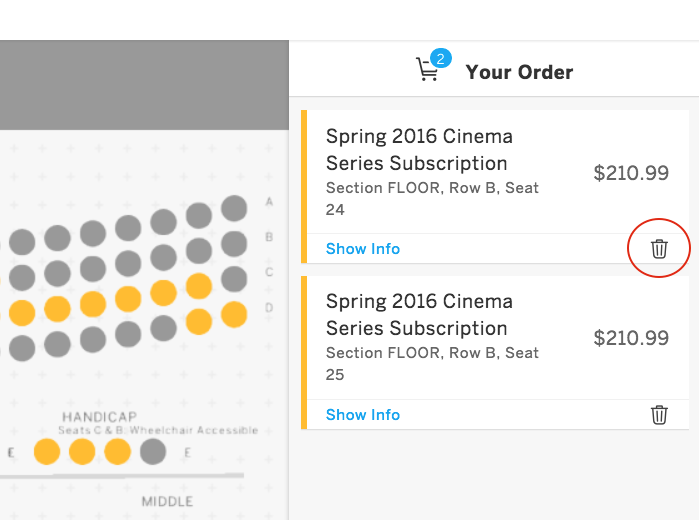 All seats are reserved and all seat selections are final. When registering, Eventbrite will automatically assign you the best available seat(s). If you want to choose different seats, you first have to give up the seats that Eventbrite assigned you in order to be able to select new seats.
Please know that many people are trying to select from the same pool of seats at the same time, so if you relinquish the seats that Eventbrite chooses for you, your desired seats might not be available because someone else is in the process of reserving them. You may end up not being able to reserve any seats at all.
Although we only invite previous KCET Cinema Series attendees to register, this series does sell out quickly, so your best option is to accept the seats that Eventbrite assigns you.
All orders must be placed online. We apologize, but we cannot accept phone orders for this series.
In the rare instance an order is cancelled, new seats may open for registration. We are unable to provide a waiting list, so be sure to check the Eventbrite page periodically to see if any seats have become available.

How many passes can I reserve at one time?

You can reserve up to 4 passes at one time. If you would like to reserve more than 4 passes, you must do them in two separate transactions.
Can I reserve passes on behalf of friends or family? If so, what is the time limit for reserving passes?
If you are subscribing for friends or family, please be aware of the 15-minute time limit and perhaps use your own information instead of entering the names of all your guests during your registration. If you use your name for each subscription, you will receive one pass in your name and the other(s) will be listed as "Guest of" your name.
Are all seats reserved?
Yes.
Can I switch my seats from week to week?
No. The seats selected at the time of subscription will remain your seats for the entire series.
Is there handicap accessible seating?
Yes. There are handicap accessible seats, and they are indicated on the seating map as such. Please note that some seats in the theater are intended for wheelchair use only, and do not come with a seat. These have been marked blue on the seating chart.

Can I cancel my subscription?
No. All subscriptions are final.
Can I choose my reserved seat(s)?
Seats that are available will be indicated as such on the seat map available above. You can choose any seat that is available on the map.
Can I make my reservation over the phone or in the mail?
No. Reservations will only be taken online through the Eventbrite system.
Why is there a fee charged?
The fee amount is charged and collected by Eventbrite.
Will my donation renew my KCET membership?
Yes, if your KCET membership is about to expire or has expired, your donation will renew your membership.
What are KCET's Membership benefits?
As a KCET donor, you are supporting the very best in television. Basic Membership benefits include:
- Invitations to members-only events
- KCET Connected Publication (quarterly)

---
SEATING CHART MAP NOTE