Description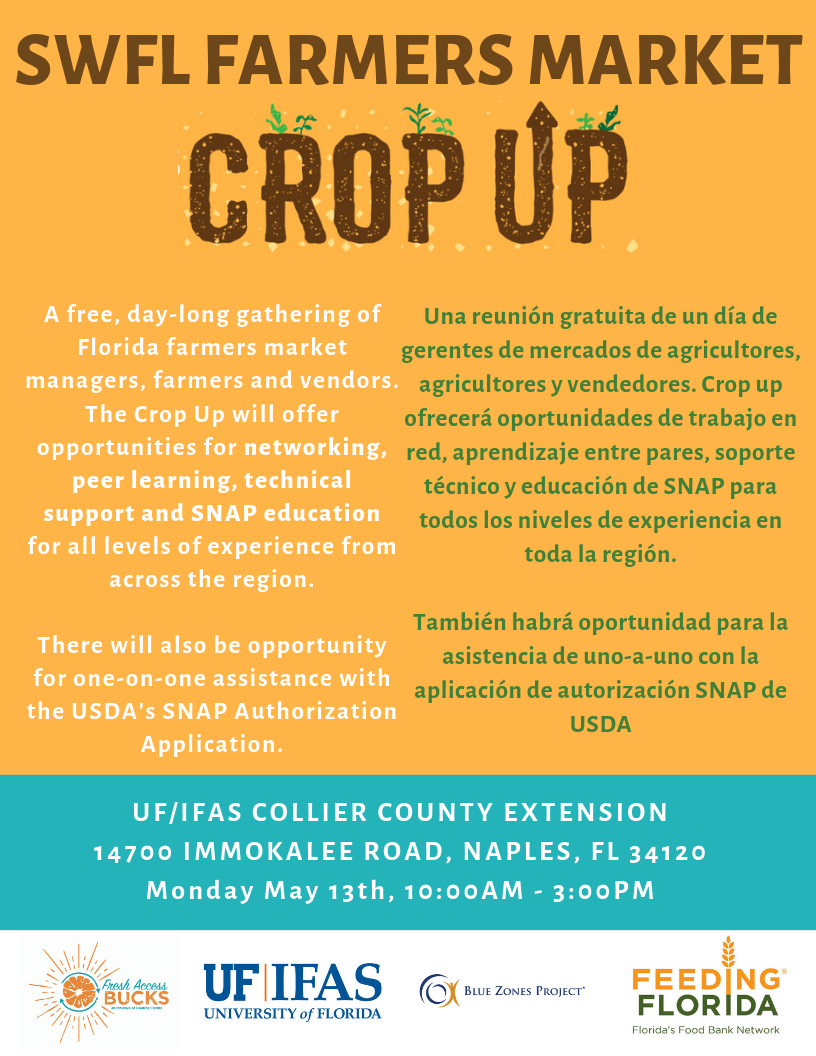 2019 Southwest Florida Crop Up
What
A day long training for farmers market managers, farmers and vendors to learn the benefits and process for accepting SNAP/EBT.
Where
UF/IFAS Collier County Extension
14700 Immokalee Road
Naples, FL 34120
2019 SWFL CROP UP SCHEDULE
9:45
Registration
Sign in, pick up your materials for the day and help yourself to locally roasted coffee, tea, fruit and light pastries.
10:00
Welcome and Orientation
Who we are and why we are here? We'll share Crop Up objectives and event logistics, and build the container for the day.
10:15
Oh SNAP! The why and how of SNAP/EBT acceptance at your market.
Accepting SNAP/EBT (formerly known as food stamps) can increase vendor sales while making a positive impact on your community. Learn the steps to becoming SNAP authorized, equipment options and best practices for running a SNAP program at your market.
11:00
Fresh Access Bucks 101
Fresh Access Bucks doubles SNAP/EBT purchases for Florida grown produce. Hear from a FAB Market Partner about the impact the program has had on her market and steps to become a FAB Market partner.
11:30
Community Engagement
Connect your market with your community! Join this talk about how to build relationships, trust and support with the community and community partners that you hope to work with.
12:30
Lunch, catered by Chef Daniela
1:30
Cottage Food Law
FL cottage food law allows individuals to manufacture, sell and store certain types of "cottage food" products in an unlicensed home kitchen. Learn about the 2017 updates to the law, allowable and non-allowable foods, labeling requirements, food safety regulations, sales and the responsibilities of the Cottage Food Operator.
2:00
Open for Business
Learn the basic rules, regulations and agreements to starting your farmer's market/farmer's market booth and learn about the tools and resources available for growers and vendors.
Throughout:
SNAP Authorization Application Support
Ready to get started? We will have the materials and support necessary to guide you through the SNAP Authorization process. Please be sure to have EIN or SSN available, depending on the type of entity managing the market.
Once the application is submitted, additional documentation will need to be submitted. This can be done on your own time, but if you are ready to submit your full application, please bring Security card copies, letters detailing IRS determination or government ownership, and/or a business license
Hosted by: Feeding Florida, SWFL Blue Zones, UF/IFAS Extension Collier County, Fresh Access Bucks
2019 "Crop Up" del Suroeste de la Florida
¿Qué?
Un día de entrenamiento para los gerentes de Farmers Market, agricultores y vendedores donde aprenderán los beneficios y el proceso de aceptar SNAP / EBT.
¿Dónde?
UF/IFAS Collier County Extension 14700 Immokalee Road
Naples, FL 34120
PROGRAMA DEL 2019 SWFL "CROP UP"
9:45
Registro
Puede registrarse, recoger sus materiales, y disfrutar de café local, té, fruta y pasteles.
10:00
Bienvenida y Orientación
¿Quiénes somos y por qué estamos aquí? Vamos a compartir los objetivos y la logística del evento y explicar el plan del día.
10:15
Oh SNAP! El por qué y el cómo de la aceptación de SNAP / EBT en su mercado/negocio.
La aceptación de SNAP / EBT (anteriormente conocido como estampillas de comida) puede aumentar las ventas de los comerciantes, al mismo tiempo de hacer un impacto positivo en su comunidad. Aprenda los pasos para ser autorizado a aceptar SNAP, las opciones de equipo requerido y las mejores prácticas para la ejecución de un programa de SNAP en su mercado/negocio.
11:00
Fresh Access Bucks 101
Fresh Access Bucks (FAB) duplica los dólares de SNAP / EBT en las compras de productos cultivados en Florida. Aprenda de un socio de FAB sobre el impacto que el programa ha tenido en su mercado y los pasos para convertirse en un socio de FAB.
11:30
Participación de la comunidad
¡Conecte su mercado/negocio con su comunidad! Al unirse a esta charla puede aprender cómo fortalecer relaciones, confianza y apoyo con la comunidad y con otros socios.
12:30
Almuerzo, preparado por la Chef Daniela
1:30
Ley de Alimentos "Cottage"
La legislación alimentaria "cottage" en Florida, permite que las personas fabriquen, vendan y almacenen ciertos tipos de productos alimenticios clasificados como "alimentos cottage" en una cocina de casa sin licencia. Aprenda sobre los cambios a la ley hechos en 2017, los alimentos permitidos y no permitidos, los requisitos de etiquetado, las normas de seguridad alimentaria y las ventas y responsabilidades del Operador de Alimentos Cottage.
2:00
Abierto para negocios
Aprenda las reglas, reglamentos y acuerdos básicos para empezar su propio mercado/negocio de agricultores o caseta comercial en el mercado. Aprenda acerca de las herramientas y recursos disponibles para los productores y vendedores.
Apoyo de Principio a Fin:
Apoyo con la Solicitud de Autorización SNAP
¿Listo para comenzar? Tendremos los materiales y el apoyo necesario para guiarle a través del proceso de autorización de SNAP. Por favor, asegúrese de tener el EIN o SSN disponibles, dependiendo del tipo de entidad que maneja el mercado.
Una vez que se haya entregado la solicitud, tendrá que entregar documentación adicional. Esto se puede hacer en su tiempo libre, pero si usted está listo para enviar su solicitud completa, usted debe traer copias de su tarjeta de seguro social, cartas detallando determinación del IRS o la propiedad estatal, y / o una licencia de negocio.