2019 Southern African Ubuntu Festival Vendor Registration
Description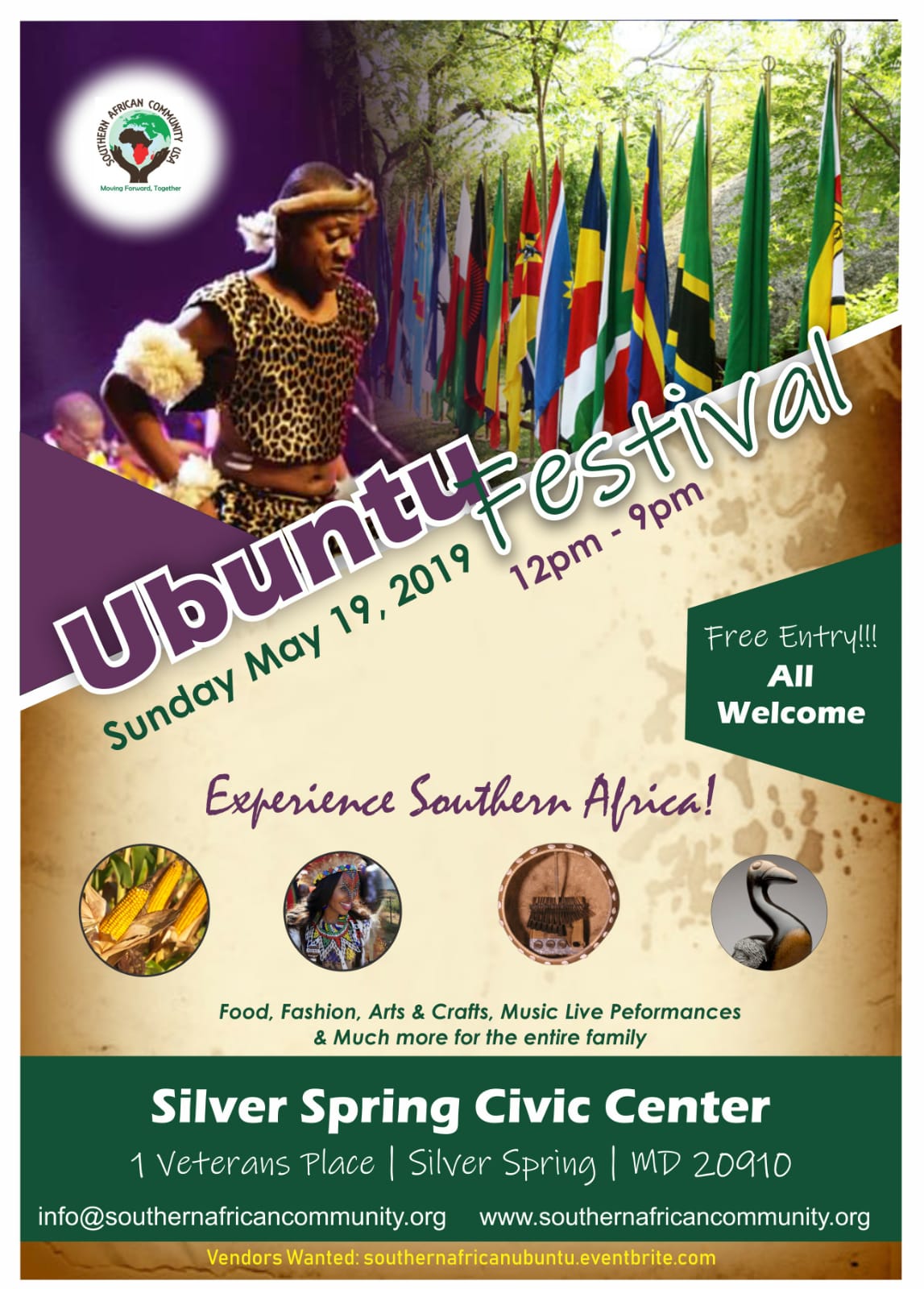 SACU is welcoming Vendors and talent entries from March 16, 2019 from talented people in the Greater Washington, DC Metro Area for a chance to showcase at the Southern African Ubuntu Festival to be held on May 19, 2019. We are seeking vendors displaying or selling everything including fine art, crafts, jewelry, fashion, ceramics and more. Other vendors we are seeking include area nonprofit organizations, entrepreneurs, and local businesses to highlight their organizations. We are also seeking performers, models, designers and other artists to provide entertainment at the event.

---



EXHIBITORS AND VENDORS
Includes Food Vendors, Arts and Crafts Vendors, Fashion Designers selling Southern African Designs, artists selling portraits, etc...

Cost

$300 Food Vendor
$150 Merchandise Vendor

$100 Informational Vendor

$50 special non-profit country based southern african associations
Food Vendors: Limited Booth spaces available assigned on a first-come-first-serve basis. **Must have one item that is Southern African inspired.
Merchandise Vendors: include sellers of t-shirts, African print dresses, jackets, pants, fashion accessories etc.
Bring your own table or whatever you need for your selling items. May not sell food.

Informational vendors: includes those that are providing information, setting a display, or distributing promotional material. May not sell food or other items.
Participation fee is for a 10'x10' space,

ALL submissions are considered until spaces are filled.
Vendors, visit our website for more details.
** "Discount101" - Early Bird, get $50 off.

**Sponsors - If you would like to sponsor the event, email info@southernafricancommunity.org
---
Artistic Talent & Services Search:
Volunteer Live Performers include drummers, singers, dancers, poets.

Fashion Designers showcasing Southern African designs

Volunteer Models (All Ages)

Creative Service Providers (photographers, Mcees, videographers etc..)
Talent, visit our website for more details.
* Any entrant aged younger than 18 years must submit his or her entry through his or her parent or legal guardian.
---
---