South Jersey Wine & Food Festival Returns to Lake Lenape Park East for its 9th year, September 21-22, 2019.
About this Event

Presented by the Mays Landing Merchants Association, the 9th Annual South Jersey Wine and Food Festival is returning to serene Lake Lenape Park East in Mays Landing, on Saturday, September 21st and Sunday, September 22nd from 12:00 PM to 5:00 PM. Come out to meet some of South Jersey's best winemakers and culinary personalities and sample their delicious creations!
TICKET INFORMATION
Single 1-day ticket - Saturday or Sunday - $20 Online / $25 at the gate
Weekend Ticket - $30 Online / Not available at the gate
Non-Tasting 1 day ticket - Saturday or Sunday - $10 / $10 at the gate
Non-Tasting Weekend Ticket - $15 Online / Not available at the gate
VIP ticket - Saturday or Sunday - $40 / $45 at the gate
VIP Ticket - Weekend - $60 Online / Not available at the gate
VIP ticket includes wine samples, a commemorative sampling glass, and lanyard, priority entrance at 11:00 AM and reserved parking.
This year, the Festival has added a $10 Non-Tasting ticket for those 21 and over for those who are acting as Designated Driver and for attendees under the age of 21, which will allow you access to the Designated Driver tent and 4 complimentary non-alcoholic beverages throughout the day.
Children 12 and under are FREE with a paying adult.

Mays Landing Merchants Association, SOJO 104.9, and The Inn at Sugar Hill present a VIP Evening Dining Event with Austin Giorgio. This event includes a VIP ticket - Saturday PLUS access to our private event evening event with Austin Giorgio, a contestant on season 14 of NBC's The Voice. After enjoying a day at the South Jersey Wine & Food Festival, the evening's event will begin at 5:30 pm in the catering hall with dinner provided by Mays Landing's own The Inn at Sugar Hill and Yogi's All-American Riverview Grill & Bar. Beginning at 6pm, Austin Giorgio will perform a private 90-minute set for attendees.
The VIP Tickets for Saturday includes a stem wine glass for tasting, Souvenir Wine Glass Lanyard, VIP Parking, and 1-hour early entrance at 11 AM.

With the picturesque lake and the historic lighthouse as the backdrop, this Fall festival allows attendees to dine on a vast array of local culinary and sample Garden State wines, grown right in our own backyard! In addition to the wine and food, attendees will be able to immerse themselves in live music, culinary demonstrations, as well as shop local craft and novelty vendors. The laid-back atmosphere of the South Jersey Wine and Food Festival sets the mood for a fantastic, relaxing day filled with food, wine, and fun for the entire family.
If you find wines that you really like, you can purchase them onsite! Better yet, if you can't wait until you get home to drink it, you can uncork that bottle in our amazing wine garden nestled lakeside that provides scenic views to compliment your favorite bottle!
The site layout will create pop-up entertainment areas with diverse musical selections, creating a site plan more conducive to conversation and relaxation in the winery and vendor areas.

We've got some great food for you to enjoy at the 2019 South Jersey Wine & Food Festival, but we know sometimes you want to bring a snack of your own. So bring a picnic basket of your favorite snacks or lunch and enjoy your wine throughout the park. The only rule is NO OUTSIDE beverages or alcohol are allowed.

Find your favorite bottle of wine, grab a seat with your friends, and enjoy the view while sipping your vino.
We have tons of selection from local wineries like Balic Winery, Cedar Rose Vineyards, Dimatteo Vineyards, Monroeville Vineyard & Winery, Plagido's Winery, Summit City Winery, Terra Nonno Winery, Villari Vineyards, Wagonhouse Winery, and Vivify Beverage.

We have an amazing line up of daily entertainment for the South Jersey Wine & Food Festival. With three locations and music all day, you will have tons of acts to choose from from each day.
SATURDAY
Geri Mingori
Dane Anthony Band
Dick Martin Trio
Violinist Susan Salmon
Vince March
SATURDAY NIGHT
Private ticketed performance by NBC The Voice contestant Austin Giorgio 
SUNDAY
Beth Tinnan
Patty Blee
Dick Martin Trio
Violinist Mary Winkel
Steel Drummer Joe Divita

Dogs are welcome at the South Jersey Wine & Food Festival and enter for FREE when accompanied by a ticket holder, but they must be on leashes the entire time and owners are responsible for picking up after their pets.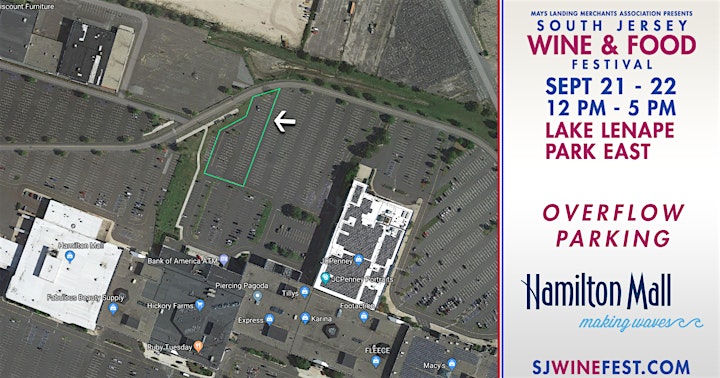 Parking at Lake Lenape Park East is first come, first served.
To help ease parking concerns, Hamilton Mall has become a sponsor to provide overflow parking in their lot behind mall. Jitney guy is providing transportation to and from Hamilton Mall to the event.