Sales Have Ended
Ticket sales have ended
Registration for the 2019 Sound Mind Sound Body Michigan Showcase Camp has ended. For questions, please email us at info@smsbacademy.com
Sales Have Ended
Ticket sales have ended
Registration for the 2019 Sound Mind Sound Body Michigan Showcase Camp has ended. For questions, please email us at info@smsbacademy.com
Description

REGISTER TODAY FOR THE BIGGEST 2-DAY (Dec. 26 & Dec. 30) FOOTBALL EVENT OF THE WINTER THE MICHIGAN SHOWCASE.


Sound Mind Sound Body in conjunction with




presents a
2-DAY event for student-athletes in grades 4th-11th


Registration is $100 & includes:
DAY ONE-THURSDAY, DEC. 26 at the HORATIO WILLIAMS FOUNDATION (1010 Antietam, Detroit)

-Check-in from 2:30pm-6:30pm held at the Horatio Williams Foundation (1010 Antietam, Detroit)

-Parent Seminar from 2:30pm-6:30pm. Topics to include: Your performance plan, your recruiting plan, academic evaluation and a parent panel
-Receive 3 Quick Lane Bowl Game Tickets to the see the Pittsburgh Panthers take on the Eastern Michigan Eagles at Ford Field. Kickoff at 8pm


DAY TWO-MONDAY, DEC. 30 at FORD FIELD (2000 Brush St., Detroit)

Parking is located in the structure across from Gate G- Cost $6.00
Parents and Participants enter through Gate G
WHAT TO BRING:
Quarterbacks Must Bring Your Own Football

Hydration

Lunch or Light Snack
SCHEDULE:

7:30AM-Youth (Grades 4-7) check-in begins
8:00AM-Youth warm-up
8:00AM-Session 1 (Grades 8-11; OL, DL, RB, LB) arrives
Combine check-in height, weight, wingspan and headshot
8:30AM-High School Session 1 combine warm-up
9:30AM-Youth games
10:00AM-Session 2 (Grades 8-11; QB, WR, DB) arrives
Combine check-in height, weight, wingspan and headshot
10:30AM-Youth (Grades 4-7) dismissal
10:30AM-Session 2 combine warm-up
10:30AM-Session 1 begins
12:30PM-Session 2 dynamic warm-up
1:00PM-Session 1 ends/awards/dismissal
1:00PM-Session 2 begins
3:30PM-Session 2 ends/awards/dismissal
-Zybek combine testing inlcudes: 40 yard dash, short shuttle, 3 cone drill, broad jump, official height, weight, wing span measurements for players in grades 8-11.

-Camp includes speed & agility session, position specific training & 1vs1 drills for players in grades 4-11.

-Official listing in Sound Mind Sound Body Recruiting Magazine sent to over 800 colleges. Official listing includes: Student-athlete name, position, High School graduating year, official height & weight
---
***MUST REGISTER BY SATURDAY, NOVEMBER 30, 2019 TO BE INCLUDED IN THE SMSB RECRUITING PUBLICATION***
---
MORE ABOUT ZYBEK COMBINE TESTING FOR PLAYERS IN GRADES 8-11: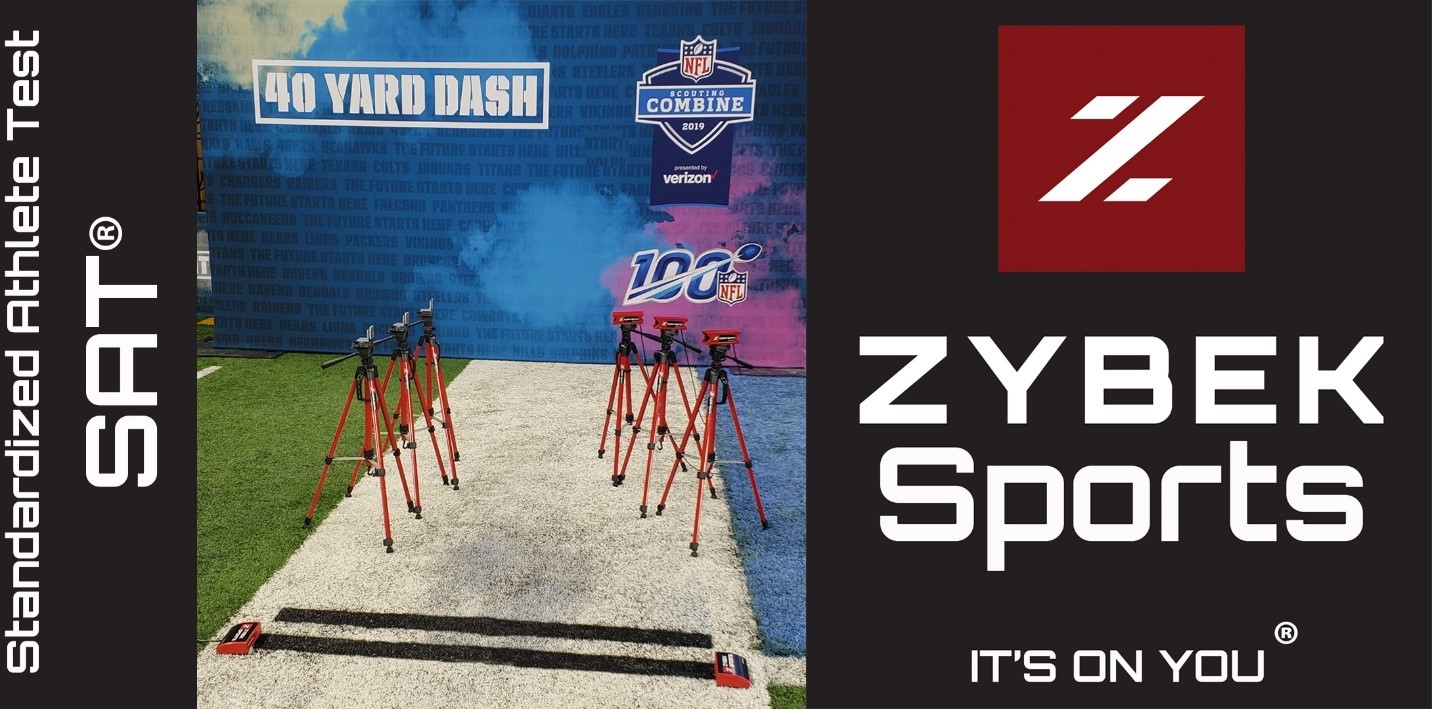 WHY?
The competition is a tough for college student athletes. Small differences can have a big influence on whether an athlete makes the team.
Combine performance measures are used by colleges and professional teams. Make sure your athletic portfolio includes verified performance numbers. Your competition has them.
HOW?

This is not "just another combine"!

This is the Standardized Athlete Test (SAT®) After providing the 40-yard dash timing at NFL Scouting for the past 9 years; all the athlete testing for the past 7 years at Army National Combine, testing over 100,000 student athletes, and several D1 teams, Zybek Sports is the respected source for verified athlete performance results. (Zybek Sports Administers SAT to the University of Michigan Football Team)
The Football Combine / Standardized Athlete Test (SAT®) includes the following:
Measurements:
Height

Weight

Hand Size

Wing Span
Tests:

40 Yard Dash

(10 & 20 yard splits)

ProAgility

3 Cone Drill

Broad Jump

Vertical Jump

Power Pushup
Athlete Deliverables include:
Certified Standardized Athlete Test (SAT®) results.

Example Results

.
Athlete Performance Goal Report:
Shows

where you are now

and

where you need to be

next year and by college.

Sample Report

30+ page expanded athlete assessment report:


How to get there

.

Example Report

Periodic updates for 2019 including: Ways you can

use your high school athletic experience as college essay topics.


Pre-programmed "It's On You®" RFID Wristband that you can use for any future Zybek Sports Standardized Athlete Test (SAT®).
---
***MUST REGISTER BY SATURDAY, NOVEMBER 30, 2019 TO BE INCLUDED IN THE SMSB RECRUITING PUBLICATION***
---
Organizer of 2019 SOUND MIND SOUND BODY MICHIGAN SHOWCASE
Sound Mind Sound Body (SMSB) Foundation-a 501(c)3 charity-is dedicated to reducing high school dropout rates while increasing college enrollment and scholarship obtainment among student-athletes in under-served communities using football as a vehicle to success. The Foundation's premier program is the Sound Mind Sound Body Football Academy. Our aim is to create well-rounded students that understand the SMSB formula for SUCCESS is STUDENT + ATHLETE + SOCIAL RESPONSIBILITY + SOUND DECISION MAKING = SUCCESS.