Description
Somerset County welcomes both non profit and commercial organizations to exhibit their goods and services while enjoying our motto of
Free Family Fun!
Since 1948, thousands of visitors have enjoyed the Somerset County 4-H Fair. The fair has grown and changed, but there are still no admission or parking fees, no midway or carnival rides. This fair recognizes the accomplishments of 1,000 Somerset County 4-H members and is a showcase for visitors to see a wide variety of 4-H projects in action. THE FAIR IS HELD RAIN OR SHINE. There will be no refunds for inclement weather.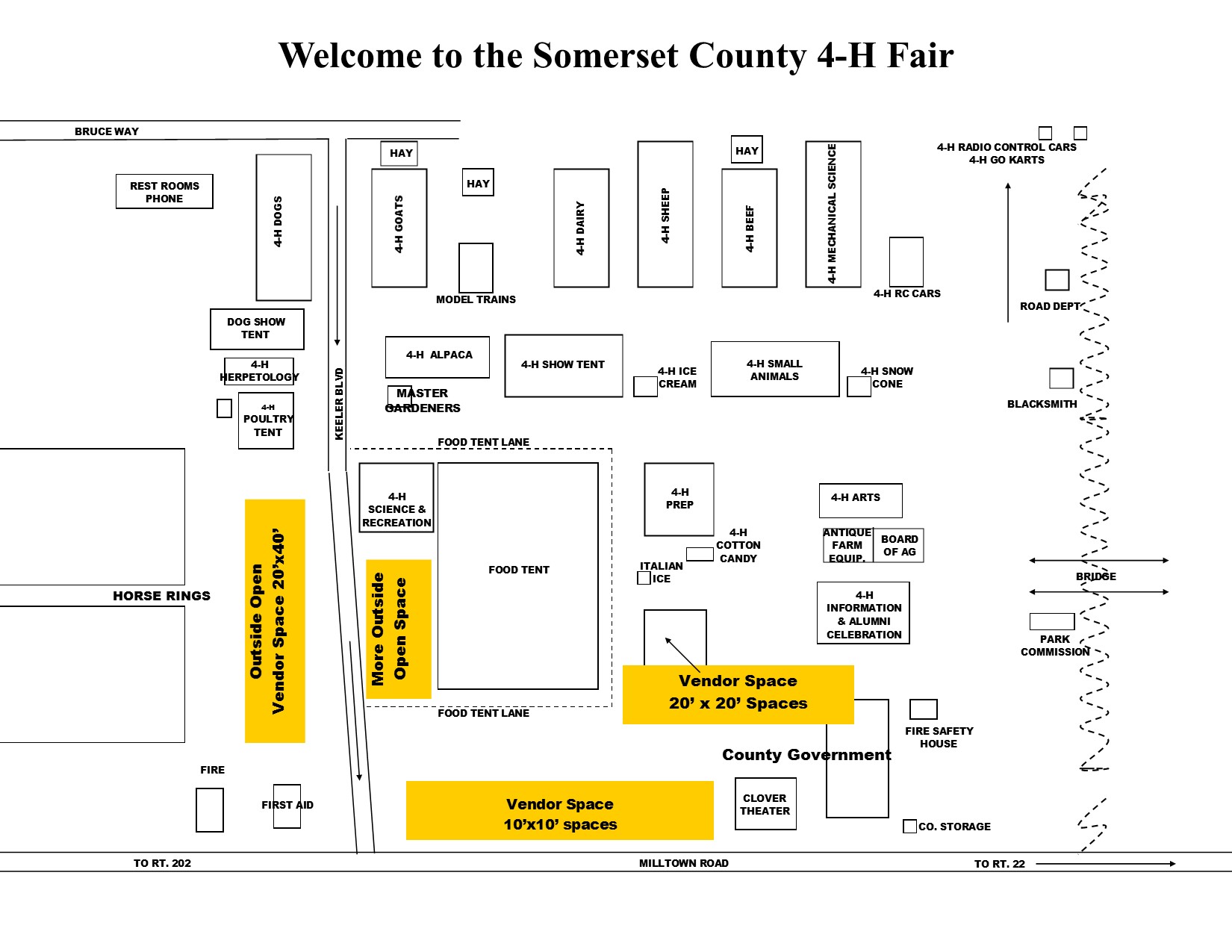 Maps and schedules of daily events such as dog, horse, and livestock shows are available in the information tent. Twirling, go karts, rockets, robotics, magic, model airplanes, R.C. cars, model trains, and other 4-H clubs compete and perform. The Arts Tent, Science Tent, and Prep Tent (for the youngest 4-H'ers) are packed with exhibits, activities for visitors, demonstrations, and performances. Ten other 4-H tents house a variety of animals including dairy cows, beef, alpaca, horses, dogs, herpetology, sheep, goats, poultry, rabbits, and small animals. Most animal tents have a petting area and information about how to join 4-H.
Somerset County Government, Raritan Valley Community College, Veterans Services, Rutgers Cooperative Extension, Somerset County Library, and other non-profit organizations and commercial advertisers have displays, information, contests, and free gifts. Under the big top, over 20 community organizations offer a wide variety of meals and snacks. All day, professional and amateur entertainment can be enjoyed.
The fair is sponsored by the Somerset County 4-H Association and the Board of Chosen Freeholders in support of the 4-H Youth Development Program of Rutgers Cooperative Extension. 4-H Members, volunteer Fair Managers, 4-H Club Leaders, and parents work together, making this the largest event in Somerset County. Other partners include the Somerset County Park Commission and Raritan Valley Community College.
Space Types
We offer three types of Commercial/Non-Profit space:
o 10' x 10' space inside the large commercial tent- Single day space: $200 per day
o 10' x 10' space inside the large commercial tent for three days: $335
o 20' x 20' space under the gallery tent for three days: $770
o 20' x 40' outside open space for display $335 (tent rental additional if desired)
NEW THIS YEAR - The $150 deposit will be required with the payment for the exhibit space. This deposit will be refunded immediately following the Fair to all vendors who've complied with the terms of the exhibitor agreement/contract. See below
All tents must be rented from the 4-H Association and erected by our supplier, L & A Tent Rentals Inc
o 10'x10' tent, for use with a single space rental $235 plus fees
o 15'x15' tent, for use with a double space rental $315 plus fees
o 20'x20' tent, for use with a double space rental $365 plus fees
o 20'x40' tent, for use with a double space rental $545 plus fees
Two electrical outlets will be provided for each space rental. You may rent additional outlets if needed.
It will be necessary for you to provide:
A certificate of insurance issued directly to the Somerset County 4-H Association for the dates of the Fair. The certificate must be received with your paperwork or no later than July 30, 2019. The Somerset County 4-H Association should be named as an additional insured with limits of liability of $1,000,000. Vendors who do not submit a certificate of insurance will be unable to participate in the fair.
As a condition for use of exhibition space you, the vendor, must covenant and agree to indemnify and hold harmless the 4-H Association, its officers and membership for any and all claims for property damage or personal injury arising out of your use and occupancy of their premises.
We cannot guarantee that your product and/or service will be the only one of its kind. Every effort will be made to separate similar products/services, but this cannot be guaranteed.
Vendor space for the Fair is assigned on a first-come, first-served basis.
We count on our vendors to cooperate with us and one another to provide visitors with the cleanest, most wholesome and fun Fair possible. Your participation indicates to us that you share our goals and we welcome your help in offering "Free Family Fun."
The following rules MUST be followed to the letter in order for the $150 good faith deposit to be refunded and in order for the vendor to be allowed to return another year.
Vendor Regulations
1. Fair hours are 10 a.m. to 10 p.m. Wednesday, Thursday and Friday, August 7, 8, 9. You must complete setup and have your vehicles off the fairgrounds by 9:30 a.m. Wednesday. No late deliveries of display materials will be allowed through the gate. Clean up and dismantling of booths may proceed after 10:15 p.m. on Friday. All exhibits must be removed by 10 a.m. Saturday, August 10.
2. Set up times for the Gallery and outside open spaces are Monday, August 5, 4 p.m. – 9 p.m. and Tuesday, August 6, 4 p.m. – 9 p.m.
3. Setup times for inside commercial tent spaces is Tuesday, August 6, 4 p.m. – 9 p.m. and Wednesday, August 7, 7 a.m. - 9:30 a.m.
4. State Fire Regulations prevent the use of flammable materials such as hay and straw. Open flames (candles), operational machinery and fuel are also prohibited inside tents. Vendors agree to comply with all requirements imposed by fire officials.
5. NO SELLING OF PRODUCTS is allowed except for food in the Food Tent by non-profit community organizations. You may NOT take orders, sign contracts, take deposits or collect donations at the fair. Vendors are allowed to advertise and collect information for mailing lists.
6. Exhibit booths MUST BE MANNED each day from 10 a.m. to 10 p.m. Exhibit must remain in place until 10 p.m. Friday night. Failure to comply will result in the loss of your deposit.
7. Solicitation MUST be restricted to your own exhibit area.
8. Absolutely NO BALLOONS or FOOD may be handed out. This includes beverages and candy/lollipops.
9. Vendors will not be allowed to use the public address system or have announcements made. If it is necessary for you to have an amplification system to promote your product, you must discuss this with the Commercial Chairperson and Fair Managers prior to the Fair. Vendors may not play music or generate loud noises without prior permission.
10. NO ALCOHOLIC BEVERAGES are permitted on the Fairgrounds in any form (including prizes to be given in drawings.)
11. All prizes offered are to be awarded at the Fair, and winners' names and contact info are to be given to the Commercial Chairperson.
12. A vendor may NOT bring in a second vendor to share his/her space. Only the vendor signing the contract will be allowed.
13. Vendors must provide their own table and chairs if desired.
14. Responses to questions and the resolution of any disputes will be at the sole discretion of the Fair managers. The decision of the Fair managers will be final.