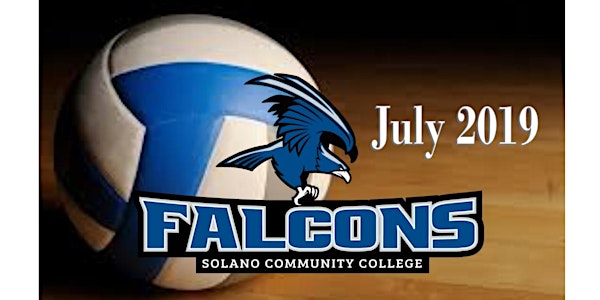 2019 SOLANO FALCONS VOLLEYBALL CAMP (JULY)
When and where
Location
Solano Community College Gymnasium 4000 Suisun Valley Road Fairfield, CA 94534
Description
Volleyball Skill Camp (July)
Dates for Session 2: July 22, 23, 24
Time: 11:30 AM - 2:00 PM Daily
Arrive early to Check-In and Warm Up!
Age Group: 6th-9th Graders
Serving
Passing
Setting
Defense and Blocking
Lots of Games
What to Wear: Participants should wear tennis shoes, socks, shorts and t-shirt daily, optional knee pads.
Cost: $120 per participant for Each Session. This online registration is ONLY for Session 2: July 22, 23, 24
Dates for Session 1 are June 24, 25, 26 from 3:00 PM - 5:30 PM
There is a $40 discount if enrolling one participant in BOTH Sessions. If you are interested in enrolling for both sessions, send check payment to Coach Darla Williams at Solano College or email darla.williams@solano.edu
Waiver of Liability: Prior to any child's participation, a Waiver of Liability Form signed by the parent/guardian must be on file at Solano College. A form will be sent to the email associated with this on-line registration. Please check your email to complete this required Waiver per child. Forms will also be available on Day 1 of camp at the Check-In table.
Parking: A $2 daily parking permit must be purchased at the yellow ticket dispensers in Lots 1-5. (4 quarters or $1 bills)