Description
The 11th Annual SVP LA Social Impact Fast Pitch is the culmination of a 10-week training program for innovative, high-impact nonprofits that are driving positive change across Greater Los Angeles.
The program helps nonprofit leaders powerfully communicate their story and connects them with leaders in the business, philanthropic, and nonprofit communities (that's you!) who will help them achieve their goals.
At the final event on March 21st, eleven nonprofit leaders will each have 3 minutes to pitch to a panel of judges and an audience of over 500, competing to win awards totaling $100,000.
More than half of all ticket sales go to prizes for presenting nonprofits. The remaining funds support SVP LA programming and events like this!
---
Doors open for check-in and refreshments incl. wine & beer at 5:00 PM.
Program begins at 6:00 PM.

Reception at 7:30PM featuring food, drinks, prize announcements, and fun!
Parking is first come first served in the available lots - street parking is also available. The Ebell offers free parking in its 2 on-site parking lots, one west of the theatre building and one across Lucerne Bl. at the corner of 8th Street. Ebell lots tend to fill quickly prior to events, so please plan accordingly. There are a limited number of disabled parking spaces available in the lot west of the building. We strongly encourage ride-share/Uber/Lyft.

Bringing a group? Discounted group rates are available through this page, but feel free to contact us at: info@svpla.org directly if you're bringing a large group and would like to bypass Eventbrite.
Accessibility For questions about accessibility or to request accommodations please contact us at info@svpla.org. Advance notice of need for accommodations is requested.
---
The 2019 SVP Fast Pitch Presenters are: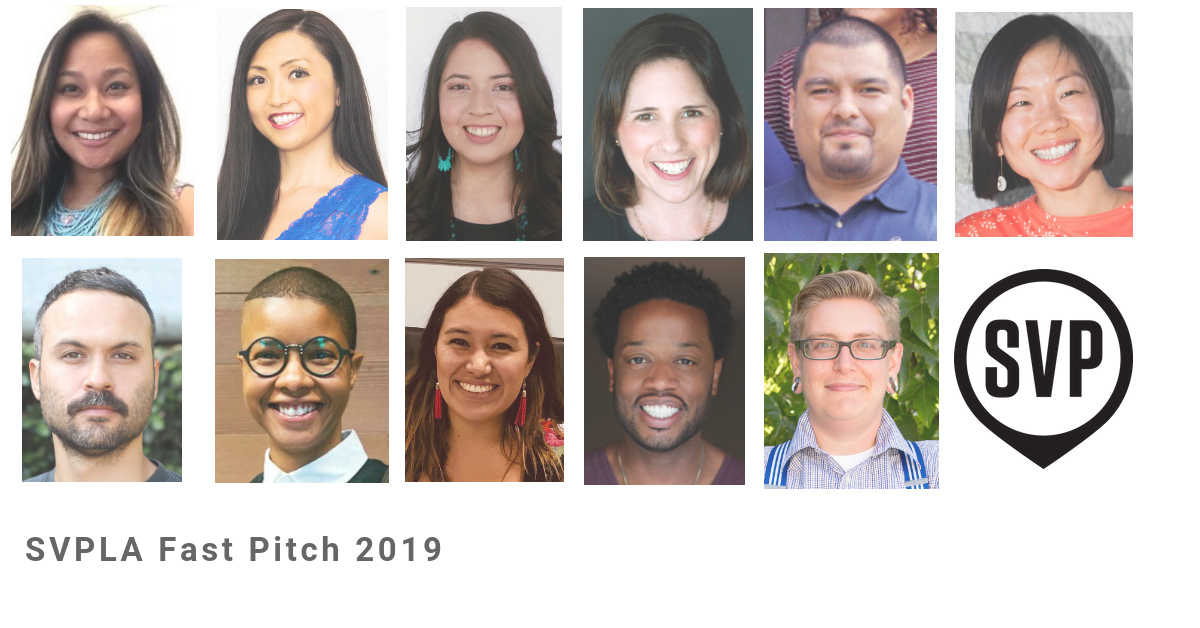 Meet the MC and Judges: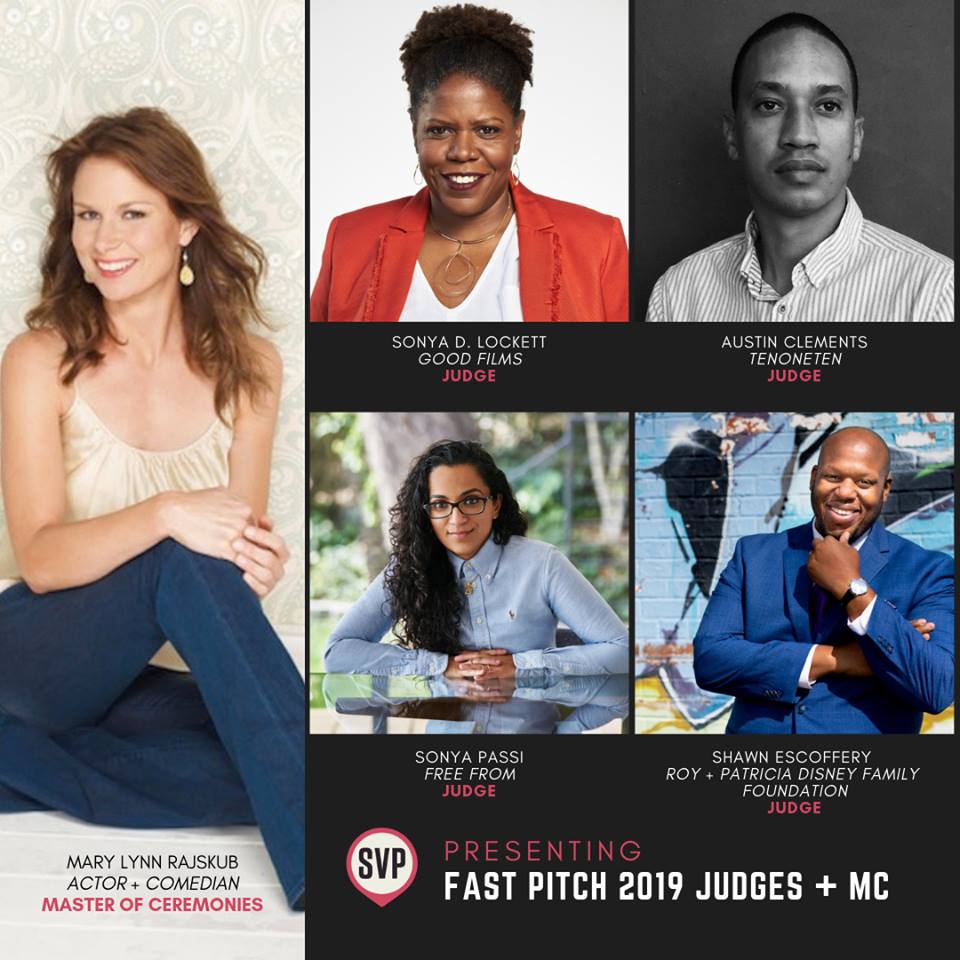 Mary Lynn Rajskub | Actor & Comedian (MC)

Mary Lynn Rajskub is an actress, comedian and writer, best known for playing 'Chloe' on the Fox drama 24 and also 'Gail the Snail' from It's Always Sunny in Philadelphia. You've seen her in Night School, Safety Not Guaranteed, Wilson, Little Miss Sunshine, Legally Blonde 2, Julie and Julia, Punch Drunk Love, Mysterious Skin, Firewall, Grey's Anatomy, Gilmore Girls, The Girlfriend Experience, The Larry Sanders Show, Two Broke Girls and Mr. Show. Recently, she was in the ensemble cast of the film Night School, the No.1 comedy film in 2018. Mary Lynn just returned from a US tour with comedian Fred Armisen. She performs stand up comedy all over the country.

Austin Clements | Principal, TenOneTen (Judge)
Austin Clements is a venture capitalist at TenOneTen Ventures where he invests in early stage technology companies. He has held roles as a tech investor at Creative Artists Agency and Digital Entertainment Ventures, and he is committed to encouraging underrepresented minorities to pursue careers in tech and entrepreneurship.
Shawn Escoffery | Executive Director, Roy and Patricia Disney Family Foundation (Judge)
Shawn Escoffery is the Executive Director of the Roy and Patricia Disney Family Foundation. RPDFF invest in innovative solutions and community leaders to build a more just, equitable and sustainable world in which all people thrive. Previously, he held leadership roles at the Surdna Foundation and the New Orleans Neighborhood Development Collaborative.
Sonya D. Lockett | Chief Impact Officer, One Community (Judge)
Sonya is the Chief Impact Officer for One Community, a film finance and social impact company. She believes in the power of media to change culture, hearts, minds, and the world. Previously she led Next Slate consultancy, and she served as Vice-President of Social Responsibility for BET Networks and Executive Director of the BET Foundation.
Sonya Passi | Founder & CEO, FreeFrom (Judge)
Sonya is the founder and CEO of FreeFrom, a national organization on a mission to create pathways to financial security and long-term safety for survivors of gender-based violence. She was a member of the first SVP Accelerator, won the Audience and Impact awards at the 2018 Fast Pitch, was listed in the 2017 Forbes 30 Under 30.
---
Special Performance: Lula Washington Contemporary Dance Foundation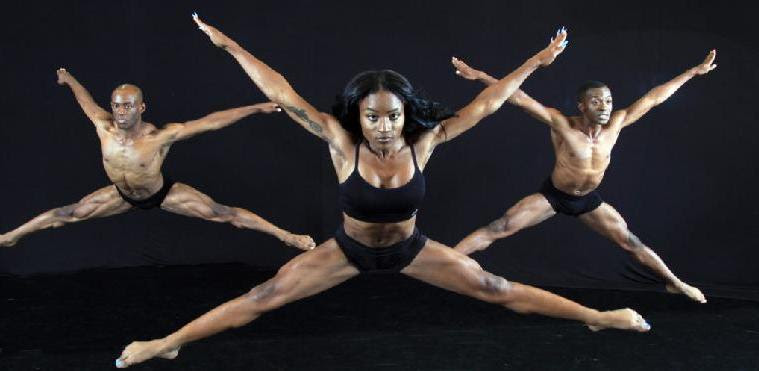 We're delighted to be joined for a special performance at Fast Pitch by LA's own Lula Washington Contemporary Dance Foundation. Founded in 1980 by Lula and Erwin Washington to provide a creative outlet for minority dance artists in South Los Angeles, the founding mission of the Theatre is to build a world class contemporary modern dance company with works that reflect African-American history and culture. The Company provides a school in the inner city where young people can learn the art of dance, launch careers in dance, and where dance is used to motivate, educate, inspire, challenge and enrich the lives of young people.

"Infectiously enthusiastic performances." - The New York Times
---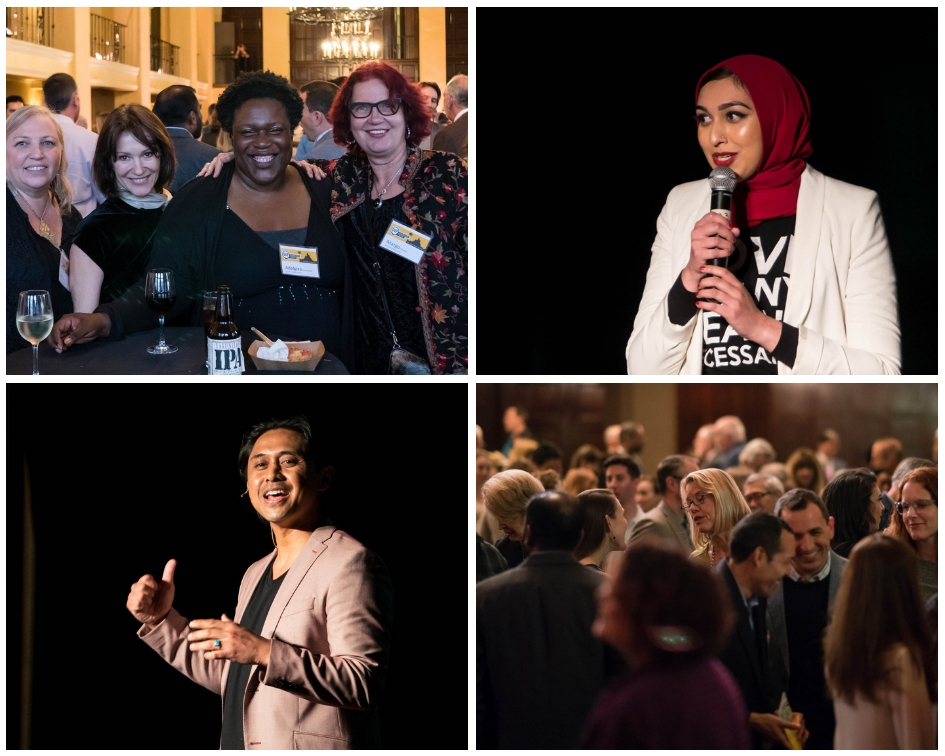 ---
THANK YOU TO OUR AMAZING FAST PITCH SPONSORS: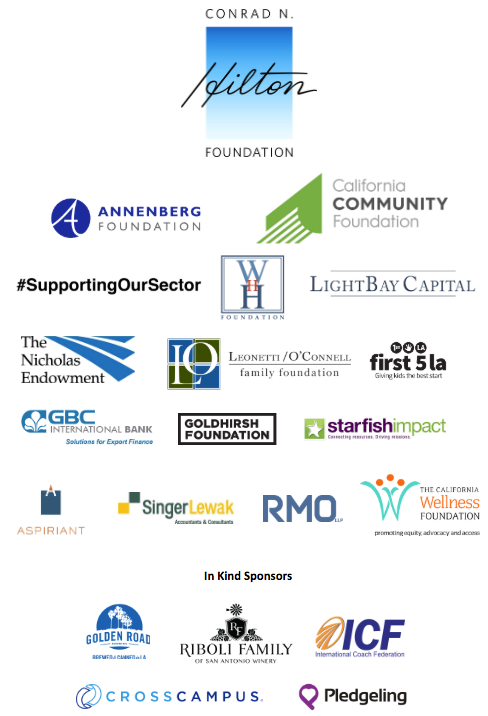 ---
Social Venture Partners connects individuals who want to give their time and money to make their communities stronger with the nonprofits leading the way with disruptive ideas to tackle Los Angeles' toughest challenges. The learning goes both ways - Partners come to SVP to change their community, but they stay with SVP because the community changes them. SVP Los Angeles is a member of the Social Venture Partners International network of more than 3,500 engaged donors in 40 cities globally. Visit our website to learn more and email us at info@svpla.org if you want to get involved.