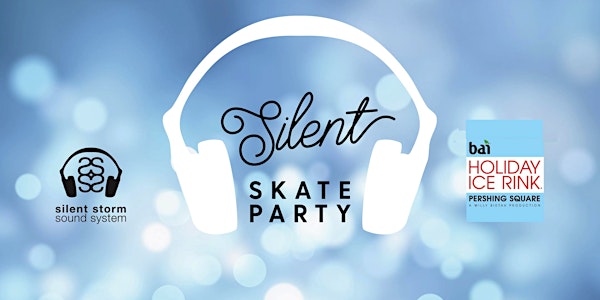 2019 Silent Skate Party at The Bai Holiday Ice Rink Pershing Square
Description
Silent Night Skate Party at The Bai Holiday Ice Rink Pershing Square
Thursday, December 19 at 7-8pm and 8:30-9:30pm
The popular Silent Skate Party returns to the rink! A silent disco on ice, Silent Skate Party transports guests from the bustling DTLA to a skate dance party like no other. Headphones will be provided to all skaters, who then have the ability to choose one of three stations to skate to.
For more information, visit our website at http://holidayicerinkdowntownla.com/
---
FAQs
How do I get to the rink?
Located in the heart of downtown LA, our ice skating rink can be found in Pershing Square at:
532 South Olive Street
Los Angeles, CA 90013
We are easily accessible by car or Metro:
Car: Underground parking is available on a first-come, first-served basis at the Pershing Square Parking Garage.
Metro: Skip the hassle of driving and parking and Go Metro. Take the Metro Red Line or the Metro Purple Line to the Pershing Square Station.
How much is an admission?
General Admission including Skates is $14.00. Online ticket sales are limited, but same-day tickets are available at the ice rink ticket window 15 minutes before the first session. Tickets sell fast; we recommend purchasing online in advance.
A portion of ticket proceeds benefits our community through the City of Los Angeles Department of Recreation and Parks.


What should I wear to my skate session?
While the weather for ice skating in downtown LA is rarely frightful, the temperature on the ice may range from balmy to chilly. We recommend layers and, if prone to frigid fingers, mittens. We do sell both mittens and socks if you forget them.
Figure and hockey skate sizes range from toddler's size 8 to adult's size 15. You may also bring your own ice skates.
Are there skate helpers available for children?
Yes! For beginning skaters UNDER 4 FEET TALL (48"), we offer Skate Helpers for $6 that glide with the skater along the ice and help with balance and control. For safety considerations, Skate Helpers are rented at the discretion of Rink Management. Skaters must be able to stand on their own and push the Skate Helper by themselves.
Is there somewhere I can store my belongings while I skate?
Lockers may be rented for $3 and typically hold a couple of pairs of shoes, a medium-size handbag and a few small purchases.
Are there public bathrooms/restrooms onsite?
Bathrooms are located in Pershing Square Park. Since skates may not be worn outside of the ice rink, we recommend you use the facilities before skating.
What is there to eat around Pershing Square?
Our popular Rink Side Coffee and Snack Bar returns again this year. Enjoy a cup of Hot Chocolate and pastries without taking off your skates. Serving an assortment of hot and cold beverages, snacks, sandwiches and treats.


What is your rain policy?
We remain open in light to moderate rain but may close in heavy or sustained rain at the discretion of ice rink management. No refunds or rain checks will be issued for tickets purchased at the door, but rain checks will be honored for tickets purchased online in advance.
---