Description
Join the 8th Annual SheJumps Alpine Finishing School: an all-women's ski and splitboard mountaineering course led by ACMG ski guide Kate Devine.
This course is an opportunity for advanced backcountry skiers and splitboarders to learn the skills of ski mountaineering in a supportive and encouraging environment. Topics covered include terrain management, glacier travel, crevasse rescue, route planning, companion rescue, navigation, and more. The Alpine Finishing School is a program of the nonprofit SheJumps, a US public charity (68-0662227) dedicated to increasing the participation of women and girls in outdoor activities.
The Alpine Finishing School is offered for two separate sessions: April 13-20, 2019 and April 27-May 4, 2019
A $500 non-refundable deposit is required to hold your space.
Upon submitting your $500 deposit, you will be asked a series of questions pertaining to your skiing/splitboarding abilities and experience in the backcountry. You will also be required to provide a couple of references; these should be people with whom you have spent time in the backcountry. We strive to ensure our course maintains a similar skill level for participants. First-time backcountry skiers should not apply for this course. You should have at least two prior seasons of backcountry skiing/splitboarding in order to get the most out of this course. But please don't let that scare you - feel free to read the FAQ or contact us if you have questions on skill level.
The TOTAL cost of the course is $2300 USD. You will receive instructions on final payment and payment plans upon acceptance of your application. This eventbrite registration/application is in conjunction with your deposit (paid here through eventbrite). This price includes heli transportation to and from the lodge, all meals, guiding, course instruction, and lodging. Gratuity for the guides/caretakers is not included, please budget accordingly; it's greatly appreciated. Upon selecting your ticket type you will be required to answer a series of questions pertaining to your backcountry experience.

If you are paying in CAD, please pay your deposit in USD and then payments will be accepted in CAD.
This year we are able to offer one partial scholarship in honor of the late, great Liz Daley. (Applications will be accepted from people who have paid a deposit. If you DO NOT receive the scholarship and are UNABLE to attend otherwise, your deposit will be refunded. This is the SOLE exception for getting your deposit back in the case of a cancellation). Click HERE to apply for the Liz Daley Scholarship.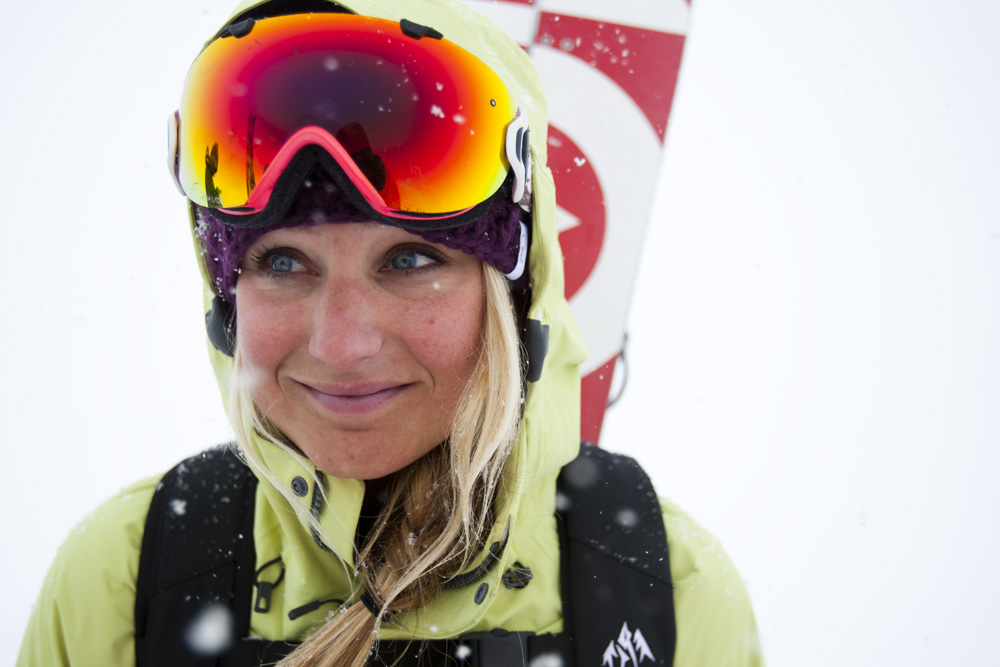 We highly recommend also purchasing trip insurance for this event.
SheJumps Alpine Finishing School Presented by Arc'teryx from SheJumps on Vimeo.
Check out this write up from Spring McClurg about the 2017 course
About the Guides:
Kate Devine, ACMG Ski Guide:
Kate Devine was born into a mountain lifestyle. Her family owns Selkirk Backcountry Lodge near Revelstoke, BC. She started ski touring as a kid with her parents and went on to pursue a guiding career. Passing her first guides exam at 24, Kate is a great role model for young, independent mountain women. She has been teaching for the Alpine Finishing School since its inception and brings an amazing amount of experience to the course. She has an incredibly thorough knowledge of the terrain surrounding the lodge and is passionate about sharing it with people from all over the world.
Shannon Werner, ACMG Guide
As soon as Shannon could walk her parents put her on skis. The Chocolate Moose kiddie park at Lake Louise Ski Resort became her stomping grounds. Over the years, Shannon dabbled in different competitive aspects of skiing including racing, mogul, big mountain, and shyly admits, ballet competitions. She quickly discovered her heart belonged to ski touring and ski mountaineering, seeking those endless powder turns in the backcountry with her passionate partners in crime.
Shannon spent 13 years Ski Patrolling for Lake Louise, Revelstoke Mountain Resort, and ventured to the Southern Hemisphere to work as an Avalanche Forecaster at the Craigieburn Club field on the South Island of New Zealand. In 2007, she left the Rockies and moved to Revelstoke. In 2010, Shannon started working for Avalanche Canada as a Public Avalanche Forecaster and coordinates the Avalanche Canada Youth Program, which provides grade specific avalanche awareness to over 7000 students throughout BC and AB.

In 2016 she completed her Ski Guide certification through the ACMG and continues to work under all three hats

Avalanche education and awareness combined with enabling people to have the confidence in decision making, the skill set, and enthusiasm for mountain sports and culture is what drives her.
Claire Smallwood
Claire is the co-founder and executive director of SheJumps and helped to create the Alpine Finishing School with Anne Keller. She also moonlights as a private chef in Little Cottonwood Canyon during winter months along with running SheJumps! Claire caters the entire week of the Alpine Finishing School, offering clean, healthy, and filling foods to match the activities. Please be sure to include any dietary restrictions in the registration process - but recognize we are working in a mountain environment and may not be able to cater to all diets.
FAQs
Where can I contact the organizer with any questions?
Please email claire@shejumps.org. Please expect 3-5 days before response.
Is my registration/ticket transferrable?
If there is no waitlist, yes, but the person must have the necessarily skill and fitness level to participate in the course. If there is a waitlist, we will go in the order of the waitlist. Thanks!
If I have to cancel for some reason, do I get my deposit back?
No. Your deposit is non-refundable. The closer we get to the course, the harder it will be for us to fill your spot. We recommend looking into options for trip interruption/cancellation insurance.
If SheJumps or Selkirk Lodge cancels the course, do I get my deposit back?
Yes, if the trip gets cancelled from our end, you would be refunded in full.
What does the tuition include?
The tuition covers your helicopter flights, food, accommodation and guiding/instruction. It does not cover your transportation to and from Revelstoke, or food and accommodation in Revelstoke.
How strong of a skier/boarder do I need to be to take this course?
You need to be able to ski or snowboard in a variety of backcountry snow conditions. For example, that doesn't mean you need to be shredding flawless turns in breakable crust, but you would need to be able to negotiate breakable crust relatively efficiently.
How fit do I need to be?
You need to be able to ski and climb a MINIMUM of 3000 vertical feet/1000 vertical meters with a 20lb backpack. The reason we say minimum is because if this amount of skiing pushes you to your limit, it will be difficult for you to focus on the learning objectives.
How much backcountry skiing experience do I need to have?
Depending on how often you get out, you should have a minimum of 1-2 years. Try to be an honest judge of your skills and experience level when it comes to basic ski touring (non-mountaineering) objectives. If you are feeling maxed out most of the time, then you may benefit from another season of touring before you come on the AFS.
Do I need to have Alpine/Rock climbing or mountaineering experience?
No. If you do, that's great and you will still get a lot of value out of the course, but it is not a requirement.
Is an avalanche course a pre-requisite?
Taking some kind of recreational avalanche course is not required, but it is highly recommended. We will be talking about terrain management, decision-making and risk management so it will be to your benefit to have some prior avalanche safety knowledge so that we can build on those skills.
How rad are we going to get?
Rad is in the eye of the beholder. Will we be rapelling into 60 degree pinner couloirs with 15 people? Probably not. Will we be skiing 10,000 foot days? Also unlikely. Our aim is to teach you a whole bunch of awesome ski mountaineering skills and then go out and apply them in the appropriate terrain. That isn't to say that you will be bored! As always, conditions will dictate where we can go, but over the course of the week, we typically summit several peaks, ski some great runs, travel on some big glaciers, and do some amazing tours.
What kind of gear do I need?
We provide a list of all the necessary gear. Basically, you'll need a series of locking and non-locking carabiners as well as some different cordelettes. We have a small gear library and are working to cut down on the amount of things you'd have to buy to attend the course. Wherever possible, we recommend borrowing gear so you can get a sense of what you prefer to use before committing to purchasing. We will send you all info once your application has been accepted.
How much skiing can we expect to do in a day?
We will ski everyday, however some days will be half days. We have a lot of course material to cover, some of which is in the classroom. We will often try to have our classroom sessions in the late afternoon to allow for a longer day of skiing.
Do you have an itinerary for the week?
We are at the mercy of the weather/snow conditions and for that reason we don't have a pre-set course schedule for the week. We end up shuffling lessons around in order to maximize our skiing so that we can take advantage of good weather and good skiing conditions.
Is the week catered or are we expected to cook?
The week is fully catered and Claire does the cooking. She is a pro. If you feel like helping, she may give you a task, or she may have it all under control! While we understand that some people like the vibe of feeling like you're on a hut trip with your buds and part of that is cooking, the logistics of that combined with all of our other goals and objectives is just way too much! We will ask for help with things like dishes, so fear not, there are chores!
Do I need to bring a sleeping bag and thermarest?
No. We have comfortable beds and all bed linens are provided.
Can I get a private room?
No. The rooms are dorm style but we're all friends! Bring earplugs if you are a light sleeper.
Is there wifi at the lodge?
Yes, we use wifi at the lodge to check the weather and submit conditions reports. People are welcome to use the wifi but we have strict limits on bandwidth usage, so we ask that everyone stops background refreshes on their phones and also is aware of not being "that person" who's glued to their phone while spending time on a glacier in the middle of Canada. :)
When do I need to arrive?
You should plan to arrive to Revelstoke the day before your course starts. This is to avoid any missed or cancelled flights. Lodging in Revelstoke is not included in the price but the group of attendees typically work together to find somewhere to stay together. Also, please plan flights for the following day or later in the evening on the day you fly out from the lodge in case of any inclement weather.