Description
ABOUT
The Seattle Sounders FC will bring in some of the brightest minds in sports science and performance enhancement to join their coaching staff in sharing the latest methodologies in sports-specific training, strength and conditioning, performance coaching, and sports science. We invite coaches from professional, top college, club, and high school programs to join us in investigating the needs of elite-level athletes both on and off the field.
The content provided in this seminar will be applicable for coaches working at the highest level of any team sport. The goal of the seminar is to provide real-world examples of how to apply evidence-based solutions in your high-performance team.
This unique three-day program will explore the four non-compromises that all teams and organizations must include for sustainable success. Attendees will have the opportunity to listen to some of the top experts in injury prevention and strength training, long-term and short-term recovery strategies, metabolic fitness theory, and athlete monitoring and development. Attendance is limited to the first 100 registrants.
This year's seminar features a new format including small-group audience discussions. Each day's presenters will provide questions based on the day's theme and then lead (and participate in) small-group conversations to foster a more personal and in-depth discourse.
SPEAKERS
Damian Roden, Director of High Performance — Seattle Sounders FC
Garth Lagerwey, General Manager & President of Soccer — Seattle Sounders FC
Dr. Steven Lockley, Neuroscientist and Associate Professor of Medicine — Harvard Medical School, Division of Sleep and Circadian Disorders.
Dr. Lorena Torres Ronda, Research and Development Coordinator, Sports Scientist — San Antonio Spurs, NBA

Osian Roberts, Technical Director and Assistant Manager — FA Wales
Vosse de Boode, Head of Sports Science — AFC Ajax, Eredivisie
Andy Barr, Founder and CEO — Innovative Performance
Dr. Abbie Smith-Ryan, Associate Professor of Exercise Physiology, Director of Applied Physiology Lab, and Co-Director of Human Performance — University of North Carolina at Chapel Hill, Department of Exercise and Sport Science
Dr. Andy Galpin, Associate Professor, Director of Biochemistry and Molecular Exercise Physiology Lab, Director of Center for Sport Performance — California State University at Fullerton, Department of Kinesiology
Matt Price, Head Strength & Conditioning Coach — LA Kings, NHL
Martin Bingisser, National Hammer Throw Coach — Swiss Athletics, Throws Coach — LC Zurich, Fitness Coach- GC Zurich Rugby, & Founder — HMMR Media
Tyler Williams, Sports Science Manager & Assistant Athletic Trainer – LA Rams, NFL.
Joel Dawson, Sport Scientist — Stoke City FC
** More speakers to be announced as they're confirmed.**
PROGRAM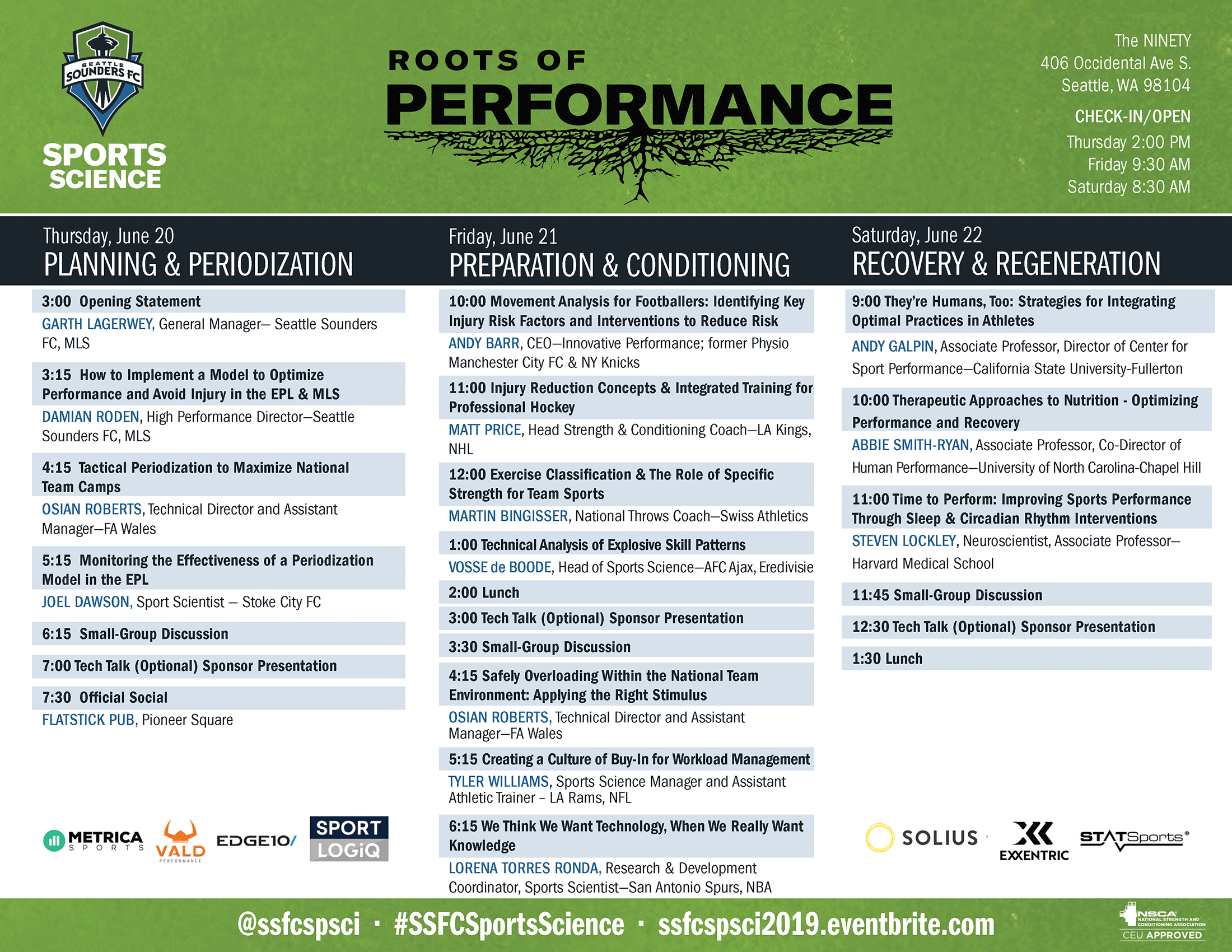 ** New this year: Analytics Conference June 22 (PM) - June 23 (AM) **
To learn more about the Analytics Conference or to register ONLY for the Analytics Conference, click here.
If you want to add the Analytics Conference to your Sports Science Seminar registration, select the Analytics Conference Add-On option when you check out.
REGISTRATION
Register early to secure your spot and take advantage of savings — Only 100 spots available!
Early-Bird Pricing for first 25 spots: $399
Full Price: $499
Analytics Seminar Add-On: $50*

*Add-on price for Analytics Conference is only valid with a Sports Science registration. To register for the Analytics Conference only (no Sports Science Seminar) click here to register on the Analytics Conference event page.

Sports Science Seminar Registration Includes:
• Series of lectures by guest performance coaches
• Reception and social sponsored by the Sounders
• 1.6 NSCA CEUs
LOCATION
This year's event will once again be held at The NINETY at Sounders FC Headquarters in Pioneer Square, just steps from CenturyLink Field. It's a vibrant area in the heart of Seattle full of restaurants, bars, coffee shops and much more. There are several hotels nearby, and easy access to public transportation.
QUESTIONS?
Please email Ivonne Ward at ivonneward@gmail.com with any questions.
** For the latest updates, be sure to follow the Seattle Sounders FC Sports Science Twitter account as well as the personal Twitter accounts of Damian Roden, Sean Muldoon, Amber Rowell, and Ravi Ramineni. **
FAQ
Does my Sports Science Seminar registration include the Analytics Conference?
No. The Analytics Conference (June 22 PM, and June 23 AM) is a separate event, and you must purchase an add-on registration at checkout. If you only want to attend the Analytics Conference, click here to register on the Analytics Conference event page.

Where can I stay?
There isn't an official event hotel, but you'll find great deals on Expedia.com, Hotels.com, Airbnb.com and other travel sites.
Can I get Continuing Education Credits/Units (CEUs/CECs)?
You can receive 1.6 CEUs toward your NSCA requirements.
What's in the area?
We made a Google Map that includes food, drinks, coffee, Seattle points of interest, and public transportation.
What's your refund policy?
Until April 1st - Full Refund
April 1 - April 30th - 75% refund
May 1 - May 31st - 50% refund
After May 31st - No Refund
---
With thanks to our 2019 Sponsors: