2019 SCOTTSDALE - DESIGN & CONSTRUCTION PROCUREMENT OUTLOOK CONFERENCE AND...
Description


In its 5th year, the Conference brings an EXTRAORDINARY STRATEGIC BUSINESS DEVELOPMENT OPPORTUNITY for large and small businesses. The Conference agenda includes fifteen (15) presentations from Government Agencies, Prime Contractors, Universities and Healthcare Providers that highlight upcoming Capital Improvement Projects and Contracting opportunities exceeding $15 billion budgeted for awards during the next three to five years. Conference participants will be able to:
IDENTIFY CONTRACT OPPORTUNITIES
MEET DECISION MAKERS
EXHIBIT PRODUCTS & SERVICES
PRESENT CAPABILITIES
This event brings together government officials, design & construction industry leaders and technical experts to share innovative ideas, showcase solutions, conduct business, develop partnerships and expand networks including Diversity, Veteran and Minority businesses.
INVITED PARTICIPANTS AND PRESENTATIONS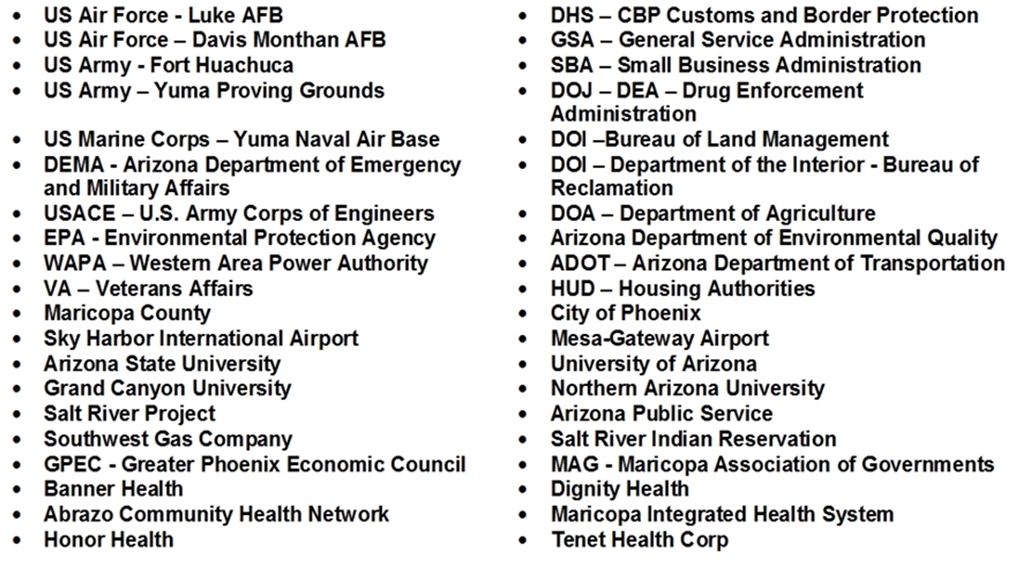 WHO SHOULD ATTEND

SPONSORSHIP, EXHIBITION & SPEAKING OPPORTUNITIES
The following table defines the levels of Sponsorship for this event. Opportunities for Corporate Capabilities Presentations are only available to Sponsors.
For additional information, contact Sheila Martin:
Phone: 602-300-2682
sheila@azbizopps.org
www.azbizopps.org

INVITED COLLABORATING ORGANIZATIONS




CANCELLATIONS AND TICKET REFUND POLICY
Cancellations and ticket refunds requests must be received in writing prior to 21 calendar days from the start date of the Event. Submit refund requests via email to sheila@azbizopps.org
No verbal requests for ticket refunds will be honored.