Description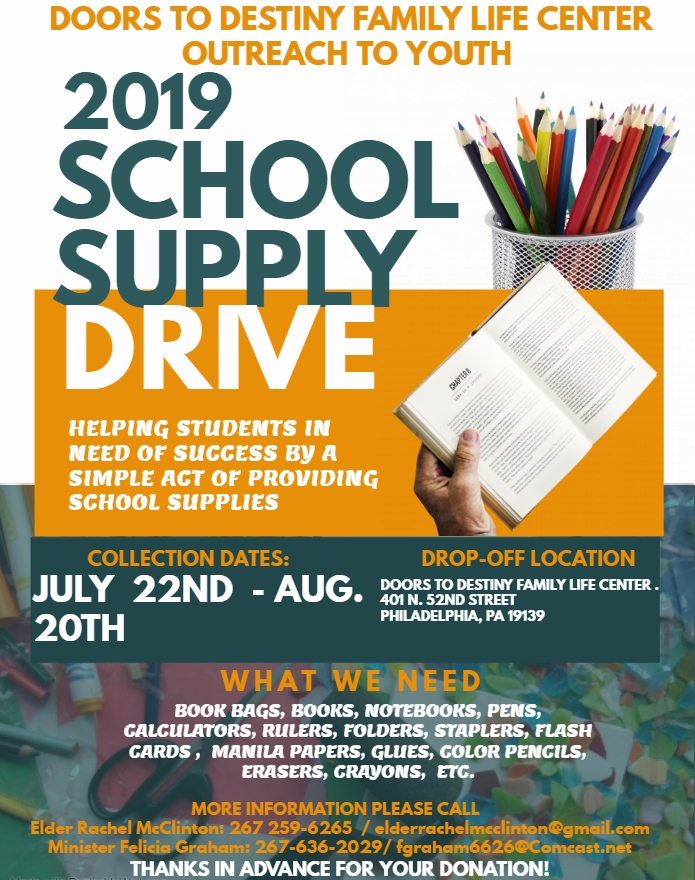 Greetings
The Doors to Destiny Family Life Center will be hosting "Get your Children Ready for Their Best Year" Back to School Rally on Sept. 1, 2019 at the Open Door Mission True Light Church
DOOR TO DESTINY FAMILY LIFE CENTER COMMUNITY DEVELOPMENT CORPORATION, a Pennsylvania nonprofit corporation established in 2005. The corporation legally formalizes and separates the operation of community-based services and programs provided by the Open Door Mission True Light Church for over 40 years.


This event will include an Education, Health & Wellness, Family Resources and Back to School Giveaway that will benefit the community. We are seeking Sponsors, Health and Medical Partners who can provide screenings, information and health material to be distributed at this event along with haircuts and hair style for children.
By you donating sealed food packages and material's such as the following (Books, Pencils, Book-bags, crayons, snacks, , paper , rulers, juices, Raffle items, educational materials ,water and Resources will support our mission to eliminate those social ills that destroy families and communities such as poverty, unemployment, homelessness, illiteracy and substance abuse. Doors to Destiny Family Life Center develops programs and services that foster the ethical, social and intellectual development of children while nurturing their capacity to think skillfully and critically. While focusing on the development of children, parents, other adults and seniors are also included in the target service demographic
It is our hope that this event will become a citywide annual event which can be hosted at the Doors to Destiny Family Life Center at the Open Door Mission True Light Church throughout the communities.
We're hoping to get your help and cooperation with this event. All Vendor's Please see flyer for more details and registration, visit https://www.eventbrite.com/o/doors-to-destiny-family-life-center-17614802492.
Sincerely Yours;
Minister Felicia R. Graham
(Chief Administrator/Coordinator)
267-636-2029