Event Information
Location
White Eagle Golf Club
3400 Club Drive
Naperville, IL 60564
Description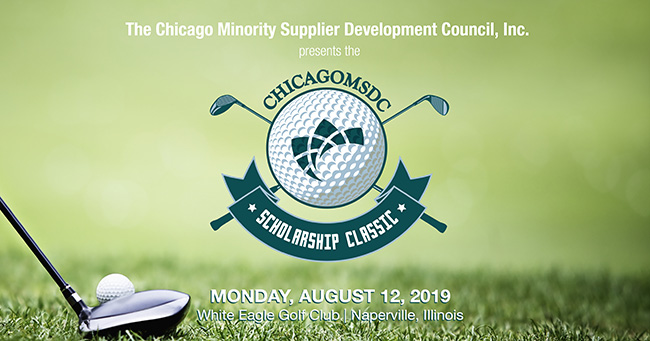 The Chicago Minority Supplier Development Council (ChicagoMSDC) invites you to join us for the annual Scholarship Classic fundraiser and networking event.
Every year the Scholarship Classic helps us celebrate our accomplishments through our fundraising efforts for educational growth. The ChicagoMSDC Scholarship Fund provides educational scholarship checks to minority high school or college students. The fund also allows the ChicagoMSDC to offer an MBE stipend for Northwestern University's Kellogg School of Business, NMSDC Executive Management Program.
To view the schedule, visit our website: http://www.chicagomsdc.org/events/golf-classic
THIS REGISTRATION ALLOWS YOU TO:
Register 1-4 INDIVIDUAL TICKETS as a player (golfing).
Register your GOLF FOURSOME as a team of four players.
Register an INDIVIDUAL TICKET as an attendee (lunch only guest or reception/dinner guest)
Become a Hole Sponsor to show your company name and/or logo. (Options are shown under INDIVIDUAL tickets)
Register for the Clubhouse Casino fundraising event from 1:00 pm - 5:00 pm.
Online registration for players and attendees ends August 7, 2019.
Beverage Sponsors and Box Lunch Sponsor must be paid and confirmed by August 1, 2019.
Hole Sponsors must be paid by 5pm on August 2, 2019 to receive a printed sign.
Additional sponsorship opportunities are available. Please contact Toni Hurley, 312-755-8880 or Cynthia Jordan, 312-755-2555 to make arrangements. For more info, visit www.chicagomsdc.org
ALL PARTICIPATION SPONSORSHIPS, PARTICIPATION FEES AND MEAL TICKET DONATIONS ARE FINAL. REFUNDS ARE NOT ACCEPTED. AS AN OUTDOOR EVENT, THIS EVENT IS SUBJECT TO DISRUPTION AND/OR RESCHEDULING DUE TO WEATHER. IF RESCEDULING IS REQUIRED, ALL FEES WILL BE RETAINED AND APPLIED TO THE NEW DATE.
Date and Time
Location
White Eagle Golf Club
3400 Club Drive
Naperville, IL 60564
Refund Policy