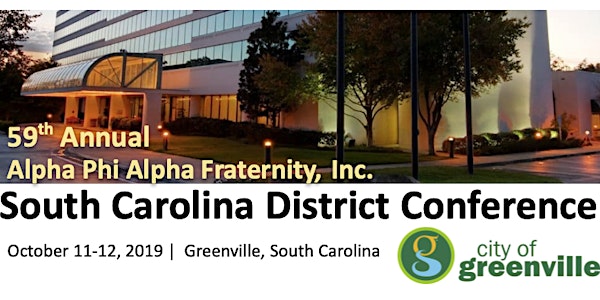 2019 SCAlpha District Conference
When and where
Location
Greenville Hilton 45 W Orchard Park Dr Greenville, SC 29615
Description
The 59th Anniversary District Conference will convene October 11-12, 2019, at the Greenville Hilton located at 45 W Orchard Park Dr off of Haywood Road in Greenville, South Carolina.

The Brothers of Area I have worked to ensure that this District Conference will exceed your expectations. Brothers and guests will leave this Conference inspired, challenged and more involved with their individual communities and the Brotherhood as a whole.

The 59th Anniversary District Conference will continue the new traditions established with the 2016 District Conference. It will be a two-day conference, and the awards will be integrated throughout the competitions and events. The conference activities will include the Fraternal Luncheon, the Life Members Breakfast and a brotherhood activity on Friday evening that will increase and enhance the fraternal bond between every brother in attendance.

During the Public Program, we will recognize and honor two new South Carolina Living Legends from the chapters in Area I.

There will also be an opportunity to engage in one of our "signature" community service projects, Alpha Men Do Read. Both projects are designed to impact our communities in the Areas where we host our District Conference and the whole of the District of South Carolina. Brothers will serve middle school male students through Let's Tie Things Up by conducting an interactive workshop regarding the importance of a positive and professional male image and career readiness. Alpha Men Do Read represents the District's proactive measure to promote literacy development in elementary schools. Brothers will conduct a book drive and dedicate reading time at local elementary schools.

What can you do to ensure the success of the 59th Anniversary District Conference? The answer is very simple, make sure that your chapter delegates and brothers are registered for the District Conference, as well as, participate in the chapter awards and competitions.