Description
The 2019 State of the Port Address, hosted by the Georgia Ports Authority and the Propeller Club of the United States - Port of Savannah, will be held at the Savannah Convention Center. GPA Executive Director Griff Lynch will present the latest developments at the GPA during a networking-lunch reception.


New this year, State of the Port tickets include coffee reception and are required for entrance.
---
PRELIMINARY AGENDA
10:30 a.m Networking Reception - TICKET REQUIRED
11:00 a.m. Ballroom Doors Open
11:35 a.m. Ringing of Propeller Club Bell – be seated
11:45 a.m. Program Begins
Trey Thompson, Propeller Club President
Welcome | Call Propeller Club Meeting to Order

Invocation | Pledge of Allegiance | Lunch
11:55 a.m. Lunch Begins
12:10 p.m. Trey Thompson
Recognition of Guests | Introduction of GPA Chairman
12:15 p.m. Will McKnight, GPA Chairman
Remarks | Introduction of GPA Executive Director | Introduction of Video
12:30 p.m. Griff Lynch, Executive Director, Georgia Ports Authority
State of the Port Address
1:25 p.m. Trey Thompson
Announcements | Wrap-up
---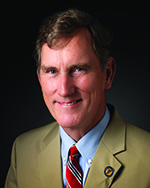 Will McKnight
Chairman : Georgia Ports Authority
Will McKnight was born and raised in Augusta, Georgia. He graduated from The Academy of Richmond County in 1974 and from The Georgia Institute of Technology in 1979. Following his graduation from Tech, he continued to work for his family-owned construction company in Augusta and has been the President since 1996. Mr. McKnight has overseen the completion of over $1 billion in construction projects.
In addition to Mr. McKnight's extensive career in the construction industry, he has remained active in his community by serving and chairing many boards and committees. He was named Chairman of the Board of Directors of the First Bank of Georgia in May 2010 and then served on the board of State Bank which sold to Cadence Bank in 2018. He is the past President and continued member of both the Augusta Country Club and Augusta Golf Association, and he has served on the boards of Associated General Contractors of America, Augusta Ballet, Richmond Academy Booster Club, Tuttle-Newton Home, Episcopal Day School and First Tee. Mr. McKnight is a member of the Exchange Club of Augusta and Trinity on the Hill United Methodist Church. He has served on the Georgia Ports Authority since 2014 where he has chaired the Development Committee and Finance Committee and served as the Secretary Treasurer and currently Vice Chairman. He is a member of Ocean Forest Golf Club, Sea Island Golf Club, and the Augusta National Golf Club where he has served on the Gallery Committee of the Masters since 2000 and is presently Chairman of the Grounds Committee for the Masters. He has also been a member of the Planning and Development Committee for AU Foundation as well as the Consolidation Committee for MCG and Augusta State University.
---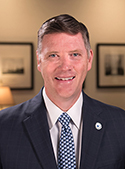 Griff Lynch
Executive Director : Georgia Ports Authority

Griff Lynch is the Executive Director of the Georgia Ports Authority, a 1,300-person strong state port authority that owns and operates strategic gateways serving the U.S. Southeast.
As Executive Director, Lynch oversees all port activity involving the deepwater ports of Savannah and Brunswick, as well as inland terminal operations in Bainbridge and Murray County, Georgia. Directing one of Georgia's largest economic engines, he manages a budget with annual operating revenues of $509 million.
Before becoming executive director, Lynch served as GPA chief operating officer for five years. As COO of the single largest container terminal in North America and second busiest U.S. auto port, he was responsible for sustaining the profitable growth and development of all operations, and maintaining world-class operating standards. His duties included overseeing ambitious capital improvement and development programs for five deep water ports and two inland terminals while maintaining strong relationships with numerous customers, labor officials and supply chain partners.
A proven leader in the maritime industry, Lynch brings 30 years of experience in the design and implementation of major port expansions, the effective execution of sustainable profit and productivity models and identifying winning sales and marketing strategies.
Lynch graduated from the State University of New York at Maritime College in 1988 and immediately began his training as a vessel planner. Over the course of his career, Lynch held executive positions in both sales and operations at terminals in New York and Virginia before joining the GPA in 2011.
---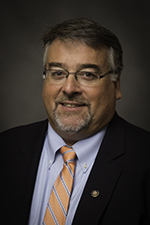 Trey Thompson
Master Pilot : President of the Propeller Club Port of Savannah
Trey Thompson was born and raised here in coastal Georgia. He graduated from Savannah Christian in 1985 and earned a BBA in Risk Management from the University of Georgia in 1990 with a concentration in Actuary Science. His career on the Savannah River started with the Savannah Pilots Association in 1991 as a dispatcher. He was moved to pilot boat crew later that year where he worked up from deckhand to captain. Thompson became an apprentice pilot in February 1997 and after four years of training became a full pilot in February 2001. Thompson has been Master Pilot since his appointment by the Savannah Pilotage Commission in May of 2014.
Thompson has been married to his wife, Erin, for 20 years. They have two daughters, Brooke (14) a freshman at St. Vincent's Academy and Macy (17) a senior at St. Vincent's Academy. Thompson and his family have a dog, cat, blind squirrel, pig and three horses.

As Executive Director, Lynch oversees all port activity involving the deepwater ports of Savannah and Brunswick, as well as inland
---
For ticket information, contact Patricia Richardson at prichardson@gaports.com or 912.964.3996.
For event questions, contact Emily Goldman at egoldman@gaports.com or 912.964.3885.