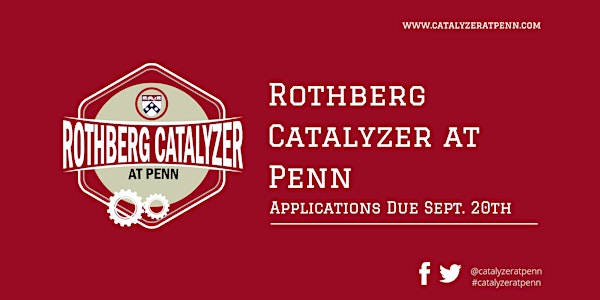 2019 Rothberg Catalyzer Design Studio 1: Design Thinking
Event Information
Location
Singh Center for Nanotechnology - Glandt Forum
3205 Walnut St
Philadelphia, PA 19104
Description
Our Rothberg Catalyzer at Penn workshops, called Design Studios, give you an opportunity to learn from subject matter experts and get an edge on the competition. In Design Studio 1, traverse the complexities of Design Thinking and User Experience in order to put yourself in the minds of patients and how to think through an unmet clinical need. The workshop features an interdisciplinary panel of clinicians as mentors to guide students through the ideation and need validation process, as well as provide unique insights.
Design Thinking, an iterative process to understanding the needs of your target user, has been adopted by some of the world's leading brands. Design Studio 1 leads you through the phases of Design Thinking – Empathize, Define, Ideate, Prototype, and Test – and how it can help you select an unmet need and create impactful solutions.
WORKSHOP LEAD(S) :
Healthcare Innovation Consultant, Children's Hospital of Philadelphia
Scientific Director, NSF Center for Child Injury Prevention Science; Science/Medical Advisor, Office of Entrepreneurship and Innovation; Distinguished Chair of Pediatrics, Children's Hospital of Philadelphia
--
Rothberg Catalyzer at Penn Overview
Most people have heard of a hackathon, but the Rothberg Catalyzer at Penn is a makerthon. Instead of the classic hackathon focus on software development, a makerthon is where students compete to build innovative hardware solutions for healthcare problems.
The makerthon portion of the Rothberg Catalyzer at Penn is an immersive two-day event to encourage interdisciplinary student teams to develop a simple prototyping project. Groups come together to address an unmet clinical need by prototyping a hardware solution. At the end of the weekend, projects are presented to a panel of judges and awards are presented.
Even if you think that you know nothing about healthcare or innovation, the goal of the makerthon is to create cross-disciplinary teams to build hardware and software solutions. Whether you're trying something new, getting a jumpstart on senior design, or kickstarting your tech startup - you never know what you and your team will come up with!
Apply now! Accepting applications through September 20th. All Penn students are welcome. See our website https://www.catalyzeratpenn.com/ for more details and to apply.
Date and time
Location
Singh Center for Nanotechnology - Glandt Forum
3205 Walnut St
Philadelphia, PA 19104