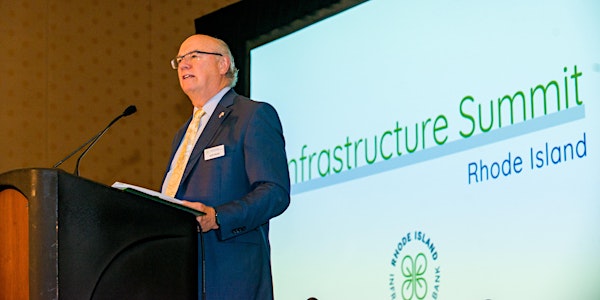 2019 Rhode Island Infrastructure Summit
When and where
Location
Rhode Island Convention Center 1 Sabin Street Providence, RI 02903
Description
The R.I. Infrastructure Bank is proud to host the 3rd annual Rhode Island Infrastructure Summit.
The Summit convenes hundreds of public and private sector professionals to collaborate on solutions for the State's infrastructure challenges, great and small.
Following opening remarks, participants will turn to breakout sessions where they will have an opportunity to discuss various approaches to problems surrounding infrastructure projects. The topics for each session are as follows:
Green Infrastructure and Resiliency
Climate Resilience as Economic Development
A Watershed Moment, Managing Stormwater at the Regional Scale
Economic Development
Maximizing Equitable Development in Opportunity Zones
Wind as an Economic Development Opportunity
Clean Energy
Saving Green by Going Green: Clean Energy Case Studies in the Hospitality Industry
Completing the Capital Stack with PACE and State Incentives
School Infrastructure
Investing in School Infrastructure, Investing in Our Future
Resilient and Sustainable Economic Development
Rhode Island's Food Economy, What's Next?
The event will conclude with a plenary discussion focused on infrastructure resiliency ("Resilient Infrastructure, the Final Frontier"). Panelists Dr. Louis Gritzo, of FM Global, Elle Hempen, of The Atlas, and Robert Zarnetske, Town Manager of South Kingstown will participate.
For the full agenda, please visit our wesbite: https://www.riib.org/summit.