2019 Restorative Practices in Schools and Communities Conference
Sales Have Ended
Registrations are closed
We have received your registration, thank you. We look forward to seeing you at the Conference in June!
Sales Have Ended
Registrations are closed
We have received your registration, thank you. We look forward to seeing you at the Conference in June!
Description
Registration Closes May 24th, 2019
Restorative Practices are drawn from the traditions of Indigenous people and communities of color around the world. They are grounded in a common knowledge that people are profoundly relational, interconnected, and inherently good. Restorative practices include ways of creating community that honor the importance of relationships amongst all members in the community; as well as practices to repair relationships when harm has been caused and address the needs of all people impacted by the harm.
When integrated into daily living, Restorative Practices support our thriving personally, professionally and within our communities. Showing up in this way expands our potential for successfully creating a peaceful world- inside and out.
The Conference training sessions are open to anyone who works with youth, including school administrators, school board members, teachers, educational aides, school resource officers, school facilities staff members, student support staff members, out of school time staff, youth workers, school volunteers, family members and community partners. Sessions ranging from introductory level to advanced level will be offered. Schools are encouraged to send a team to the trainings. Individuals are welcome.
First Steps Trainings:

Are you new to Restorative Practices (RP) and Process? Are you growing your RP skill set? These offerings are for you!
Monday: Restorative Practices First Step
Tuesday-Friday: Circle Training
Tuesday-Thursday: Conferencing to Repair Harm
Tuesday-Thursday: Restorative Language/Chats
Friday: Whole School Design
Friday Morning: Breaking the School Pipeline to Prison
Next Steps Trainings: Are you interested in deepening your existing circle practice and or expanding upon your RP process skill set? This offering is for you!
Tuesday-Wednesday: Deeper Understanding of Circle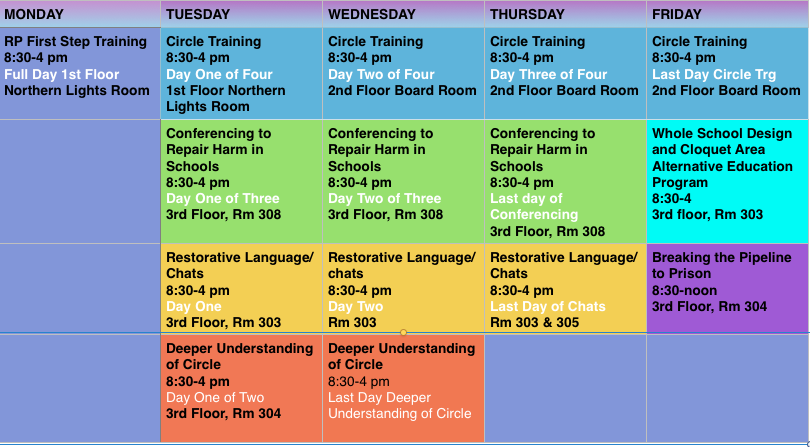 Visit our
website
for Facilitator information and Conference details.


Daily Schedule
7:30-8:15 am Registration, Connecting Time~ Coffee/Tea and Breakfast Breads Provided
8:15-8:30 am Morning Mindful Moments
8:30-Noon Morning Sessions
Noon-1:30 pm Lunch On-Site Provided
1:30-4 pm Afternoon Sessions
Venue
Cloquet Area Alternative Education Program (CAAEP)
Recipient of 2018 Minnesota Association of Alternative Programs
Minnesota Alternative Program of the Year


Parking
Parking is limited. If you are attending with other participants, please consider carpooling- It's fun and good for the environment! There is a small parking lot behind the school and another off of Carlton Avenue. There is also parking on both sides of 14th street, Carlton Avenue, Concord Avenue, and 16th Street.
Registration Questions?
Contact Erin DeWitt at 218-341-3411 or erin@consciouslivingnow.org
Conference Questions?
Contact Laraine Mickelson at 218-390-1707 or laraine@mickelsonconsulting.org
Refund Policy:
In order to keep tuition accessible for participants and out of respect for our Facilitiator's time in preparing an incredible learning opporunity- refunds are not offered unless we cancel a training due to a course not filling. Confirmed registrations can be transferred to other participants if done on or before the first day of that training session in honor of continuity within the circle and in meeting attendance requirements for CEU's.
What is the Registration Fee?
Eventbrite charges a service fee for each ticket purchased that is based upon a percentage of the ticket and a credit card fee.