Event Information
Location
The Gathering Spot
384 Northyards Boulevard Northwest
Building 100
Atlanta, GA 30313
Description
2019 Prostate Cancer Care 360™ Summit "Accessing Caregiver Resources"
Saturday, September 14th from 10AM-3PM
The Gathering Spot, 384 Northyards Blvd NW, Building 100, Atlanta, GA 30313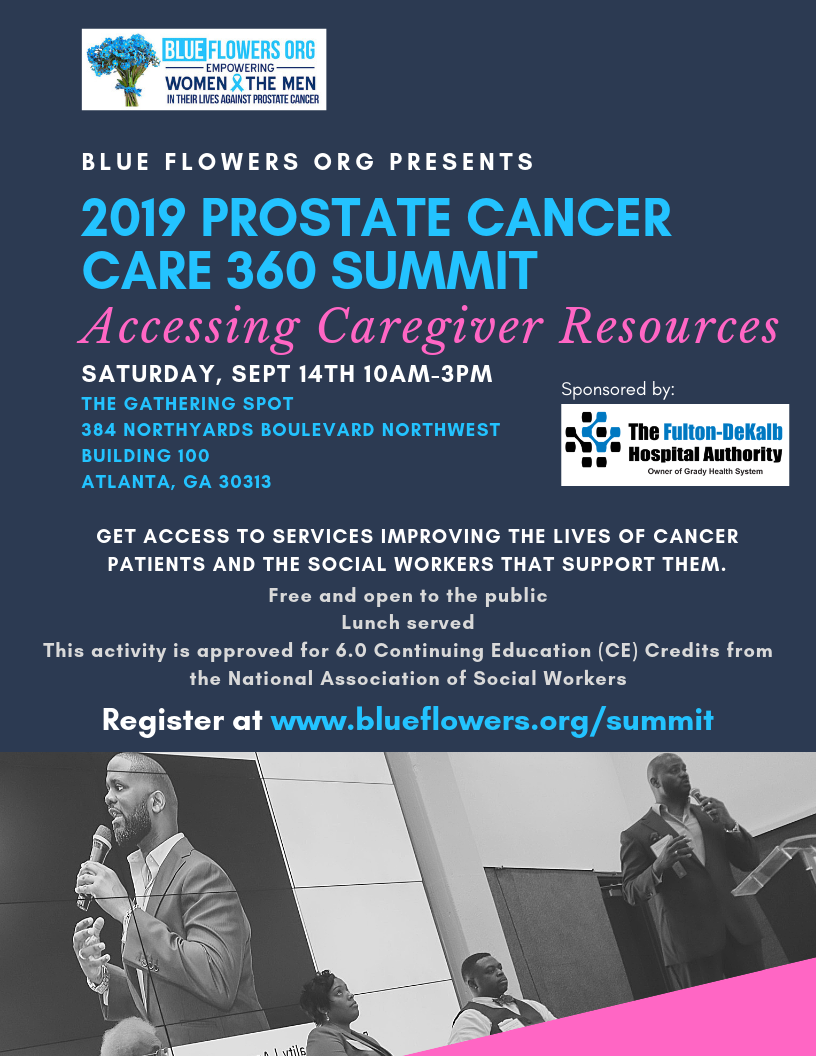 AARP, WellStar, Georgia Watch, Clark Atlanta University, Winship Cancer Institute of Emory University and the Henry H. Washington 3 Foundation will share information and practical resources making the lives of cancer patients and caregivers easier.
This year we are excited to provide:
- FREE PSA screenings by Advanced Urology
- FREE admission and buffet lunch
- Exclusive "Men's Den" for prostate cancer patients and survivors

This activity is approved for 6.0 Continuing Education (CE) Credits from the National Association of Social Workers-Georgia
This event is open to those impacted by all cancers, with special programming dedicated to families impacted by prostate cancer.
Sponsored by The Fulton-Dekalb Hospital Authority
---
GET ACCESS TO SERVICES IMPROVING THE LIVES OF PATIENTS SUFFERING FROM CANCER AND THE SOCIAL WORKERS THAT SUPPORT THEM:
Accessing Caregiver Resources Panel Discussion- hear from state and county representatives as they share services available in your community.

FREE PSA screenings- provided by Advanced Urology
The Role of Health Policy and the Impact on You
Presenter: Rhonda Richards, Government Relations & Advocacy, AARP
This session provides an overview of some proposals in health policy on the federal level for consumers, caregivers, and professionals that support them. Hear how current policy and proposals regarding the Older Americans Act, Medicare, Medicaid, the Recognize, Assist, Include, Support, and Engage (RAISE) Family Caregivers Act and other efforts to support family caregivers can impact you and your family.
Audience: Social Workers, Cancer Patients (All cancers), Family & Friends and Caregivers
Health Equity: The Role of Community Health Workers in Access to Care
This session will educate participants about the essential role CHWs play in health equity and access, particularly in diverse and lower-income communities. ​
Audience: Social Workers, Cancer Patients (All cancers), Family and Friends and Caregivers
Men's Health: Impact on Women, Children, and Society
A cancer diagnosis affects the entire family. Learn how men's health impacts the lives of women and children, and the long-term impact on future generations.
Audience: Social Workers, Cancer Patients (All cancers), Family & Friends and Caregivers
Managing the Mental Health Impacts of a Cancer Diagnosis
A person's mental health can be affected by a cancer diagnosis and they may experience stress, anxiety, and fatigue. These effects can last during treatment and even in remission. Learn how to manage these issues of improving emotional, psychological and social well-being.
Audience: Social Workers, Cancer Patients (All cancers), and Caregivers
Men's Den: Real Talk-My Life After Prostate Cancer (For Men Only)
Hear from and join other prostate cancer survivors for an open and candid discussion about prostate cancer survivorship. If you are newly diagnosed, gain insight and be inspired by those that have walked the journey and know that there is hope.
Audience: Male Prostate Cancer Patients ONLY
Vendor and sponsorship opportunities available
Email contactus@blueflowers.org
Date and time
Location
The Gathering Spot
384 Northyards Boulevard Northwest
Building 100
Atlanta, GA 30313