Description
We're sorry we had to reschedule to April because of the snowstorm. If you cannot make it now, please remove your name so the spot can be open for someone else.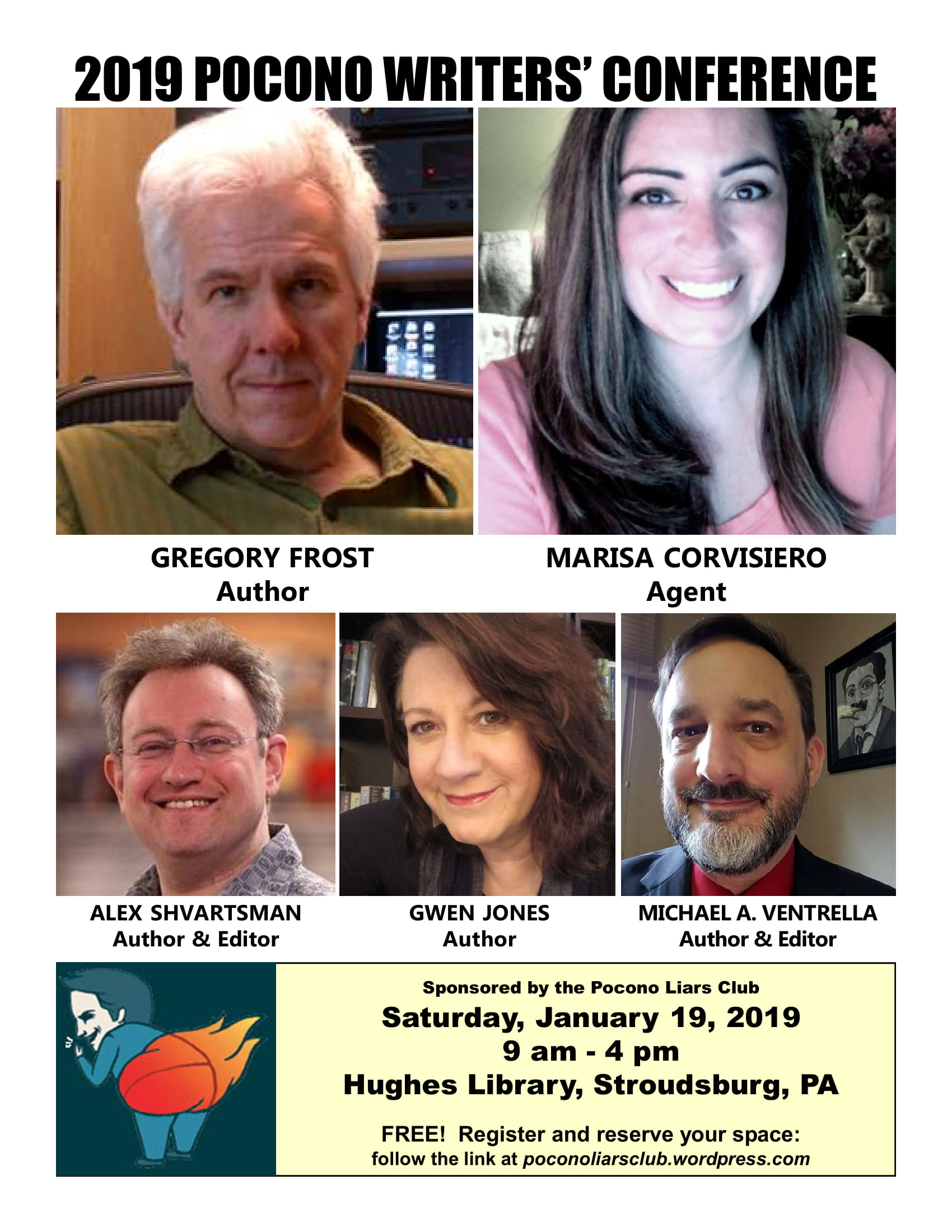 SCHEDULE
9:30: MICHAEL A. VENTRELLA: Introductions
9:45: GWEN JONES: First Line, First Paragraph, First Page. How to hook the reader from the beginning. Participants are encouraged to bring their opening for review and discussion.
11:00: GREGORY FROST: Characters: Point of View, Desire, and Death. When you write a story or a novel, the Point of View you choose not only directs the reader to engage with the narrative a certain way; it limits the way the reader can engage. But regardless of which POV you choose, to compel the reader to go with you, there are two ingredients you must have: Desire and Death
12:00: Lunch [Please bring a bag lunch and drink; alternatively, there is a grocery store next door and other fast food places nearby, as well as a small coffee shop in the library.]
1:00: ALEX SHVARTSMAN: After "The End." You've written your story and typed "The End," but your work isn't done yet. Before you send it off on submission there are many steps you can take to polish and revise your work. From self-editing and identifying your writing tics to critique partners, from beta readers to writing groups, there are plenty of things you can do to get your story in best possible shape before it reaches an editor's desk--and improve your overall writing skills in the process!
2:15: MARISA CORVISIERO: Building an Author Platform and Marketing Books. From Baby Steps to The Tipping Point. This presentation will thoroughly cover the essentials of building and growing a platform and marketing books; what is a platform, who needs one and why, and much more. As the necessity for author platforms continues to grow, our goal is to help Authors be able to bring their projects to their readers and increase their visibility so that they sell more books and continue to reach new readers.
3:30: MICHAEL A. VENTRELLA: Panel Discussion and Question and Answer session with all panelists

WORKSHOPS
Each of the participants are holding smaller sessions during the presentations where you can get individual critiques and comments.
These sessions are $20 each. You can sign up for as many as you want but you must pre-register because space is limited.
The panelists will contact you by email prior to the session to discuss writing samples and other requirements.
9:45: Alex Shvartsman
11:00: Marisa Corvisiero
1:00: Gwen Jones
2:15: Gregory Frost
ABOUT THE GUESTS

MARISA A. CORVISIERO is the founder of the Corvisiero Literary Agency, an attorney, and our Senior Literary Agent. During the few years prior to starting her own agency, Marisa worked with the L. Perkins Agency, where she learned invaluable lessons and made a name for herself in the industry. She is also a Literary Consultant, Speaker, Author and an Attorney practicing law with a focus on Corporate Law and Estate Planning in New York City. Ms. Corvisiero is also the founder of The Corvisiero Law Practice, P.C. Since the law firm's inception, it has achieved incredible success and growth, and continues on its high-speed trajectory towards excellence. The firm now provides assistance in a number of practice areas as a comprehensive package of legal services for existing and new clients. https://www.corvisieroagency.com/
GREGORY FROST is the author of eight novels and sixty-plus shorter works of fiction. His most recent novel—the Shadowbridge duology (Shadowbridge and Lord Tophet) from Random House-DelRey—was a finalist for the James Tiptree Award and an American Library Association Best Fantasy Novel pick, receiving starred reviews from Booklist and Publishers Weekly. His previous novel, Fitcher's Brides (Tor Books), was a Best Novel Finalist for the World Fantasy and International Horror Guild Awards. His collaborative novelette with author Michael Swanwick, "Lock Up Your Chickens and Daughters, H'ard and Andy Are Come to Town," won a 2015 Asimov Readers Award. His works have also been finalists for the Nebula Award, the Hugo Award, Bram Stoker Award, and the Theodore Sturgeon Award. He is the Fiction Writing Workshop Director at Swarthmore College. https://www.gregoryfrost.com
GWEN JONES, MFA, is the author of the HarperCollins Avon French Kiss series, Wanted: Wife, Kiss Me, Captain, and The Laws of Seduction, and her work has appeared in Writer's Digest, The Kelsey Review, and The Connecticut River Review. She is a mentor and instructor in Western Connecticut State University's Master in Creative and Professional Writing program, an Associate Professor of English at Mercer County College, in West Windsor, NJ, and Vice President of the tri-state writers' organization, Liberty State Fiction Writers. She lives with her husband, Frank, near Trenton, NJ. gwenjoneswrites.com
ALEX SHVARTSMAN is a writer, translator, and anthologist from Brooklyn, NY. Over 100 of his short stories have appeared in Nature, Analog, Strange Horizons, InterGalactic Medicine Show, and many other magazines and anthologies. He won the 2014 WSFA Small Press Award for Short Fiction and was a two-time finalist for the Canopus Award for Excellence in Interstellar Fiction (2015 and 2017). He is the editor of Future Science Fiction Digest and the curator of the Unidentified Funny Objects annual anthology series of humorous SF/F. His latest collection, The Golem of Deneb Seven and Other Stories, was published in 2018. His website is www.alexshvartsman.com.
MICHAEL A. VENTRELLA is a Stroudsburg writer with three novels so far, the most recent being Bloodsuckers: A Vampire Runs for President. He edits the "Tales of Fortannis" anthologies as well as the "Baker Street Irregulars" anthologies, co-edited with New York Times Bestselling author Jonathan Maberry. At his web page (www.MichaelAVentrella.com), he interviews writers and editors and gives advice for the starting writer. This is his 6th year organizing these conferences.

...
The members of The Pocono Liars are committed to making this conference one where every person in attendance feels supported and respected for their endeavors, and a place where all writers feel welcome and are treated with courtesy, patience and respect. While we as individuals might not share the same world views, we in The Pocono Liars believe it is imperative to develop a safe environment for creatives from all backgrounds and beliefs to gather in support of one another. It is our collective wish to provide such a venue in support of the intellectual integrity of all those who attend and wish to participate.
Additionally, as writers, we feel it is especially important that we respect the boundaries of each individual. Therefore, while proactive critiques are most certainly welcome and appreciated, we especially request that those in attendance refrain from putting fellow writers in a position of validating their choice of genre, lifestyle or story. Thank you.