Description
A free, informative gathering for fiction writers who wish to become published authors, but don't necessarily know where to begin.
In this day-long event, small, interactive group workshops will be offered, providing participants with information and personal attention. Attendees will be able to choose three workshops from the six offered. [See Below]
Remember: This is a workshop. Bring your laptop or pen and paper and be ready to do some writing exercises!
---
WORKSHOPS
Plotter or Pantser: Susan Moore Jordan and Sahar Abdulaziz: There's no wrong way to write a book. Some writers plot: planning out character elements, plot, and action in detail ahead of time. Other writers allow the characters in their head to determine what will happen next. It's about personality and your relationship to the story inside of you. The key is to figure out what kind of writer you are and then follow the advice of the type of writers most like you. In this workshop, we will help you discover whether you're a plotter or a panster, or a mixture of both, and what each type of writing method will entail.
World Building: Kelly Jensen: World building isn't just for fantasy and science fiction. Readers want to know where they are, when they are, and how your story relates to the world it's set in. Learn how to represent the familiar and create the unfamiliar in a way that won't overwhelm your story or your characters. This workshop will include an exercise that may be shared with the class.

Show v. Tell: Kelly Hashaway: Learn how to make readers experience your story right alongside the characters by utilizing showing techniques that will bring your book to life
Hooking Your Reader: Michael A. Ventrella: We're not all Stephen King, who can slowly lead us into the plot since we know it's going to get good. We're unknown -- we have to grab them early! The opening paragraphs are tremendously important in getting your reader to turn the page, and this workshop will allow you to learn and practice the elements needed to hook your reader.
Point of View: Mary Anne Moore and Catherine Schratt: A writer needs to know through whose eyes the story is being seen. This may change as a story progresses, but changing POV too many times without clear guidance from the writer leads to confusion and frustration on the part of the reader. Short examples of various POV will demonstrate what the term means. To get some practice, we will divide into groups and tell a common story from the POV of different characters in it.
Writing Effective Dialogue: Sahar Abdulaziz: All genres must contain effective dialogue. Poorly executed dialogue can ruin a story. However, strong, relatable, and authentic dialogue can transform book characters into believable people. This workshop will focus on learning the guidelines for writing robust and realistic dialogue and putting those rubrics into practice. Be prepared to write.
---
SCHEDULE
9:00: Registration
9:30: Meet Greet Introduction
10:00: Workshop: A1: Plotter or Pantser OR A2: World Building
11:00: Break
11:15: Workshop B1: Show v. Tell OR B2: Hooking Your Reader
12:15: Lunch [Please bring a bag lunch and drink; there is a grocery store next door, a coffee shop with snacks in the library, and other fast food places nearby]
1:15: Workshop C1: Point of View OR C2: Writing Effective Dialogue
2:15: Break
2:30: Question & Answer Panel
4:00 (or earlier depending on the Q&A panel): Closing remarks/cleanup
NOTE: When you sign up, be careful not to reserve two panels at the same time. Choose A1 or A2, B1 or B2, and C1 or C2.

Since we have limited space, PLEASE do not reserve a spot unless you are absolutely planning on attending.

---
PRESENTERS
SAHAR ABDULAZIZ: Sahar is the author of eight novels––including Expendable, Tight Rope and her latest release, Unlikely Friends. Most of her work is realistic fiction: psychological thrillers/suspense, and satire. As in real life, many of her quirky invisible friends face complicated life challenges. However, despite whatever life-trajectory her characters ultimately decide upon, Sahar is determined to tell their stories, eager to put pen to paper to share their compelling accounts, no matter how hilarious, convoluted, or torturous their adventures become. Her web page is www.saharraziz.com
KELLY HASHAWAY: Kelly Hashway is a USA Today bestselling author who fully admits to being one of the most accident-prone people on the planet, but luckily, she gets to write about female sleuths who are much more coordinated than she is. She also writes romance under the pen name Ashelyn Drake. When she's not writing, Kelly works as an editor. Her web page is https://www.kellyhashway.com/
KELLY JENSEN: If aliens ever do land on Earth, Kelly will not be prepared, despite having read over a hundred stories of the apocalypse. Still, she will pack her precious books into a box and carry them with her as she strives to survive. It's what bibliophiles do. Kelly is the author of eight novels, including the Chaos Station series co-written with Jenn Burke, and seven novellas. Some of what she writes is speculative in nature, but mostly it's just about a guy losing his socks and/or burning dinner. Because life isn't all conquering aliens and mountain peaks. Sometimes finding a happy ever after is all the adventure we need. Her web page is http://kellyjensenwrites.com
SUSAN MOORE JORDAN: Susan Moore Jordan's nine "music-centric" novels include works drawn from her life as a performer, teacher, and stage director, two books based on the impact on a family by sons drawn into the Vietnam War, and more recently, a cozy mystery series. She's also written one non-fiction book about her experiences as a stage director for thirty-plus years.You can read more about her and her work at www.susanmoorejordan.com
MARY ANNE MOORE: Mary Anne Moore's travels across five continents have served as inspiration for her fiction. Writing under the name M.A. Moore, she has published three mystery/adventure novels under the rubric of The Amy Mohr Chronicles, and a cozy mystery set in Central America called, If It's Tuesday It Must Be Guatemala. https://poconoliarsclub.wordpress.com/mary-anne-moore/
CATHERINE SCHRATT: Catherine Schratt has been a member of Pocono Liars for several years. She voraciously reads across many genres––young adult, historical fiction, thrillers, mysteries, "women's" novels, and biographies. Her current Work In Progress is a Young Adult novella.
MICHAEL A. VENTRELLA: Michael primarily writes humorous fantasy and science fiction. His most recent novel is the Teddy Roosevelt adventure Big Stick, with others being Bloodsuckers: A Vampire Runs for President, Arch Enemies, and The Axes of Evil. He has numerous short stories that have appeared in various anthologies, and edits story anthologies, including Release the Virgins!, the fantasy-oriented Tales of Fortannis, a Sherlock Holmes-themed series called Baker Street Irregulars (co-edited with NY Times Bestselling author Jonathan Maberry), and the forthcoming Beatles-inspired Across the Universe. He is a regular speaker at science fiction conventions and has hosted the Pocono Writers Conference since its inception. His website is https://michaelaventrella.com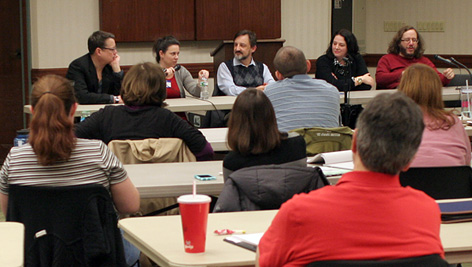 ---
The members of The Pocono Liars are committed to making this workshop one where every person in attendance feels supported and respected for their endeavors, and a place where all writers feel welcome and are treated with courtesy, patience and respect. While we as individuals might not share the same world views, we in The Pocono Liars believe it is imperative to develop a safe environment for creatives from all backgrounds and beliefs to gather in support of one another. It is our collective wish to provide such a venue in support of the intellectual integrity of all those who attend and wish to participate.
Additionally, as writers, we feel it is especially important that we respect the boundaries of each individual. Therefore, while proactive critiques are most certainly welcome and appreciated, we especially request that those in attendance refrain from putting fellow writers in a position of validating their choice of genre, lifestyle or story. Thank you.