2019 Philomathia Forum: Port & Freight Decarbonization

Monday, October 28, 2019 from 9:30 AM to 6:00 PM (PDT)
Event Details
Changes in transport technology, evolving shipping practices, and policy developments on climate and environmental justice create an urgent need for market-relevant research to accelerate goods-movement and maritime port decarbonization.  This conference will forge new collaboration among freight industries, equipment manufacturers, government, university centers and community leaders on efforts to achieve zero emission port and freight operations.
This two-day conference is designed to identify a research agenda and roadmap on freight decarbonization. The first day of panels and presentations is open to the public. The second-day will be devoted to work group meetings and is by invite only. 
Zero Emission Ports & Freight is part of the Philomathia Forum Energy & Environment series. The Philomathia Foundation advances UC Berkeley's research in energy and climate research. Find out more here.
AGENDA
DAY 1 - OCTOBER 28
9:00 AM - 9:45 AM
Registration
9:45 AM - 10:15 AM
Welcome
Speakers:
David Wooley, Goldman School of Public Policy
Brian Beveridge, Ms. Margaret Gordon, WOEIP
10:15 AM - 10:45 AM
Keynote 'Fireside Chat'
Nancy Skinner, California State Senate
Michelle Kinman, Director of Transportation, Los Angeles Cleantech Incubator (LACI)
10:45 AM - 11:40 AM
Panel: Accelerating New Vehicle Technologies

Deep transportation decarbonization through the elctrification of medium- and heavy-duty trucks is critical. Manufacturers of heavy-duty trucks, cargo handling, and charging equipment face unique infrastructure and economics challenges. In this conversation, freight equipment and vehicle manufactuers will discuss current and forthcoming innovations and research needs to expand market for zero-emission vehicles
Speakers:
Dawn Fenton, Director, Sustainability & Public Affairs, Volvo Trucks North America
Jeff Wolfe, President, Americas, Tritium
James Kast, Fuel Cell Business Analyst, Toyota
Moderator: Tom Maxner, MPP/M.S. Engineering Candidate '20, UC Berkeley
11:40 AM - 12:30 PM
Panel: Challenges and Opportunities in Zero Carbon Freight
This conversation will examine the pragmatic realities and barriers to a zero-carbon freight future, from the perspective of transport industry and public agency leaders.
Speakers:
Tom Jelenić, Vice President, Pacific Merchant Shipping Association
Chris Shimoda, Vice President, Government Affairs, California Trucking Association
Damian Breen, Deputy Air Pollution Control Officer -- Technology, Bay Area Air Quality Management District
Tim Leong, Environmental Scientist, Maritime Division, Port of Oakland
Moderator: Alycia Gilde, Director, Initiative Lead for Fuels and Infrastructure, CALSTART
[Lunch Break]
1:30 PM - 2:30 PM
Panel: The Missing Link -- Alternative Fuels for Transport
Electricity and hydrogen are promising alternative fuels to achieve zero-emission heavy-duty equipment trucks and harbor craft. Electric charging infrastructure will be needed at ports, warehouses, fleet home bases and other locations. Strategies to co-locate hydrogen fuel stations and hydrogen production at ports might help connect this fuel to freight decarbonization. Electric and hydrogen storage could also provide other values for Port and freight operations including: back-up power, wholesale power market revenues.
Speakers:
JP Ross, Director of Local Development, Electrification and Innovation, East Bay Community Energy
Jeff Reed, UC Irvine
[more to come]
Moderator: Tim Lipman, Institute of Transportation Studies, UC Berkeley
2:30 PM - 3:15 PM
Panel: Getting to Zero at the Port of Oakland
Large-scale electrification of transportation will create new challenges for the Port of Oakland's electrical supply infrastructure. However, emerging distributed energy solutions can provide both reliability and resilience to the port's power system.
Speakers:
Michael Robinson, Senior Business Development Manager, EDF Renewables
Doug Black, Microgrid and Grid Integration, Lawrence Berkeley Lab
Jared Carpenter, Manager, Utility Administration, Port of Oakland
John Hake, Supervisor of Resource Recovery, EBMUD
Moderator:  Margaret McCall, MPP/M.S. Goldman School and Energy & Resources Group; Lawrence Berkeley Lab
[Afternoon Break]
3:30 PM - 4:15 PM
Developing a University-Industry Research Consortia
Representatives from different UC campuses will react to the day's panels and describe current research needs in goods movement and transportation electrification. The panel will also explore pathways for research to help achieve climate, public health and economic goals.
Speakers:
Tim Lipman, UC Berkeley, Institute of Transportation Studies
Marshall Miller, UC Davis, Institute of Transportation Studies
Jeff Reed, UC Irvine
Moderator: Daniel Rodriguez, UC Berkeley, Institute of Transportation Studies
4:15 PM - 4:45 PM
Summary of Key Insights
4:45 PM - 6:00 PM
Networking and Reception
DAY 2 - OCTOBER 29 - INVITE-ONLY
9:30AM - 12:00PM
Selected industry leaders, government leaders, academics and NGOs will convene in breakout sessions to develop proposed research and action plans to address specific aspects of port and freight decarbonization.
1. Electric Supply Infrastructure
2. Alternative Fuels for Zero-Emissions
3. Permitting, Regulatory Incentives and Financial Instruments

Please email cepp@berkeley.edu if you have questions about the conference.
The Goldman School Center of Public Policy thanks its partners: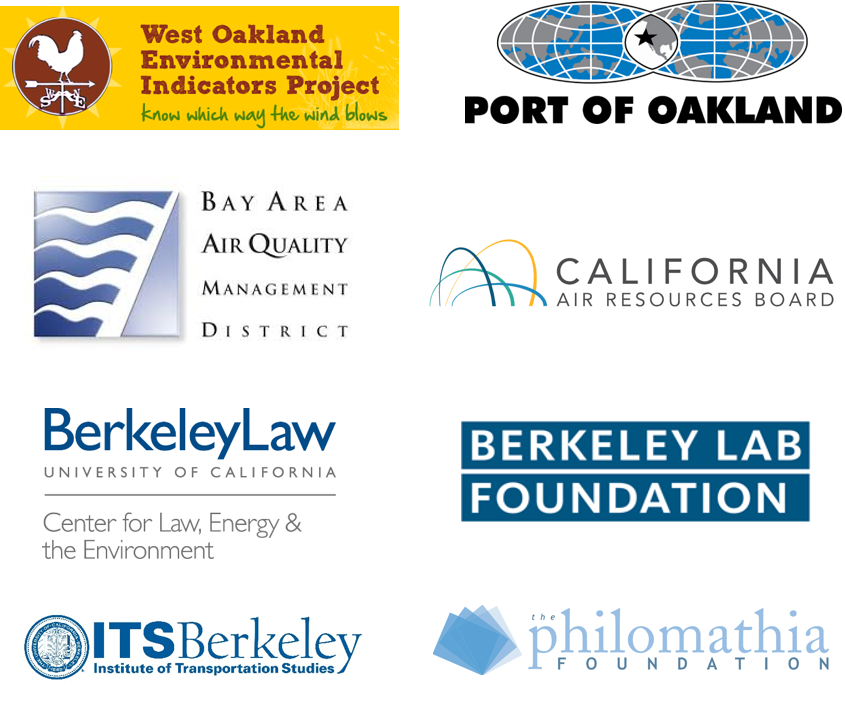 Save This Event
When & Where

Clark Kerr Krutch Auditorium
2601 Warring Street
Berkeley, CA 94720


Monday, October 28, 2019 from 9:30 AM to 6:00 PM (PDT)
Add to my calendar