Location
Kahumana Organic Farm & Cafe
86-660 Lualualei Homestead Rd
Waianae, HI 96792
Refund policy
Refunds up to 7 days before event
Description
The annual Parade of Farms is back for a fourth year with a spotlight on farms in Waianae! The day-long event, which is presented by O'ahu Resource Conservation and Development Council, will take place on Saturday, May 4, 2019, from 10 a.m. to 4 p.m.
A free community fair will be hosted at Kahumana Organic Farm and Café and will include community organizations, information on local farming and a variety of locally grown food products. Eventgoers can enjoy the community fair, keiki activities, a farm-to-table lunch and can explore farming techniques used at Kahumana Organic Farm.
Guided farm tours will provide a behind-the-scenes tour of local agriculture in Waianae. For this year's event, we will be offering four guided farm tours for our guests. Ticket purchase is required for these tours and provides transportation departing/arriving back at the Kahumana Organic Farm & Cafe site.
Note: Free parking is available at Leihoku Elementary School with shuttle service provided to & from Kahumana Organic Farm. There is no parking available at Kahumana Organic Farm for this event.
Guests will enjoy a "field experience" and should be prepared with appropriate footwear, sunscreen, water, bug spray, etc.
General ticket price (unless otherwise noted below):
Adult (18+): $20 / tour
Youth (Ages 5-17): $10 / tour
Keiki (Under 5): Free
See our guided tour schedule below.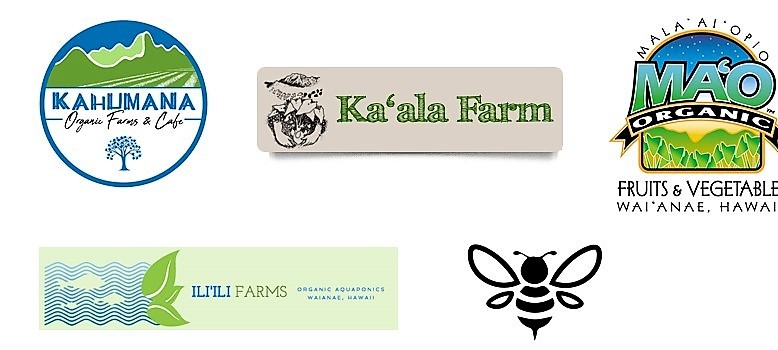 Tour #1: Kahumana Organic Farm (10:15AM – 12:15PM)
Kahumana Organic Farm focuses on the reflection of agriculture on the community. Learn about how this farm uses agriculture as a lens of what it means to be human, through their newly developed fields nestled in the back of Lualualei Valley. From petting sheep and pig, to unique orchards and specialty crops, you can see agriculture through the eyes of this organic farm.
Tour #2: MA'O Organic Farm (10:30AM – 12:30PM)
Come and meet the 'ohana of MA'O Organic Farms. In the face of adversity, this farm has provided invaluable opportunities for the youth of Wai'anae to start a career and finish college-level education. Talk stories with the farm crew while walking through diverse fields of greens and other crops. Learn how crops go from the soil to the stores in their new washing facilities. See agriculture through the eyes of MA'O Organic Farms and what the future holds for sustainable agriculture.
Tour #3: Ka'ala Farm (12:30PM - 3:30PM)
Experience the cultural history of this restored Hawaiian agricultural site. Walk through the kalo patches and hear the history of this land. Take in the place-based knowledge passed down from generations and see where these farmers and caretakers will take Ka'ala farms in the future. Through building hale, feeding their community, and creating community space to be 'aina based, come visit and be a part of Ka'ala Farms ohana for the day, or more.
Tour #4: The ABC's of Farming: Aquaponics, Bees & Crops
(1:00PM - 3:15PM)
With so many types of agriculture, where do you start? Take this tour to get the ABC's in agriculture: Aquaponics, Bees, and Crops!. From honey tastings to farm-raised tilapia meet Tolentino Farms and Ili'ili Farms to see these diversified productions, unique to Wai'anae. This is your opportunity to meet the Tolentino family. Three generations of this family are on the farm cultivating crops and producing honey. Learn the history of the Tolentino's and how they came to "bee." From dry land kalo (taro) fields, to honey tastings, get a chance to walk the fields of the Tolentino Farm and learn about how they created this family-owned and operated agriculture enterprise. Get an up close and personal experience with a certified organic aquaponics farm in Waianae. Meet the owners and operators of this sustainable farm that produces local greens and tilapia for local communities. Learn about the aquaponics system and maybe even see if its something you can start in your home garden.
Tour #5: Fields of Flavor at Kahumana Organic Farm (2:00PM-4:30PM)*
Enjoy the opportunity of a true farm-to-table experience! Take a walk through Kahumana Organic Farm fields to harvest crops that will be cooked for an early evening meal for you. These organic vegetables and fruits can't get much fresher than this farm to table event.
*Tickets for this tour are $30 each and are only available for adults (18+ years or older).*
This event would not be possible without the generosity of our community sponsors. Mahalo to our sponsors for helping us to put on this event for our local community!