Description
(Fee: Please see information below regarding a $10 fee required for participation in this event, payable outside of EventBrite.)
We at the Ottawa Kendo Club of the Takahashi Dojo are pleased to announce our 2019 Ottawa Kendo Seminar in celebration of Sassevill-sensei's 30th anniversary of practicing kendo, and are pleased to invite all kendoka of Ottawa and the surrounding area to join us! Kimura-sensei (7th-dan kyoshi) of Toronto has graciously accepted our invitation to direct the event.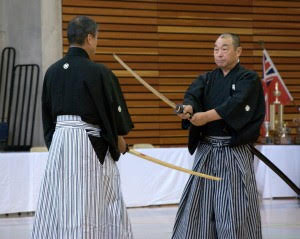 About Kimura-sensei
Shigeo Kimura-sensei was born and raised near Sendai, Japan. He attended Takushoku University in Tokyo, a school well known for martial arts training, where he was captain of the university's kendo team. He emigrated to Canada over 40 years ago, and since then has raised his family while currently running a successful business and teaching kendo in the Greater Toronto Area. Kimura-Sensei has represented Canada at the World Kendo Championships as a competitor, coach and international referee.
Participation requirements
This event on the 26th is open to all bogu-wearing kendoka who wish to participate, and on the 27th to all kendoka with uniform and shinai. (Bogu optional on the 27th only.) There is no rank requirement for participation on either day. Participants must provide their own equipment.
Fee
A participation fee of $10.00 per participant must be paid before the event begins.
This can be paid anytime by online banking e-transfer to kristy.laporte@gmail.com, or paid by cash at the door on the day of the event.
Meanwhile, please reserve your place here by claiming a free ticket here for each participant.
Team Canada donations
Any extra funds remaining after covering costs of the event will be donated to Team Canada.
Schedule — Saturday Oct. 26 (main event at Boys and Girls Club, Vanier)
11:30 am — doors open
12:00 pm — seminar begins
1:30 pm — demonstrations of kendo no kata; possibly some iaido and jodo demonstrations
12:00 pm — godo keiko
3:00 pm — ending presentation
5:30 pm — meet and greet at C'est Japon à Suisha restaurant (208 Slater St.)
Schedule — Sunday Oct. 27 (training at Takahashi Dojo)
The Ottawa Kendo Club regularly trains on Sunday mornings at Takahashi Dojo (5 Melrose Ave.) from 10:00 am until 11:30 am, and we eagerly invite our seminar participants to join us on Sunday along with Kimura-sensei! Non-bogu kendoka may also participate on Sunday the 27th (but should have their own gi/hakama and shinai).
Location information
The main event will take place on Saturday (October 26) at the Boys and Girls Club of Ottawa at 430 McArthur Ave. Sunday's practice will take place at the Takahashi Dojo at 5 Melrose Ave. Please note that parking is very limited at both of these locations.
Spectators
Spectators are welcome, and there is no fee to watch the event. If you're interested in kendo, this is a great opportunity to see what it's all about!
Saturday post-event dinner
After Saturday's event, there is a casual dinner (not included in participation fee) planned at C'est Japon à Suisha Japanese restaurant at 208 Slater St. We ask that anyone interested in attending let us know ahead of time so that we may make reservations.
As well, the Takahashi Dojo will be celebrating its 50th anniversary on Saturday, and our participants are welcome to join the celebration and may have dinner there instead for a $20 fee (payable to the dojo on location).