2019 OCP Taipei Workshop - sponsored by ARM, Organizers: OCPT and CIAT
Sales Have Ended
Registrations are closed
By attending this event, you hereby agree and consent to the Conference Participation terms set forth below. In consideration for my participation in the OCP Taiwan Day (known moving forward as the "Event") onOctober 23, 2019: I hereby authorize OCP, and any OCP licensees and designees, to photograph me and prepare audio and video recordings of me, and my Presentation if applicable, at this Event ("Recordings"), and to reproduce and distribute the Recordings in whole or in part. I waive all rights of privacy or publicity associated therewith. OCP encourages participants to share their proposals, specifications and designs with the community. This is to promote openness and encourage continuous and open feedback. It is important to remember that by providing feedback during this Event, whether in written or verbal form, that I (and my organization if I am attending on behalf of an organization) grant OCP and its members irrevocable right to use this feedback for any purpose without any further obligation to me. If I am presenting at this Event, I acknowledge that my Presentation and any ancillary materials I provide to OCP in connection with my Presentation, including without limitation any white paper, article, photograph, likeness, or professional biography (together, "Materials") are made available under the Creative Commons Attribution-ShareAlike 4.0 International License found here: https://creativecommons.org/licenses/by-sa/4.0/, or any later version, and without limiting the foregoing, OCP may make the Materials available under such terms. OCP may exercise its rights hereunder in all forms and media, whether now known or hereafter developed, throughout the world in perpetuity, royalty-free. My authorization and acknowledgement above is irrevocable and extends to OCP and its agents, successors, and assigns. I hereby waive any right to inspect or approve the Recordings. I acknowledge that OCP is under no obligation to use the Recordings, or Materials if applicable, in any manner. I hereby represent that I have the authority to grant the rights and licenses herein. And if I am presenting at this Event, I further represent and warrant that the Materials do not and will not violate the copyrights or misappropriate the trade secret rights of any third party, including without limitation rights in intellectual property. I also represent that, to the extent the Materials include materials protected by copyright or trade secret rights that are owned or created by any third-party, I have obtained permission for its use consistent with the foregoing. I will provide OCP evidence of such permission upon OCP's request. Furthermore, as a presenter, I understand and agree to the following: • that acceptance of my abstract does not guarantee me a speaking engagement of any sort. • that my presentation must use the OCP slide template and must be submitted by the deadlines as set forth by OCP. • that my presentation will be reviewed and prioritized by the OCP Foundation, the OCP Project Leads and OCP Incubation Committee • that if I have to cancel my presentation for any reason, I will inform OCP in writing at least 30 days in advance of the OCP Regional Summit. • that the OCP Foundation may accept or reject any presentation in its sole discretion at any time for any reason. GDPR OCP will treat all information you provide in accordance with the OCP Privacy Policy posted at http://www.opencompute.org/privacy/. This includes cookies and any other information we may collect. By signing "I agree" below, you acknowledge and accept OCP's Privacy Policy and give your consent to the transfer of your personal information to the United States, which may have less protections than your jurisdiction of residence.
Sales Have Ended
Registrations are closed
By attending this event, you hereby agree and consent to the Conference Participation terms set forth below. In consideration for my participation in the OCP Taiwan Day (known moving forward as the "Event") onOctober 23, 2019: I hereby authorize OCP, and any OCP licensees and designees, to photograph me and prepare audio and video recordings of me, and my Presentation if applicable, at this Event ("Recordings"), and to reproduce and distribute the Recordings in whole or in part. I waive all rights of privacy or publicity associated therewith. OCP encourages participants to share their proposals, specifications and designs with the community. This is to promote openness and encourage continuous and open feedback. It is important to remember that by providing feedback during this Event, whether in written or verbal form, that I (and my organization if I am attending on behalf of an organization) grant OCP and its members irrevocable right to use this feedback for any purpose without any further obligation to me. If I am presenting at this Event, I acknowledge that my Presentation and any ancillary materials I provide to OCP in connection with my Presentation, including without limitation any white paper, article, photograph, likeness, or professional biography (together, "Materials") are made available under the Creative Commons Attribution-ShareAlike 4.0 International License found here: https://creativecommons.org/licenses/by-sa/4.0/, or any later version, and without limiting the foregoing, OCP may make the Materials available under such terms. OCP may exercise its rights hereunder in all forms and media, whether now known or hereafter developed, throughout the world in perpetuity, royalty-free. My authorization and acknowledgement above is irrevocable and extends to OCP and its agents, successors, and assigns. I hereby waive any right to inspect or approve the Recordings. I acknowledge that OCP is under no obligation to use the Recordings, or Materials if applicable, in any manner. I hereby represent that I have the authority to grant the rights and licenses herein. And if I am presenting at this Event, I further represent and warrant that the Materials do not and will not violate the copyrights or misappropriate the trade secret rights of any third party, including without limitation rights in intellectual property. I also represent that, to the extent the Materials include materials protected by copyright or trade secret rights that are owned or created by any third-party, I have obtained permission for its use consistent with the foregoing. I will provide OCP evidence of such permission upon OCP's request. Furthermore, as a presenter, I understand and agree to the following: • that acceptance of my abstract does not guarantee me a speaking engagement of any sort. • that my presentation must use the OCP slide template and must be submitted by the deadlines as set forth by OCP. • that my presentation will be reviewed and prioritized by the OCP Foundation, the OCP Project Leads and OCP Incubation Committee • that if I have to cancel my presentation for any reason, I will inform OCP in writing at least 30 days in advance of the OCP Regional Summit. • that the OCP Foundation may accept or reject any presentation in its sole discretion at any time for any reason. GDPR OCP will treat all information you provide in accordance with the OCP Privacy Policy posted at http://www.opencompute.org/privacy/. This includes cookies and any other information we may collect. By signing "I agree" below, you acknowledge and accept OCP's Privacy Policy and give your consent to the transfer of your personal information to the United States, which may have less protections than your jurisdiction of residence.
About this Event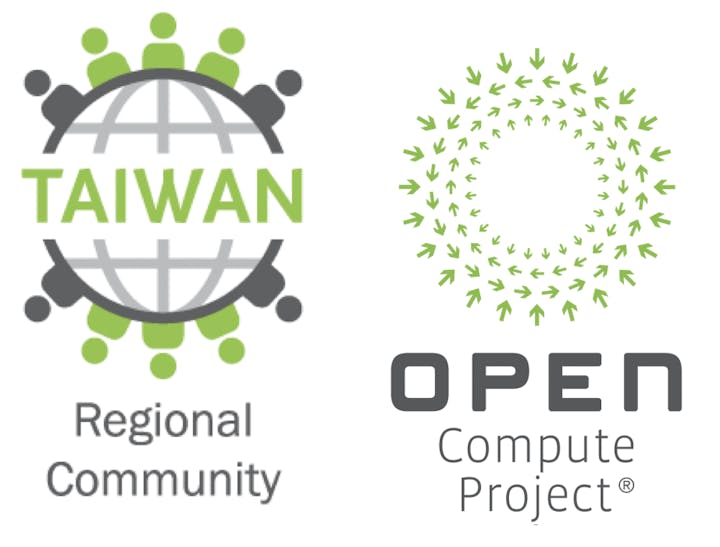 Organizers: OCP Taiwan (OCPT), Cloud Computing & IoT Association in Taiwan (CIAT)
2019 OCP Taipei Workshop is to be held on Oct 23, 2019. In this event, we will provide a recap of OCP Regional Summit taking place September 26th - 27th in Amsterdam. Arm, Google, Microsoft will update its recent development in OCP along with successful stories shared by Asus, Edgecore, MiTAC and Wiwynn.
It is time to have our face-to-face ServerReady event in Taiwan again!
Limited to 150 vacancies; register early while limited seats last.
Please send email to: OCPT2019@opencompute.org for further inquiries.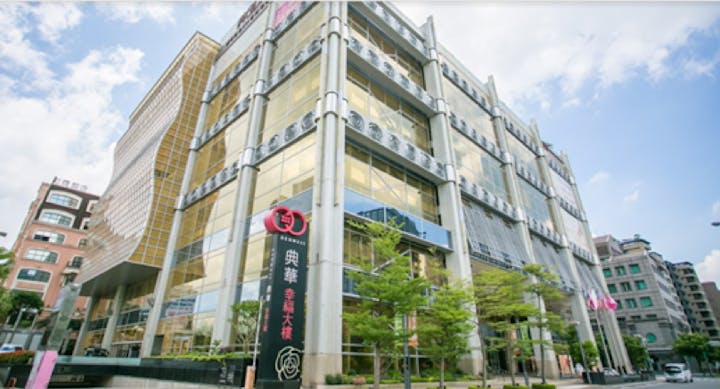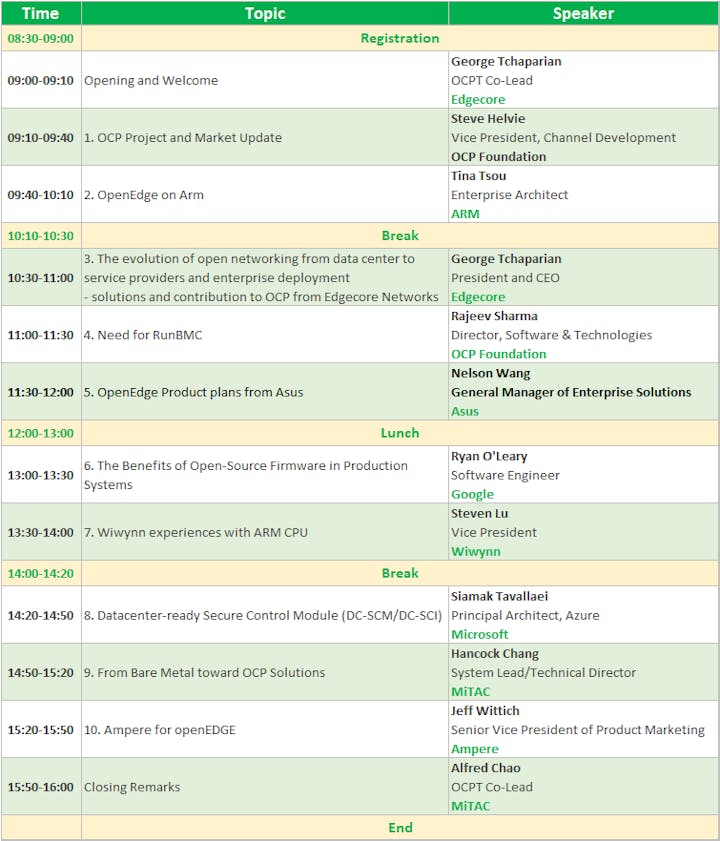 Speaker Abstracts:
OCP Foundation / OCP Project and Market UpdateThe OCP Regional Summit recently took place in Amsterdam (September 26th - 27th). We will provide a recap of the key announcements and highlights of the summit. Additionally, we will share some recent success stories across the world on how others are using OCP.
ARM / OpenEdge on ArmIn Akraino Edge Stack Radio Edge Cloud blueprint, multiple architecture needs to be supported for the hardware platform choosen based on OCP openEDGE. This session will give an introduction how Arm architecture can be enabled in OCP openEDGE.
Edgecore / The evolution of open networking from data center to service providers and enterprise deployment - solutions and contribution to OCP from Edgecore NetworksNew innovation are occurring in Open Networking switch design to support next generation cloud first architecture and the coming rollout of 5G mobile networks. The status quo of closed proprietary vendor designs to quickly being replaced with open devices not only support the switch network open system, but also support containerized value-added functions such such as application analytics, network telemetry and packet sharing. Edgecore Network will share what and how the company works with leading open community, OCP, ONF, and TIP to provide the fast innovation of networks from data center switch, core routers, mobile backhaul and FTTX network.
OCP Foundation / RunBMC- System topologies deviate on a platform by platform basis trickling down to various type of complex challenges. Its time to standardize the hardware interface which will thereby drive more consistent software and RunBMC can help.
Asus / OpenEdge Product plans from Asus- Asus is a world renown and leading computer hardware manufacturer. Asus is honored to be part of the OCP community, joining the community as Platinum Member since May of 2019. Aiming at growing opportunities with advent of 5G, Asus has developed compute solutions adopting Nokia's OpenEdge contributions to OCP. In this session, Asus will present its new OpenEdge compute specification and planned solutions.
Google / The Benefits of Open-Source Firmware in Production Systems- There is industry demand for firmware which is open-source, secure, has fewer redundant device drivers, is less complex, and is faster to boot and build. This talk will present success stories of using open-source firmware such as LinuxBoot and Coreboot..
Wiwynn / Wiwynn experiences with ARM CPU - ARM based solution is not new and has been considered as an alternative approach with promising potentials in the server industry. As one of the major players in server industry, Wiwynn continuously seeks various solutions to fulfill customers/enterprises' workload optimized demand. Wiwynn has a long history working with ARM based solution for CSP and several ARM server products had been introduced in the market. In this session, we will share with you our experiences, the challenges ahead and future product plan with ARM..
Microsoft / Datacenter-ready Secure Control Module (DC-SCM/DC-SCI) for MBAThe Modular Building Block Architecture (MBA) is a Catalyst for interoperable Innovation! As a datacenter-ready secure control module, DC-SCM and its common interface, DC-SCI streamline the design and deployment of servers and systems for Hyperscale Datacenters by driving a common and secure monitoring, control, and remote debug for various CPU/Memory Modules and systems (firmware, diagnostic tools, manufacturing tools, at-scale remote debug.) This session provides an update on the progress made on DC-SCM & DC-SCI since 2019 OCP Global Summit and ARM ServerReady event..
MiTAC / From Bare Metal toward OCP Solutions- OCP solution adoption has been steadily growing through its great CAPEX and OPEX saving benefits in newly built datacenters meanwhile MiTAC's ESA kit has continuously extended such benefits to a legacy datacenter and EIA-310 racks, including several world-class CSPs and Telco companies. While collaborating with different customers and various open foundations, we, MiTAC and Circle B would like to present, by how we integrate different OCP products elements – Compute nodes, storages, switches, ESA kits toward different solution level of products and applications, such as the next generation Central Office with the SDN service also provides an optimized solution for the telecom carriers. We believe with OCP several solution case sharing, it could help more and more potential OCP solution adopters quickly and efficiently implement OCP solutions.
Ampere for openEDGE
Lots of innovation in the cloud and edge over the past decade and more, much of it has still relied on hardware platforms and ingredients that were originally built for legacy enterprise environments. The workloads of tomorrow need highly efficiency compute platforms in order to scale from the very highest performance in cloud data centers out to the low power compute at the edge, all while delivering predictable and low latency performance. Ampere will share its edge and cloud architected platform free from the constraints of legacy and proprietary models.
Thank you to our Organizer: CIAT
And thank you to our sponsor: