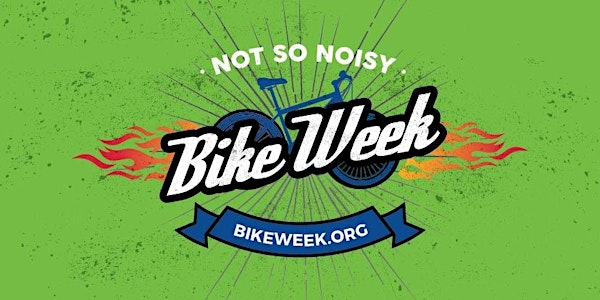 2019 "Not So Noisy" Bike Week Community Bike Ride
When and where
Location
Daytona State College 1200 W. International Speedway Boulevard Daytona Beach, FL 32114
Description
Community Bike Ride, Saturday, March 2, 2019
---
The final event of the 2019 "Not So Noisy" Bike Week!
Bring your helmet, your bike and a water bottle for this 8.5 mile slow-paced, police-escorted bike ride through Daytona Beach.
WHEN: Saturday, March 2, 2019 from 9:30 a.m. to 11:30 a.m.
9:30 a.m. Meet at Daytona State College

10:00 a.m. Group bike ride begins

11:30 a.m. Group bike ride returns (may return earlier)
WHERE: Daytona State College, 1200 W. International Speedway Blvd., Daytona Beach, FL 32114 in the parking lot at the corner of W. International Speedway Boulevard and White Street
WHO: The event is organized by the Florida Department of Transportation's reThink Your Commute program, in close collaboration with Bethune-Cookman University, Daytona State College, Embry-Riddle Aeronautical University, the River to Sea Transportation Planning Organization (TPO), the Daytona Beach Police Department, The Hub Cycling and David's World Cycle.
Special thanks to FDOT's Alert Today Alive Tomorrow initiative and the City of Daytona Beach.
---
FAQs
Are there minimum age requirements to enter the event?
We encourage people with all types of bicycles to join us for the Community Bike Ride, however, children will not be allowed to participate in the 10:00 a.m. bike ride.

Will bikes be available for rent to use for this event?
All riders must provide their own bicycles. No bicycles will be available for rent or loan at this event.
How long is the bike ride?
The bike ride is approximately 8.5 miles. The route will begin at Daytona State College in the parking lot near the intersection of International Speedway Blvd. and White St., continue through Bethune-Cookman University to Beach Street, use part of the Sweetheart Trail, then continue west to Embry-Riddle Aeronautical University and return to Daytona State College.
We will be traveling in regular travel lanes or using shared-use paths where available. The ride will be slow-paced and escorted by City of Daytona Beach police officers.
We anticipate that the ride may take approximately 90 minutes, from 10:00 a.m. to 11:30 a.m., due to the anticipated slow pace of the group.
Everyone who participates in the bike ride must sign a liability waiver.
What are my transportation/parking options for getting to and from the event?
Votran routes 18, 19 and 60 serve the International Speedway Boulevard corridor. Routes 18 and 19 provide service every 60 minutes; route 60 provides service every 30 minutes. Visit Votran.org to view schedules and plan your trip.
If you drive to the event, we encourage you to carpool with friends and family. Free motor vehicle parking is available in the parking lot at Daytona State College near the starting area for the group bike ride. If you are unfamiliar with the Daytona State College campus, we encourage you to view their campus map before traveling to the event.
What can I bring into the event?
If you are joining us for the bike ride, please bring your bike, a helmet, and a water bottle.
No alcohol is permitted as part of this event.
Do I have to bring a ticket to the event?
No physical tickets are needed to attend the event.
After you register online, we will include you on a list of attendees. We do ask that people participating in the bike ride visit the "REGISTRATION" tent at the event to check-in and confirm your acceptance of the liability waiver.
This says "Bike Week" but this event is for only one day. Are there other events happening this week?
The 2019 "Not So Noisy" Bike Week is February 25- March 2, 2019. Additional events are being hosted earlier in the week at Embry-Riddle Aeronautical University, Daytona State College and Bethune-Cookman University for faculty, staff, and students at the Daytona Beach campuses. For more information about those events, please call 866-610-RIDE (7433).
How can I contact the organizer with any questions?
Please email LaNina@reThinkYourCommute.com or call 866-610-RIDE (7433) with questions about the 2019 "Not So Noisy" Bike Week events.