2019 Niles Canyon Railway Caboose Excursion, from Sunol
Description
Sunday Excursion Train Caboose Party
UNFORGETTABLE!
Due to Special Events for the 150th Anniversary of the Transcontinental Railroad, we will only be able to offer caboose rentals on our diesel engine Sundays.
Enjoy exclusive use of the caboose by you and your private party guests. Climb up into the cupola for a bird's-eye view of the train as it rolls through Niles Canyon, along the scenic route of North America's First Transcontinental Railroad, with a docent aboard to tell you about the railroad.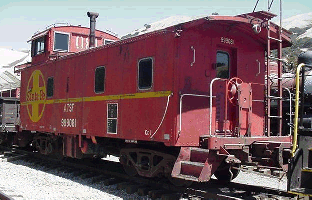 The Santa Fe caboose provides a special ride for groups of up to 28 people (depending on whether they are adult-sized or child-sized). A serving table and counter are available on-board for serving your refreshments. There are windows on the main floor, but the best view of the train is from the seats high up in the cupola.
The reservation fee is $75, plus the regular fare for each person. Come to the Sunol ticket window to get your special caboose tickets before your ride. The caboose is very popular, so be sure to reserve early.
You may bring your own food and drinks aboard the caboose to enjoy.

Your reservation also includes the use of three picnic tables at the Sunol Community Gardens, across Kilkare Road from our depot so your group can picnic there before and/or after your caboose ride.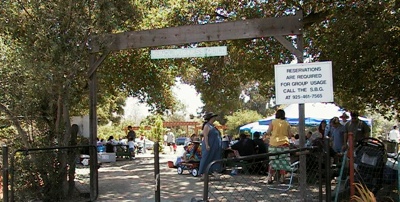 NOTE: If a particular date is not listed, the cabooses for that day are already reserved or not available.
PARTY PACKS are available!
A grab bag full of railroad theme party favors just right for young caboose-ridin' revelers. There's train-loads of fun in every bag! There are two different sizes. You can ask to have some ready for your arrival when you make your reservation, and you can pay for them at the gift shop on the day of your train. We have a $6 bag... with a safety coloring book, postcard, stickers, keychain, patch and plastic whistle and more. Items subject to change based on availability.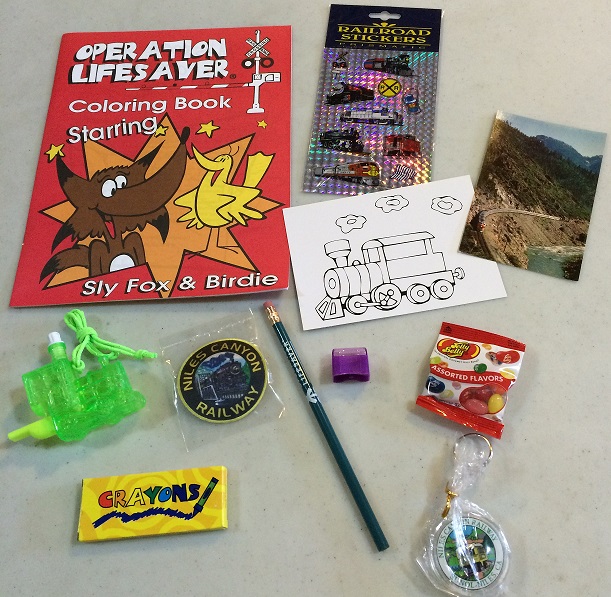 And an $8 bag... with a safety coloring book, postcard, stickers, keychain, patch and wooden whistle, toy locomotive and more. Items subject to change base on availability.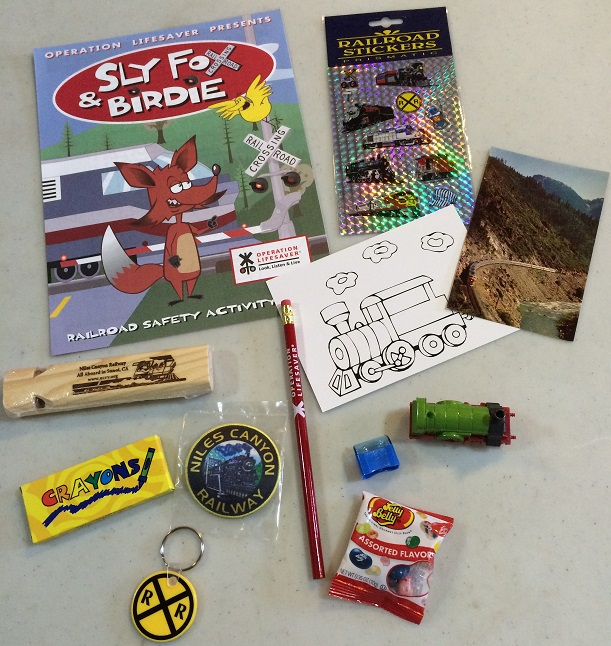 Cancellation Policy: A full refund of the $75.00 reservation fee if the reservation is canceled 1 month prior to the reserved date. There will be no refund if less than 1 month prior to the reserved date.
If you have further questions, please contact our Chief Station Agent at 510-996-8420.
Thank you for supporting our western railway heritage museum.
Niles Canyon Railway - About Us - Our History - Our Collection - Contact Us