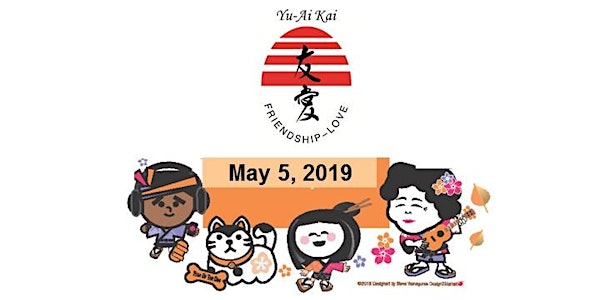 2019 Nihonmachi 5k/3 mi. Fun Run/Walk + Kids Run
When and where
Location
Yu-Ai Kai Senior Center - Start/Finish (Note: The Kids Run Ends at the Akiyama Wellness Center) 588 N. Fourth Street San Jose, CA 95112
Description
FAQ's
Who benefits from the fees for this Event?
All net proceeds from this event support the Yu-Ai Kai Senior Center, a 501(c)(3) Non-Profit organization that was established in 1974. It's mission is "To promote healthy aging, successful independent living, and advocate for all seniors, while embracing Japanese American tradition". This mission is carried out through a nutritious meal service, senior day care, financial counseling, case management, family support, a variety of classes, as well as other services to promote healthy aging. For more information, please visit our website at: www.yuaikai.org
Who can participate in the Event?
Runners and walkers of all ages, ethnicities, and capabilities are welcome to attend. Strollers, walkers, wheelchairs, and dogs on leashes are allowed. Please no bikes, skateboards, scooters, or hoverboards. The event is a combination fundraiser and community activity.
Can I register on the day of the event?
Yes. Participants can register from 7:15am on the day of the event. The costs are: $45 for participants between 13 and 54 years old and $35 for participants between 55 - 74 and 1 - 12 years old (participating in the regular run/walk). Seniors 75 years of age or older and kids under 1 year old are free. T-shirts will be provided on an "as available" basis for registrations received after May 2nd.
Event day registration for the Kids Run (ages 2 - 8) will be $15 per participant. T-Shirts will not be provided to participant's in the Kids Run but there will be a free Kids Zone play area for registrered participants.
What does "Nihonmachi" mean?
The word Nihonmachi stems from the Japanse words Nihon, which means Japan, and 'machi' which means town. San Jose's Historic Japantown is one of the few remaining in the United States.
What time does it start?
Registration opens at 7:15am and the Regular run starts promptly at 9:00am. The Kids Run will start at 9:30am.
What is the distance?
This is a fun run and walk for family and friends of all ages. It is not a sanctioned 5k race. The approximate distance is a little over a 5k (3 mile) distance, but not exact. There are cutoffs at approximately 1 and 2 miles for those who do not want to run/walk the entire distance.
The Kids Run will take place on part of the main run course, but will end at the Akiyama Wellness Center on Jackson Street. The distance is approximately 4 1/2 blocks.
Where is the Start/Finish?
The Start and Finish for the Regular run/walk is located in front of the Yu-Ai Kai Senior Center at 588 N. Fourth Street (near Jackson Street) in San Jose. The Kids Run starts at the same place, but ends at the Akiyama Wellness Center on Jackson Street.
What do I get?
For the main run/walk, if your registration is received by Thursday, May 2nd, you will be guaranteed a T-shirt; otherwise, T-Shirts will be provided on an "as available" basis. Prizes will be given (refer to the Prize information below). Refreshments will be provided to registered participants at the end of the run/walk.
Participants in the Kids Run will not receive a T-Shirt but will be able to play in the Kids Zone at the finish line. A finisher medal will be provided to all paid participants in the Kids Run.
When will I receive my Bib and T-Shirt?
There are two options to pick-up your Bib and T-Shirt: Option 1: Saturday, May 4th, from 10:00am - 3:00pm at the Yu-Ai Kai Senior Center building (588 N. Fourth Street); or Option 2 - at the Registration Desk, from 7:15am on the day of the event. Please note that the participant Bib will not be mailed.
PRIZES! PRIZES! PRIZES!
There will be prizes for the top 3 finishers, female and male, overall and in various age categories, best costumes by individuals and teams, and largest group. The awards ceremony will be held promptly at 11:00am in front of the Yu-Ai Kai Senior Center.
Age Categories for the regular Run/Walk are as follows (separate categories for Female and Male)
Up to 8, 9-13, 14-19, 20-29, 30-39, 40-49, 50-59, 60-69, 70-79, 80+
All paid participants in the Kids Run will be given a finisher's medal.
Are discounts available?
The Entry Fee is WAIVED for participants who are 75 years of age or older or under 1 year old.
What are my transport/parking options getting to the event?
VTA Light Rail stops at the Japantown/Ayer station on First Street near Jackson Street.
Parking can be difficult in the Japantown area, so please allow sufficient time. We suggest approaching the area from the East due to the closure of 2nd, 3rd, and 4th streets between Mission and Julian streets for the event.
What else is happening in the area on the day of the race?
The Nikkei Matsuri Festival, with food, culture, crafts and entertainment, takes place from 9:30am - 4:00pm.
The name on the Registration doesn't match the Participant. Is that okay?
Unfortunately, no. Since each participant must accept the Waiver (including parental acceptances), the name on the Registration must match the Registrant's Name.
What if Participants would like to get Sponsors or if someone is interested in becoming an Event Sponsor?
Please visit the Yu-Ai Kai website (www.yuaikai.org) and download the Sponsor form, stop by Yu-Ai Kai's main building (588 N. Fourth Street, SJ or Akiyama Wellness Center (110 Jackson Street, SJ) and pick-up the Sponsor form at the reception desks, or contact Rickey Ono (rickeyono5@gmail.com / 650-219-5238) or Ron Matsui (ronmatsui@commonswm.com) for a Sponsor form.