About this Event
The Rocky Mountain Chapter of the National Federal Development Association will be holding its second annual event at the stunning Denver Performing Arts Complex on September 12, 2019.
The Speaker Lineup this year is incredible. Each speaker not only brings with them decades of experience, but each has their own unique voice and perspective on this narrow niche that we all operate in.
This will not be your typical "mini annual event". We are going to dive deep on the issues that matter most through a unique mix of formal presentation immediately followed by one on one interviews and audience Q&A. Our goal is to create an experience and deliver a level of value that far exceeds that of our previous event and perhaps even other events you have attended in the past!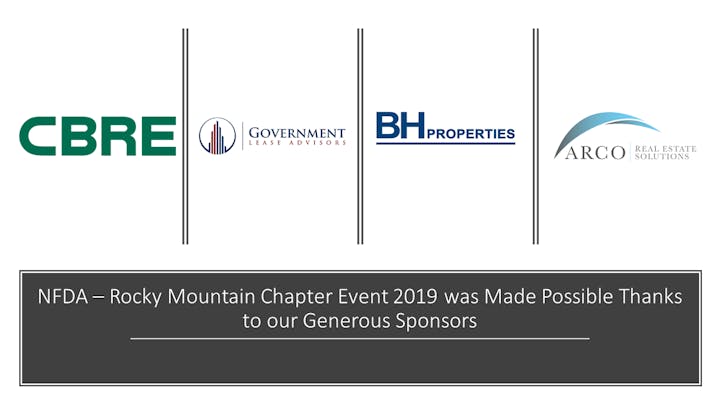 AGENDA:
Click HERE for current agenda.
Planned Discussions Include:
Keynote (Tim Horne, GSA, Region 8, PBS Commissioner)
General Economic Overview and Forecast (Adam Miles, Owner of Miles Preservation)
Overview of Government Leased Real Estate (Marcy Owens Test, SVP, CBRE)
Personality of GSA: Why does GSA do the things they do? (Tom Walker, Managing Principal at Thomas H Walker Consultants and former Region 4 PBS Commissioner)
Challenges and Opportunities in Government Leasing - TOPIC SUBJECT TO REFINEMENT (Jamie Scruggs, Government Lease Advisors / Brian Redmon, Cushman Wakefield / Chad Becker, Arco Real Estate Solutions)
Discussion on Current Legal Environment as it Pertains to Government Leasing - TOPIC SUBJECT TO REFINEMENT (Bob MacKichan, Partner, Holland & Knight)
Learn more about the National Federal Development Association HERE .
KEYNOTE:
Our Keynote will be provided by Tim Horne, Regional Commissioner, Public Buildings Service - Region 8 - General Services Administration