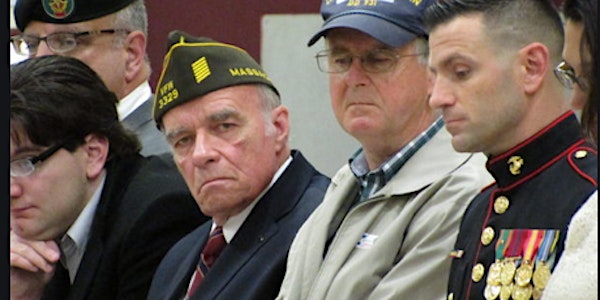 2019 New York VA Summit - "Sustaining Our Joint Commitment to Improve Acces...
Description
On behalf of the New York Harbor Healthcare System and in sponsorship with the Veterans Mental Health Coalition of New York City, NAMI-NYC Metro and the David Lynch Foundation we would like to invite you to participate in our upcoming Mental Health Summit.
The purpose of the Mental Health Summit is to bring key community stakeholders, Veterans and their family together with the goal of finding opportunities to enhance collaboration between the VA and community providers to expand access to recovery oriented mental health services to meet the mental health care needs of Veterans and their families in Manhattan, Brooklyn, Queens and Staten Island.

This year's focus is enhancing outreach and support for the older Veteran and their family who may be at risk for behavioral health conditions. NYC Veterans in 2016 listed Veterans 55 and older as 30% of the New York City Veteran population.

Speakers will focus on unique challenges for the aging Veteran with strategies to promote resilience and whole health wellness.

Presentations:
Tele-Mental Health

Moral Injury

Intimate Partner Violence

Neurobiology of Mindfulness

Whole Health Initiative

Transcendental Meditation

PAIRS (Practical Application of Relationship Skills)

Substance Use

Suicide Prevention
Don't miss this event!
For additional information or to register, contact:
John Tatarakis - MS, MPH, PMHCNS/NP-BC at:
212-951-3440
Sponsored by:
The New York VA Healthcare System
in Partnership with:

The Veterans Mental Health Coalition of NYC
NAMI-NYC MetroVeterans Programs, David Lynch Foundation
Organizer of 2019 New York VA Summit - "Sustaining Our Joint Commitment to Improve Access to Mental Health Care of Veterans and Their Families by Supporting Our Aging Veteran: Promoting Resilience & Health During Life Transitions"
The VMHC consists of a diverse cross-section of veterans' service and advocacy leaders; behavioral health, health, and social services providers; local, state, and federal government leaders; private and corporate funders, researchers, academics, and advocates. The VMHC was founded in 2009 to confront the current and growing unmet mental health needs of veterans, service members and their families and caregivers.  It works to improve access to, and quality of, mental health and substance abuse care for the military-connected community through educational programming, information, and skills training for organizations and individuals who wish to become more effective in their delivery of services to this community. And it all recommends completion of Military Cultural Competence and Mental Health First Aid Training as essential preparation for all who serve this community.
https://www.vibrant.org/what-we-do/advocacy-policy-education/the-veterans-mental-health-coalition/