Description
As part of the security awareness program, your San Diego NCMS & ISAC chapters are excited to offer our annual one day joint training seminar with a line-up of topics that relate to your role as Security experts. What better way to spend a day with members of the local cleared contractor community, DSS, FBI and experts in the field of Security sharing their experience and knowledge in a way that is both informative and entertaining. You will have an opportunity to network, meet local security vendors and increase your Security Education portfolio.
Keynote Speaker: Robert K. Knake
Robert K. Knake is a senior fellow at the Council on Foreign Relations, a senior research scientist at Northeastern University, and an adviser to Startups, investment firms, and Fortune 500 companies. Knake served from 2011-15 in the Obama White House as director for cybersecurity policy at the National Security Council.
He is the co-author of the New York Times bestseller Cyber War and the newly released The Fifth Domain; Defending our Country, our companies, and Ourselves in teh Age of Cyber Threats.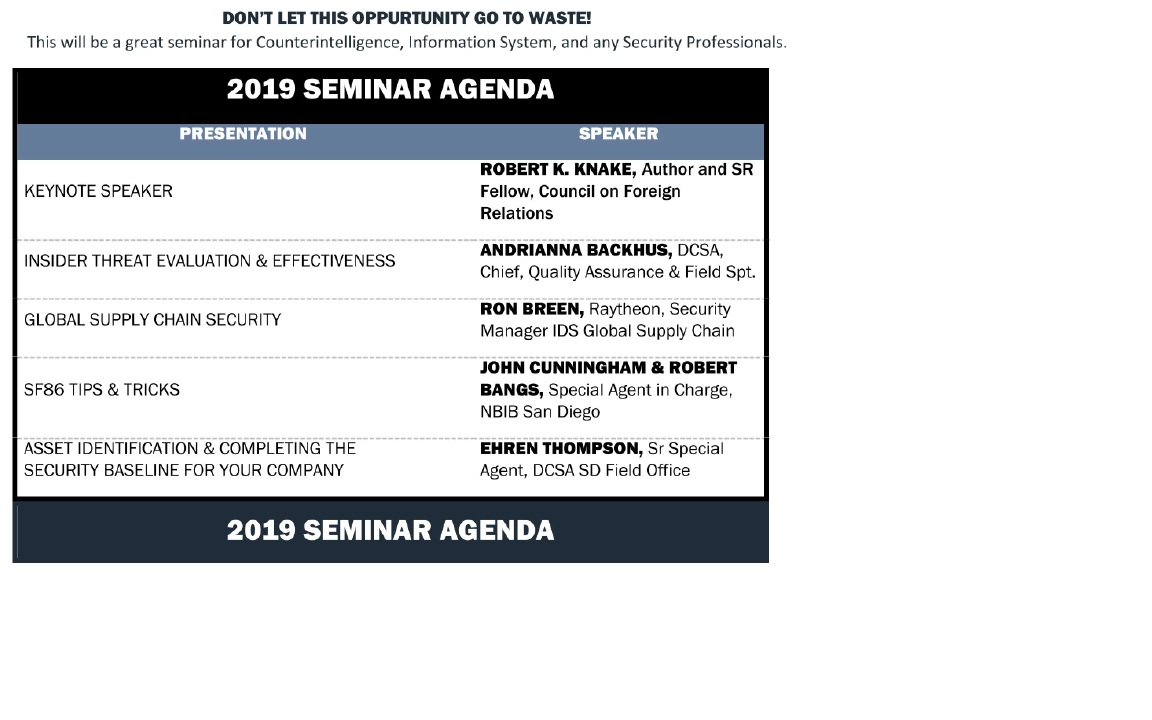 The fee for this year seminar is $50.00 + processing fee. Free copy of The Fifth Domain, continental breakfast and lunch are included in seminar fee. Dress is casual! Questions regarding registration or the seminar may be submitted to: www.ncms-sandiego.org or www.sdisac.com.
There will be no onsite registration for this seminar. Please ensure you register prior to the seminar.
If you register after 5:00pm PT on Tuesday, Sept 17 we might not be able to get you a printed badge.