The 2019 awards will be hosted by Uganda Landcare
About this Event
Theme: Towards Resilient Landscapes & Livelihoods through Landcare Approach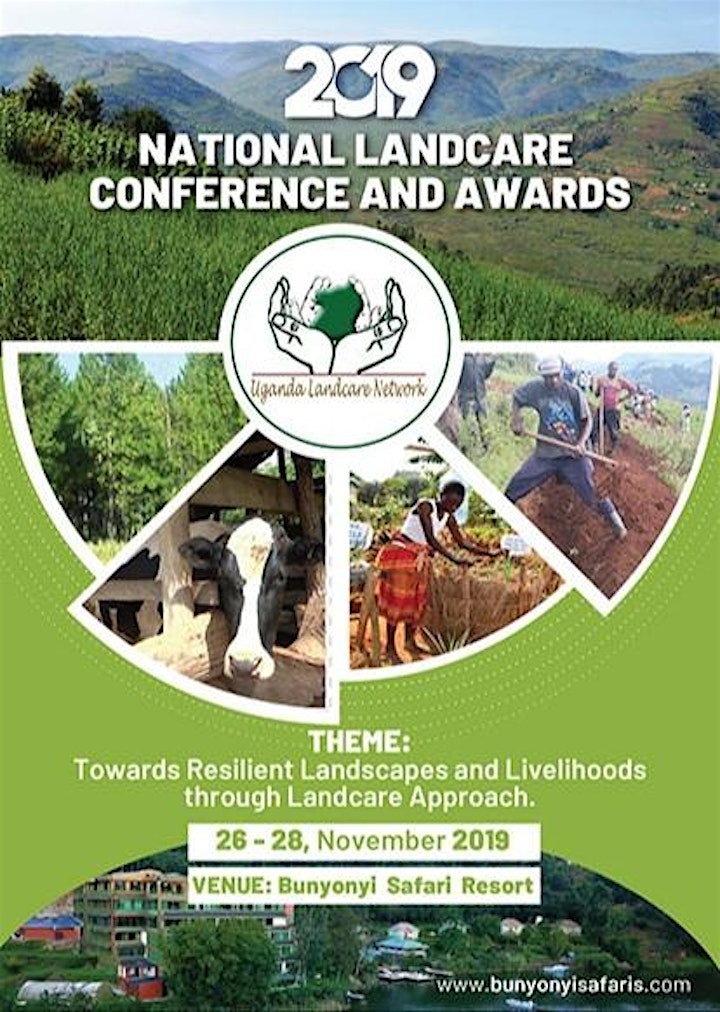 Announcement and call for Abstracts
Towards resilient landscapes and livelihoods through
Landcare approach
Inaugural Biennial National Landcare Conference & Awards
Uganda, November 26-28, 2019 Kabale SW Uganda
Conference Invitation and Thematic Scope
Uganda Landcare Network (ULN) – A national landcare platform for land care stewardship in
partnership with local, continental and global Landcare platforms is launching a Biennial National
Landcare Conference and Awards (NLCA) in Uganda in November 2019. This unique event is
positioned to bring together landcare platforms, champion farmers / land users, academia and other
stakeholders from grassroots organisations, local and international NGOs, and researchers, to
multilateral organisations and government agencies from around the world to advance
understanding of the 'landcare approach' and its linkages to food security, environment
conservation and landscape restoration. Convening the NLCA creates opportunities for participants
to learn from each other and contribute towards scaling sustainable land management (SLM)
practices across landscapes The conference programme is strategically structured to provide
opportunities for participants to share experiences, successes, and strategies while building
synergies for new emerging perspectives on SLM. Further, the conference is an opportunity for the
national Landcare fraternity in Uganda to adopt a declaration with common commitments to pro
landcare actions during the ULN General Assembly.
Thematic Scope
The NLCA has its thematic focus on building resilient landscapes and livelihoods through a Landcare
approach that encompass :(i) Community based (for decisions and actions)through local level groups
as local groups; (ii) Improving natural resource management (NRM) for production and conservation;
(iii) Partnerships for information sharing, funding and other opportunities; (iv) Individual groups
autonomous in their management. Resilient landscapes and livelihoods provide a foundation for
healthy environment and people – ensuring food security, climate adaptation and mitigation and
resilience for coping with natural disasters. As such, the conference theme provides key elements for
contributing to achievement of Sustainable Development Goals (SDG) of the 2030 Agenda on
Sustainable Development particularly for SDG 15 on sustainable use of terrestrial ecosystems and
SDG target 15.3 on Land Degradation Neutrality (LDN). At country level, the conference pivots
directly into Uganda's national development agenda, the Vision 2040 and the National Development
Plan (NDP 2) which recognizes investment in SLM as one of the key focus areas that can facilitate the
country's transformation.
Landcare fraternity
Landcare is a global movement with success stories spreading widely across the five continents.
While the movement remains community driven, in some countries like South Africa, landcare has
been mainstreamed into government programmes. In Australia, where the Landcare movement is
most widespread, it remains private but innovatively in close partnership with Government.
Elsewhere, the movement is spreading fast steered by Non-Governmental Organizations (NGOs),
supported by local and overseas partners, albeit government recognised/ endorsed for official
functioning.
CONFERENCE PROGRAMME
PART 1: LAND CARE WEEK
This National Landcare Week Nov- 24th – 30th, 2019 will be an annual celebration that acknowledges
the great work being carried out by the young generation in schools voluntarily caring for land as a
key asset of Uganda's economy.
Main goal:
To create awareness, demonstrate and showcase success stories on Junior Landcare programmes in
Uganda.
Topics:
 Landcare awareness walk along side a band – Main Street of Kabale Municipality
 Exhibitions, Music/ Poems and dance presentation Gala and awards in schools
 Exchange visits
PART II: NATIONAL CONFERENCE
Main goal: To popularize scaling sustainable land management practices - creation synergies
between resilient landscapes and livelihoods.
CONFERENCE THEMES
 Community Landcare Initiatives
 Nurturing Junior Landcare in schools
 Policy frameworks towards scaling landcare innovations
 Managing land related to human induced catastrophes
 Partnerships in landcare
 Addressing cross cutting issues in Landcare
Call for abstracts
Participants are invited to submit a short abstract (max 400 words) in English for a thematic
contribution (plenary and poster presentation). Presentations shall address at least one of the above
themes, illustrate it through the concrete example and derive conclusions that are relevant to
communities / landscapes.
Plenary and breakout sessions
These will be organised by ULN and its partners to engage the audience and encourage lively
discussions.
Keynote presentation
Global renown keynote speaker on Landcare have been invited to provide perspective on the
conference themes, followed by engaging discussion with participants
Breakout sessions/ Side events
Break-out sessions are focused on learning and building the skills of those attending them. They are
self-organised, with organisers responsible for modulating the sessions. These include: (i) Bioenergy;
(ii) PIP approach- Integrated Farm Planning Approach; (iii) Catchment management
PART II NATIONAL LANDCARE AWARDS DURING DINNER 28TH NOV. 2019
ULN in collaboration has established distinguished landcare awards to focus and recognise
landcare champions who are implementing in an outstanding manner one or many landcare
initiatives demonstrating people-centred landcare and, as a result positively influencing a critical
mass of adopters under the following 6 subthemes
1: Sustainable and resilient communities
2: Conserving biodiversity and natural resources across boundaries
3: Scaling up and scaling out innovation in sustainability –
4: Water, IWRM, catchments and the landcare model of integrated NRM
5: Climate adaptation and disaster risk reduction - enabling local responses to global risks
6: Food security - linking the NRM and food security agendas through local landcare value chains
PART IV : FIELD TRIP ON 29TH NOVEMBER, 2019 ( 1 DAY)
The field trip is to show case sites of successful implementation and achievement of landcare
approach.
PART V : LANDCARE BUSINESS MEETING ( BY INVITATION) Evening of 29th November, 2019 - ULN
Trustees, African Landcare Network ( ALN) ; Landcare International ( LI) and Australia Landcare
International ALI
Organization Information
Venue
Bunyonyi Safaris Resort
Hotel Location: Lake Bunyonyi, Kabale District. Only 25 minutes drive from town.
Bunyonyi Safaris Resort
Chabahinga, Kabale, Uganda
256-706-485-538 / 256-772-119-852/256-751-199-341
Website : https://bunyonyisafarisresort.com
Contact persons for the conference coordination at the venue and ULN secretariat
Name Telephone Email Location
Eddidah Kanyunya +256 772 875833 e.kanyunya@gmail.com Kampala
Kenneth Kasozi +256751199341 hotel@bunyonyisafaris.com Kabale
Burnet Front Desk sta +256 706485538
CC the following always for follow up
Mathias Wakulira +256 772631836 mwakulira@yahoo.com Kampala
Joy Tukahirwa +256 772786816 j.tukahirwa@infocom.co.ug Kampala
ARRIVAL
Participants should make bookings to arrival on Sunday 24th November through either Entebbe or
Kigali International Airport. NB Those arriving in Entebbe unless their flights are in the morning else
better they arrive on Saturday overnight in Entebbe and Sunday travel to Kabale by road. Through
Kigali day time flights, participants can make it in 1 hour to Conference venue in Kabale.
Coordination office will provide contacts of reliable transport Kigali to Kabale and Entebbe to Kabale
DEPARTURE:
Plan your departure from conference venue on Friday 29th or Saturday 30th November, 2019. There
is an option of visiting Bwindi National Park to view Mountain Gorillas from 29th November, 2019
VISA REQUIREMENTS
Visa can be obtained on arrival at Entebbe Airport; Kigali and Katuna Board
LANGUAGE
The language during the conference will be English
ORGANIZER /HOST
The National Conference will be hosted by Uganda Landcare Network (ULN) in collaboration with
the Ministries of Local Government; Ministry of Agriculture Animal Industry and Fisheries in
partnership with Kabale University; African Landcare Network ( ALN) and Landcare International (
LI)
PARTICIPANTS
Stakeholders involved sustainable land management including Farmers, Researchers, and Academia,
Extension agents, Policy makers, NGO staff and Private sector.
REGISTRATION
A registration fee is $ 100 or UGX equivalent participants covering meals.
ACCOMMODATION:
Accommodation will be charged separately at negotiated rates with Bunyonyi Safaris Resort which
has a range of rooms to fit various categories.
HEALTH INSURANCE
All participants are encouraged to obtain a health insurance during the period of the conference.
REGISTRATION
Please fill out the online registration form
OVERALL TIME TABLE
DAY ACTIVITY KEY PARTNERS
DAY 1 Sunday 24th Arrival and Registration ULN Secretariat
DAY 2 Monday 25th Junior Landcare Programme & Exhibitions
LANDCARE Partners –Local
Regional and Global
DAY 3 Tuesday 26th Conference
DAY 4 Wed 27th Conference
DAY 5 Thurs 28th Field Trip and Awards Dinner Local planning committee
DAY 6 Friday 29th Business meeting ( ALN) & Departure ALN and LI
Saturday 30th BWINDI NATIONAL PARK VISIT
Individually planned
UWA
https://www.ugandawildlife.org
Sunday Dec1
Looking forward to your participation.
ULN
On behalf of Conference organizers and Host Institutions