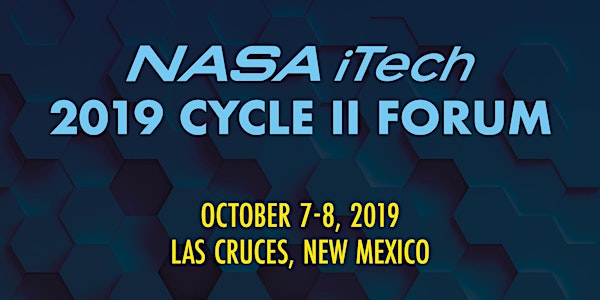 2019 NASA iTech Cycle II Forum
Location
Hotel Encanto de Las Cruces
705 South Telshor Blvd.
Las Cruces, NM 88011
Description
We invite you to join us for the 2019 NASA iTech Cycle II Forum
View the Top 10 Finalists | Final Agenda (10/4/19)
NASA's unique government program, NASA iTech, seeks out cutting-edge technologies with applicability to NASA's mission. For the 2019 NASA iTech Cycle II, the Agency is identifying strategic technological innovations that have the potential to meet demands of life on Earth and space exploration.
Through a competitive selection process, NASA has sought solutions in the areas of Improve Energy Storage Density; Radiation – Protection, Mitigation and Hardware; Power Efficient Technologies; Medical Breakthroughs; and X-Factor innovations. From these submissions, NASA's Chief Technologists have selected the Top 10 Finalists, whose innovations show the greatest potential for commercialization and solutions to problems in space and here on Earth, to participate in the 2019 NASA iTech Cycle II Forum.
At the two-day Cycle II Forum, the Top 10 Finalists will present and workshop their solutions. You will participate alongside NASA, innovators, investors and industry leaders in a series thematic discussions and impact tables. The Top 3 Winners of the 2019 NASA iTech Cycle II will be announced on the final day.
The deadline to submit an idea is August 30, 2019. For more information about NASA iTech visit www.NASAiTech.com