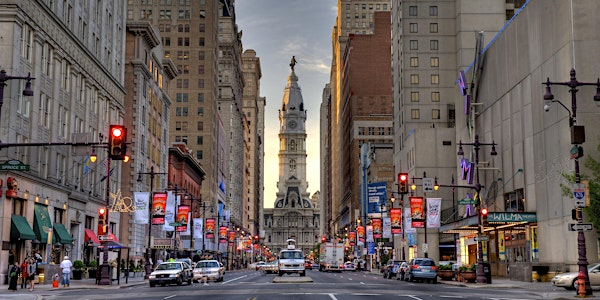 2019 Myotonic Annual Conference
By Myotonic Dystrophy Foundation
Date and time
September 13, 2019 · 8:30am - September 14, 2019 · 8:30pm EDT
Location
Loews Philadelphia Hotel 1200 Market Street Philadelphia, PA 19107
Refund Policy
Refunds up to 30 days before event
Description
Myotonic (formerly the Myotonic Dystrophy Foundation or MDF) is pleased to announce the 2019 Myotonic Annual Conference, taking place Friday, September 13 and Saturday, September 14, 2019, at the Loews Philadelphia Hotel in Philadelphia, PA. This year's conference program will include a host of sessions exploring research, drug development, disease symptom management, and provide formal and informal community networking opportunities.
An all-day Friday Professionals Track for industry and academia will provide closed sessions on a variety of current research topics, a Drug Development Roundtable, and more.
Professionals interested in attending the full-day meeting: CNS Outcome Measures Development Workshop, being held Thursday, September 12 at the Philadelphia Convention Center, need to register separately for this event. Click here for more information.
Join us at the Loews Philadelphia Hotel by the historic Reading Terminal Market for this outstanding DM event.
---
REGISTRATION FEE & TICKETS
The 2019 Community Registration fee provides community member entrance to all 2019 Myotonic Annual Conference events, including general and breakout sessions, an evening social reception, meals and other special events, including:
Friday First Timers' Tea
Friday Opening Reception
Saturday Grab and Go Breakfast
Saturday Lite Lunch
Saturday Closing Dinner and Dance Party
The Professional Registration fee provides entrance for DM professionals only to the Friday professional track, and lunch and coffee service, as well as the community events listed above.
Registering for the Conference does not reserve your hotel room, and space at the hotel is expected to fill up quickly. Please contact the hotel directly to book your room. See below for more lodging details.
---
PROGRAMS
2019 Myotonic Annual Conference attendees will:
Learn daily living and disease management strategies, and find new resources, products and services
Hear research and drug development progress updates
Create new friendships and support options via networking and community-building opportunities throughout the conference.
New to the Myotonic Annual Conference? Myotonic offers a First Timers' Tea for first-time attendees on Friday, September 13, 2019. A special feature of the First Timers' Tea is our Mentoring Program, which will partner interested first time attendees with Myotonic Board members and others who have attended many Myotonic Annual Conferences and can help ensure that your first experience is a complete success.
The Conference also features programming for adult caregivers, adults living with juvenile-onset DM, parents of children with congenital and childhood-onset myotonic dystrophy, advocacy training, and much more. New sessions include:
Going to School with Myotonic Dystrophy: Understanding Special Education & I.D.E.A
Myotonic Dystrophy & Accessing the World of Work
Adaptive Chair Yoga
Emergency Preparedness
Genetics & Family Planning
Financial Planning & DM
Professionally-staffed Listening Room
And more!
View a detailed overview of the two-day conference program.
---
PROFESSIONALS
Myotonic has designed a full-day professional track at the Myotonic Annual Conference on Friday, September 13 featuring session topics that include:
DM Biomarkers: Goals, What's Working and How They'll Be Used for Drug Development and Approval
Current Therapeutic Approaches
Study and Trial Learnings to Date: Observations on Design, Endpoints and Patient Enrichment Strategies
DM2 State of the Science: Current Research and Next Steps
FDA: Current Thinking on the Orphan Disease Regulatory Pathway: Insights on Surrogate Biomarkers, CNS and Muscle Endpoints & Accelerated Approval
DM Animal Models: What We Have, What We Need, and Why
And more!
View a detailed overview of the full-day professional track.
POSTER SESSION
There will also be a poster session attended by both scientific and patient/family attendees during the Welcome Reception (Friday, September 13 from 5:30 PM to 7:30 PM). Academic and industry researchers are encouraged to submit abstracts to this unique event.
Click here for guidelines on poster submission.
CNS Outcome Measures Development Workshop
Myotonic will host a full-day workshop, Thursday, September 12 focused on the need for CNS outcome measures for myotonic dystrophy for academic, industry and other DM professionals. This session, which is free to the professional community, will be held at the Philadelphia Convention Center, a block from the Conference hotel. Separate registration is required.
Click here to register for the CNS Workshop.
---
ACCOMMODATIONS
The 2019 Myotonic Annual Conference takes place at the Loews Philadelphia Hotel, which is located in the heart of Center City Philadelphia. The hotel offers comprehensive services for guests. More hotel information is available here.
The discounted room block for the 2019 Myotonic Annual Conference is expected to fill up quickly! We recommend that you reserve your room as soon as possible to secure the best rates. There are a number of city-wide conferences going on in Philadelphia at this time, and hotel rooms were sold out by March 1st at a number of hotels around the Loews Philadelphia. Find additional lodging options and alternatives here!
Registering for the conference does not reserve your hotel room.
Interested in other accessible options in the area? Find more choices at AccessibleGo.
---
TRANSPORTATION
2019 Myotonic Annual Conference attendees will arrive in Philadelphia at the Philadelphia International Airport (PHL). Visitors seeking transportation to the Loews Philadelphia Hotel have a variety of options, including taxi service, ride-sharing apps, and public transportation.
Find transportation information here.
Conference attendees are responsible for making their own airfare and transportation arrangements to and from the hotel. Myotonic cannot reimburse travel, hotel accommodations or parking expenses for Conference participants.
Find additional accessible transportation options with AccessibleGo.
---


CHILDCARE
Childcare is not provided by Myotonic at the Conference. Please make all necessary arrangements before you arrive so that you can take advantage of all that the Conference has to offer. Contact Care.com for information on local caregivers and availability. You may also inquire at Child Care Information Services of Philadelphia if you prefer to use a local service. Myotonic members traveling with young children can also visit the Myotonic Facebook page to solicit interest in sharing childcare with other conference attendees.
---


REGISTRATION CANCELLATION & REFUND POLICY
We understand that circumstances can change. Myotonic contracts for conference presenters, travel and hotel services nine to twelve months in advance, and adjusts those contracts based on registrations. We are therefore unable to process registration cancellations made after Tuesday, August 13, 2019.
---
ADDITIONAL INFORMATION
See the conference program and learn more about the Loews Philadelphia Hotel. Interested in taking in all of Philadelphia? Click here for a list of local sights and attractions to visit outside of the conference. If you have registration questions or need assistance with registration, contact Myotonic at 415-800-7777 or by email at info@myotonic.org.
About the organizer
The mission of the Myotonic Dystrophy Foundation (MDF) is Community, Care, and a Cure.
We support and connect the myotonic dystrophy community.

We provide resources and advocate for care.

We accelerate research toward treatments and a cure.
MDF is the leading global advocate helping patients and families navigate the myotonic dystrophy (DM) disease process, and is often the first resource contacted by newly-diagnosed patients, their families, their social workers and their physicians around the world. For many international patients, the Myotonic Dystrophy Foundation is often the only resource they are able to locate, and MDF has provided assistance and support for people living with DM in more than 139 countries around the world.
Click here to learn more about the Myotonic Dystrophy Foundation.