Description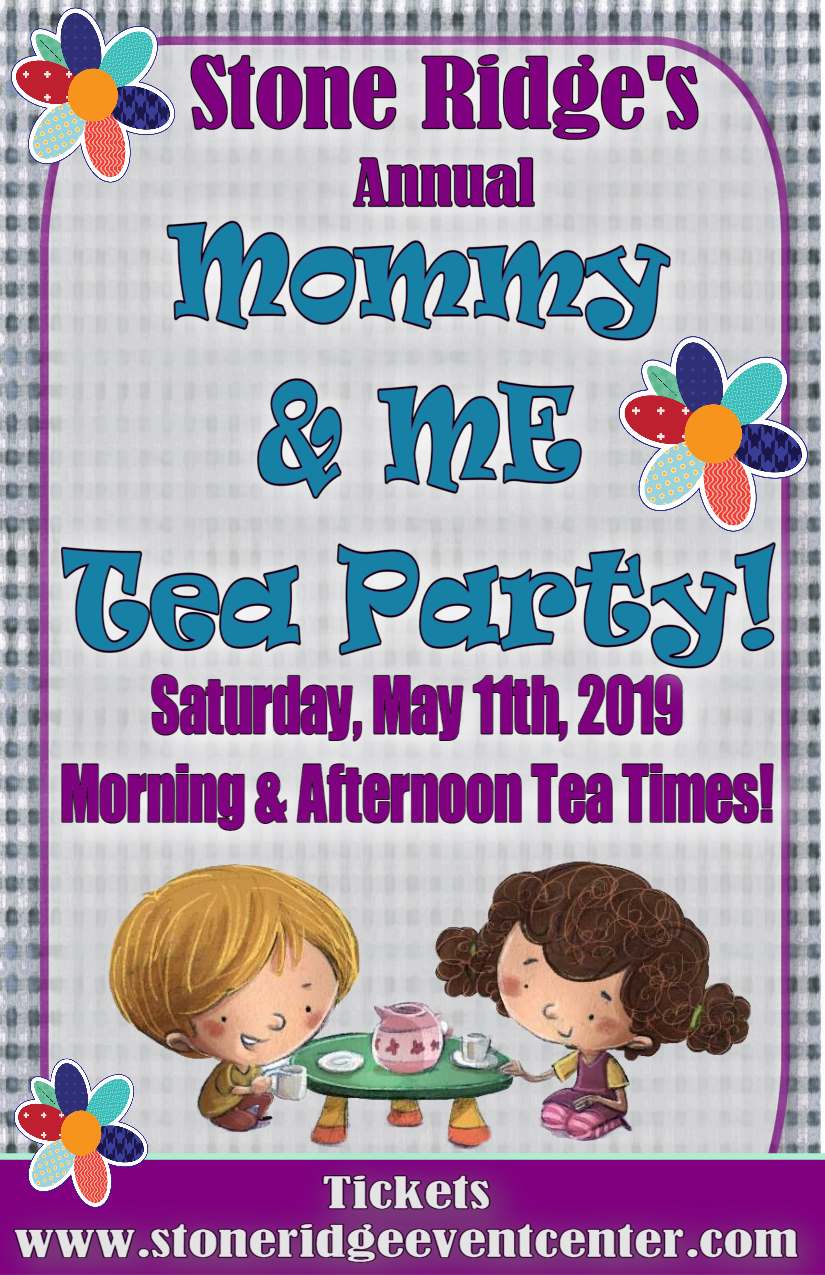 MORNING TEA TIME IS SOLD OUT!
All ages welcome at this fun, memorable Mommy & Me Tea Party!
Come dressed in your finest tea party attire (hats, gloves, pearls, boas, tiaras!) and enjoy tea (juice) & cookies, served on elegant china in Stone Ridge Event Center's beautiful gardens.
Lots of fun activities, face painting, pony rides & a bouncy house! New this year, some great vendors will be on hand for some wonderful Mother's Day Gifts, and other goodies mommies love!

Don't forget grammies, aunties and dads love tea parties, too!
TWO TEA TIMES THIS YEAR! MORNING & AFTERNOON!
Please purchase tickets in advance.
More details:
Stone Ridge is a beautiful event center, and we look forward to having a fun time with you at the Mommy & Me Tea Party! Please remember to watch your children carefully, and ensure children stay out of all rocky areas and that they do not climb on, in or around our waterfall feature.

Please arrive promptly at to check in for your tea party! Tea (juice) & cookies will be served in the gardens, and beautifully laid out on the tables, with real china cups & saucers, ready for self-serve when you arrive. Hot tea and coffee for adults will be in pots on the patio. This is an 'informal' tea party, meaning guests may have tea at their leisure and enjoy the fun activities when they choose. Please remember this is a very popular event, and as with all public events, there may be wait lines for the children's activities. This is a great opportunity to practice patience and manners.

There will also be some great vendors on site for mommy's shopping & exploration.

Don't forget to wear your best tea time attire!

ALL TICKET PURCHASERS AGREE TO:
STANDARD PHOTO RELEASE FORM
Ticket purchaser hereby authorizes STONE RIDGE EVENT CENTER and affiliates to publish photographs taken of me and/or the members of my tickets party, including minor children, for use in STONE RIDGE EVENT CENTER'S printed publications, website or other media. I release STONE RIDGE EVENT CENTER from any expectation of confidentiality for the undersigned minor children and myself and attest that I am the parent or legal guardian of the children listed below and that I have the authority to authorize STONE RIDGE EVENT CENTER to use their photographs and names. I acknowledge that since participation in publications and website produced by STONE RIDGE EVENT CENTER confers no rights of ownership whatsoever. I release STONE RIDGE EVENT CENTER, its contractors and its employees from liability for any claims by me or any third party in connection with my participation or the participation of the undersigned minor children.

BOUNCE HOUSE LIABILITY WAIVER
In consideration of being allowed to enter the play and/or party areas at STONE RIDGE EVENT CENTER the Ticket Purchaser, on his or her behalf, and on behalf of the participant(s)included in the purchased ticket, acknowledges, appreciates and agrees to the following conditions:
As the parent, or legal guardian of the participant(s) in my purchased ticket, or I have obtained permission from the parent/legal guardian of the participant(s) execute this agreement on their behalf.
As a parent/guardian on behalf of the participants am aware that participating in Bounce House activities, parties, and/or use of the play areas and inflatable equipment creates a risk of injury, and I freely assume all such risks both known and unknown even if arising from the negligence of others. I AGREE TO RELEASE, DEFEND, INDEMNIFY, NOT SUE AND HOLD HARMLESS MileStone Events, LLC dba Stone Ridge Event Center, their principals, officers, owners, employees, equipment manufacturers from any claims, damages, (including medical fees, attorney fees), injuries (including disabilities, paralysis and death) and expenses arising out of or resulting from my voluntary attendance/participation or the voluntary attendance/participation of those for whom I have purchased a ticket for.
As a parent/guardian have carefully read the above participation agreement, assumption of risk acknowledgement and release of liability. I hereby agree to be bound by it for myself and all minor participants listed below, and fully understand its contents. I have the permission from the minor's family or other responsible party to cover minor under this agreement.