2019 Microscopy/Microanalysis Summer School at AMLCI
About this Event
2019 Microscopy/Microanalysis Summer School at Advanced Materials and Liquid Crystal Institute (AMLCI) is a 2-day scientific event combining both lectures and live demonstrations. 6 instructors from 5 universities/research institutions/companies nation-wide are invited to give 8 lectures on a variety of material characterization technologies. The event is co-organized with ACESS (Akron Council of Engineering & Scientific Societies) and MSNO (Microscopy Society of Northeastern Ohio).
Admission: FREE for pre-registration (ends at 5pm, Jul. 17th); $20 at door (check or credit card ONLY).
Parking & Direction:
During the summer school, C-Science Lot will be FREE for all attendees. Please use "C-Science Lot, 1411 East Summit St., Kent, OH 44243" or GPS Coordinates (41.143391, -81.339610) as your destination in GPS system. After parking, you could walk to AMLCI building by following the red arrows in the following map.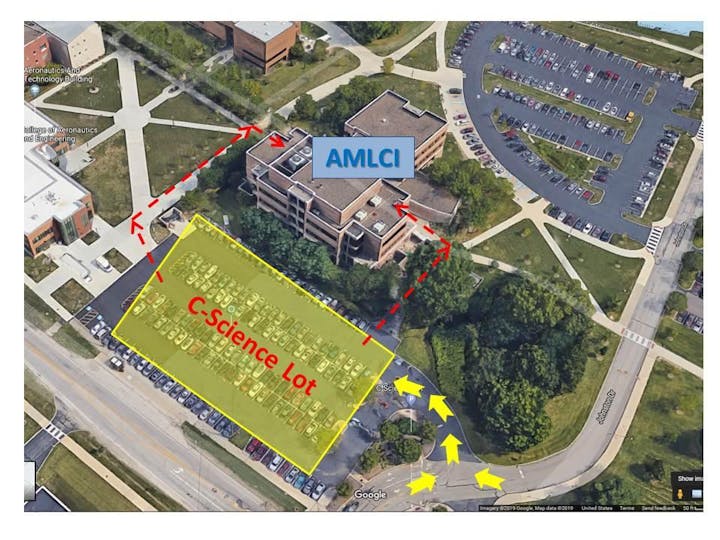 PRESENTATIONS
• Dr. Greta Babakhanova (NIST): Digital Holographic Microscopy (DHM) & applications
The first part of this presentation will focus on the physical principles of digital holographic microscopy technique. We will introduce transmission (T) and reflection (R) DHM modes. In the second part of the lecture, we will discuss the applications of this instrument. Lastly, the lecture will be concluded with discussion about possible sample types as well as a demonstrations of both, R-DHM and T-DHM systems.
• Dr. Min Gao (KSU): (Cryo-)Ultramicrotomy
In the presentation/demonstration, we are going to focus on the practical aspect of (cryo-)ultramicrotomy in addition to a brief summary of the basics and recent developments. We'll cover how to work on different materials (temperature selection, sample size, etc.), how to obtain ribbons, how to maintain diamond knives (one of the most crucial parts), how to collect sectioned slices, etc.
• Dr. John Kelly (Zeiss): Introduction to X-ray Microscopy (XRM): Technology and Applications for Lab-based Non-destructive, High-resolution 3D Imaging and Analysis
Recent advances in X-ray microscopy (XRM) instrumentation and methods have opened the door for a variety of new opportunities in 3D characterization and visualization. Specifically, X-ray microscopes have uniquely incorporated synchrotron-influenced optical and detection systems to push the boundaries of laboratory XRM, enabling flexible 3D imaging capabilities for a wide variety of applications. The high resolution and high contrast of these microscopes have been successfully applied to samples from the life sciences, materials science, electronics, and geosciences fields, covering a wide range of low and high Z samples and sample sizes. This talk will cover an overview of XRM technology as well as prominent examples and applications.
• Dr. Andrew Knoll (UA): Surface Science Characterization
An overview of surface science characterization methods focusing on X-ray photoelectron spectroscopy and some complimentary techniques. In particular, this talk will focus on combining multiple characterization techniques to better understand important surface parameters.
• Mr. Taras Turiv (KSU): Polarized Light Microscopy (PLM): application in liquid crystal and life science
Mr. Taras Turiv will be covering basic description of the polarized light, phase retardation and birefringence of the materials. Principles of the polarized light microscopy, also basics of conoscopy and differential interference microscopy. Characterization of the optical axis orientation in the birefringent materials, basic idea behind the detection of topological defects in liquid crystals.
• Dr. Jing-Jiang Yu (Hitachi-hta): Atomic Force Microscopy: Principles, Instrumentation and Applications
Current state of atomic force microscopy (

AFM) and its framework of imaging modes will be reviewed. In addition, special development for ease of use and automatic image optimization will be presented.
Innovative Hitachi AFM Technologies for Enhanced Characterization of Polymers
The emphasis will be made on the novel imaging mode as well as recent instrumentation advancements that allow for comprehensive and much enhanced AFM examinations of polymer complex.
DEMONSTRATIONS
• Demo 1: TEM/SEM
During the demonstrations of TEM/SEM, we are going to go through the fundamentals, basic functions, and keys to take good images/diffraction-patterns/spectra. We'll also be glad to answer questions from attendees.
• Demo 2: TT-AFM
We are going to demonstrate the basic operations of TT-AFM from AFM WORKSHOP, including the 3D topographic imaging and phase imaging.
• Demo 3: T-DHM and R-DHM
Two sets of DHM will be demonstrated, transmission mode and reflection mode. Through the different applications on the two systems, audience will have a chance to compare the two models side by side.
• Demo 4: Cryo-ultramicrotomy